Not only does Singapore have the World's Best Airport, but the trains and buses run on time, and the taxis are plentiful and relatively inexpensive. The public transport system is carefully integrated, so train stations usually have a taxi stand or bus stop nearby. And an EZ-Link fare card saves countless hassles, and can be easily bought and topped up.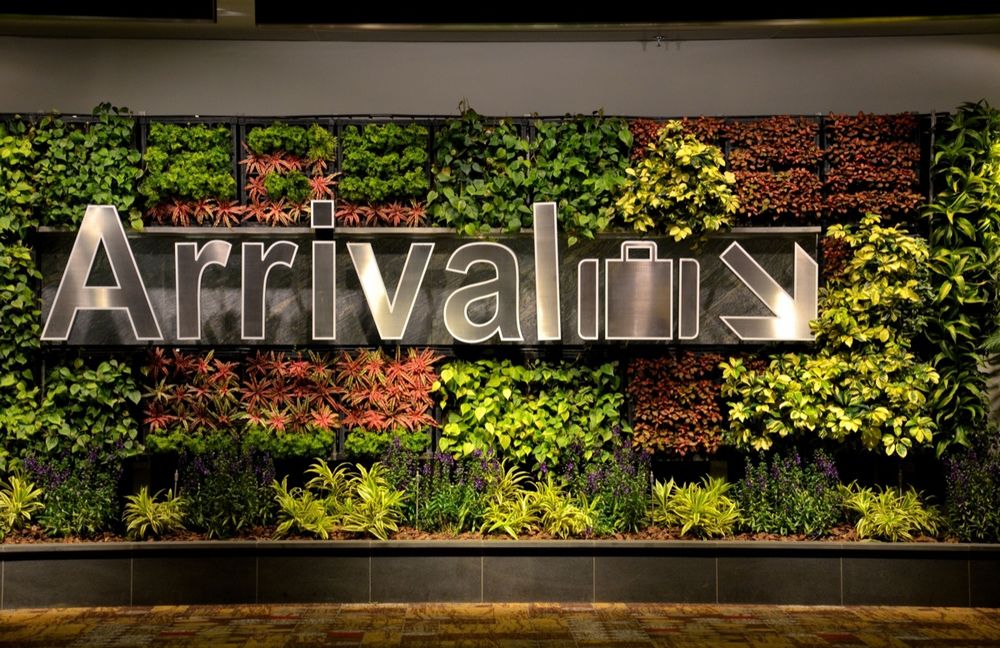 Air
In March 2019, voters in the Skytrax awards named Changi the World's Best Airport for the seventh year in a row! For anyone who has spent some time there arriving, departing or even just exploring, this will come as no surprise. Changi efficiently deals with over 100 airlines flying from 400 cities in about 100 countries and territories around the world. In 2018, more than 65 million passengers passed through the airport – a five percent increase from the previous year.
What's New?
The big news for 2019 is the recent opening of lifestyle and retail complex Jewel Changi Airport. This massive entertainment and retail complex is linked to all the airport's passenger terminals, and has a whopping 135,700 square metres of shops, restaurants, gardens, fun activities and attractions. You'll find everything from the world's largest indoor waterfall to the first Pokémon Centre outside of Japan, a five-storey indoor garden and more. It's worth a visit, even if you're not flying out of the country!
Plans are underway for Terminal 5 to open around 2030; the terminal will be bigger than T1, T2 and T3 combined, and will help Changi Airport serve an additional 50 million passengers per annum in the initial phases.
Singapore Airlines has introduced a 17-plus-hour non-stop flight to New York that is the longest non-stop flight in the world. The airline picked up awards for World's Best Cabin Crew, World's Best First Class, Best Airline in Asia and World's Best First Class Seat at the 2019 Skytrax awards.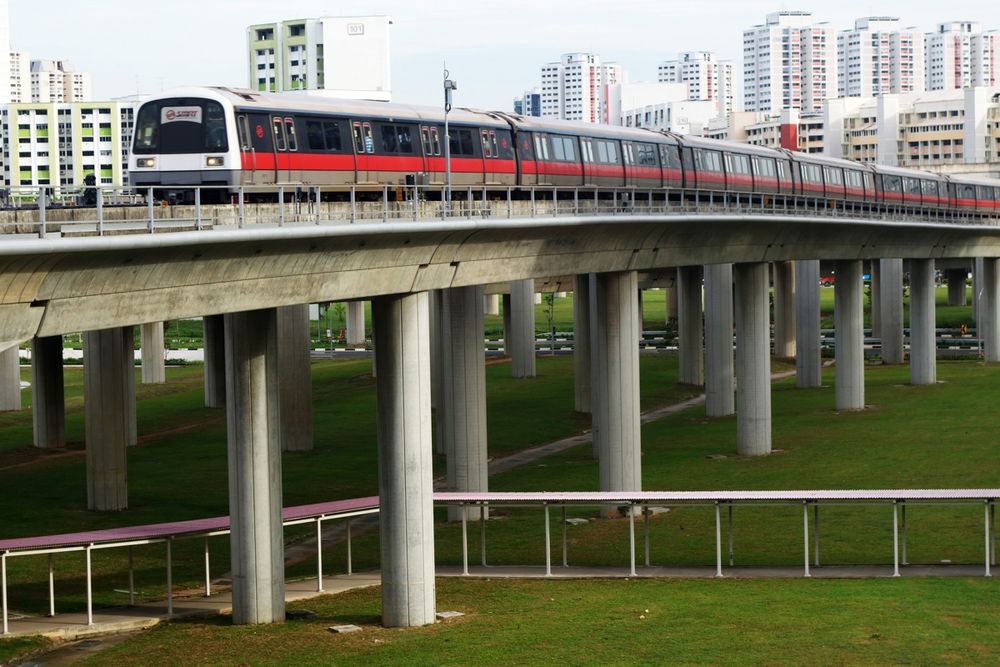 Rail
The MRT and LRT (Light Rail Transit) system is Singapore's efficient train network, offering reliable and cost-effective transport through the city and suburbs in a pleasant, safe and air-conditioned environment.
What's New?
The new Thomson-East Coast Line (TEL) will be opening in stages from late 2019. With 31 new stations, the locations along the new rail network include Marine Parade, Havelock and Springleaf.
A dozen MRT trains on the North-South and East-West Lines now feature tip-up seats to accommodate more passengers during rush hour.
The Jurong Region Line (JRL) is set to open from 2026. The 24-kilometre above-ground line will be using smaller train cars that accommodate 150 to 200 commuters. It will have two interchange stations: Choa Chu Kang (North-South Line) and Boon Lay (East-West Line).
MRT and LRT stations at Seng Kang will undergo upgrading works that are set to be completed by 2022. They include extra elevators and dual-speed escalators.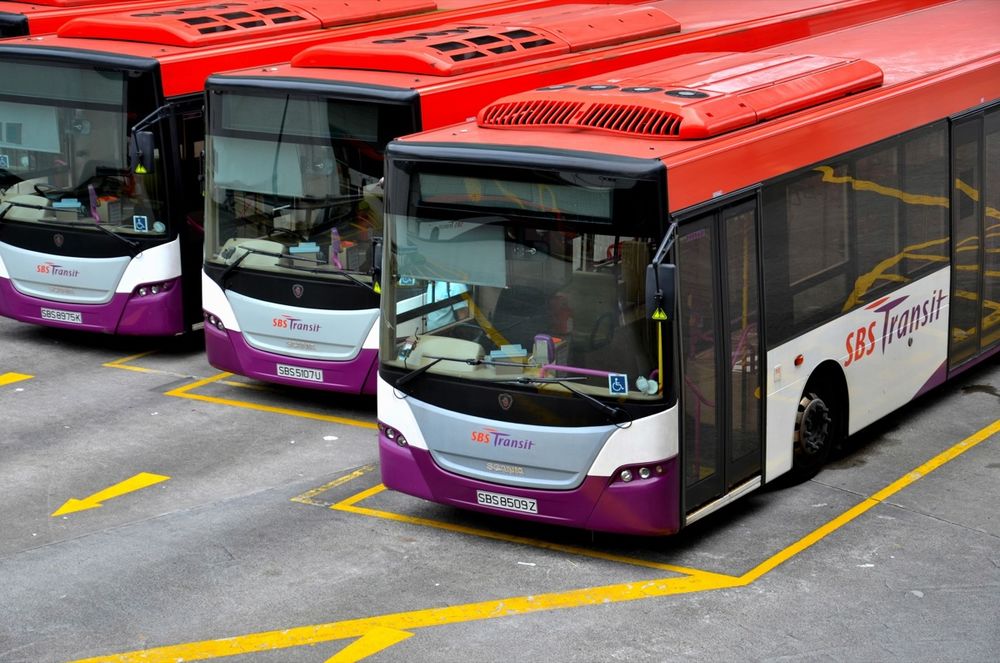 Road
Buses
It might be a small island, but as many as 576 different bus services ply Singapore's roads. It's a safe, comfortable, affordable and reliable way of travelling – better than the bus system in many major cities around the world. An average of 3.501 million used the MRT each day in 2018, while 4.037 million used Singapore's bus network.
What's New?
The ongoing Bus Service Enhancement Programme (BSEP) began in 2012, and has seen 1,000 new buses introduced, 80 services added and 218 services given improvements.
Following successful trials in 2017 and 2018, LTA is spending $64 million to buy 100 three-door buses to add to Singapore's network. The additional doors offer smoother boarding and alighting.
Driverless buses could hit the roads by 2020 as the Land Transport Authority (LTA) and ST Kinetics have begun developing and testing this feature.
Editors' tips: EZ-Link card tips
Purchase cards and top them up at 7-Eleven shops, some ATMs, post offices, MRT passenger service desks, ticketing machines in MRT stations and online at ezlink.com.sg.
If you have more than one EZ-Link card, make sure you use the same one for both entry and exit when on the bus or train. Don't forget to tap in and out on the bus.
You can use your card in a multitude of retail outlets and venues, including Cold Storage, Jasons, Spinelli Coffee Company and the Singapore Science Centre.
We asked a panel of our readers for their thoughts on Singapore's public transport:
"The MRT is great if you live and work close to the stations. The trains are clean and air conditioned! However, if you have a 15-minute walk on either side of the commute you'll arrive sweaty and that's not always practical if you have to work all day." – Emer
"I would recommend getting an EZ-Link travel card as soon as you arrive. Download one of the local transport apps (I like SBS Transit and SMRT Connect because they combine the train and bus services) and explore the island on public transport. The stations are well-lit, clean and easy to navigate. Similarly, the buses and trains are clean and comfortable, although this standard is maintained to a large extent by a ban on eating and drinking throughout the transport system." – Kate
"It's frequent, clean and cheap. It runs on time." – Firuza
"It's clean, it's timely and it's structured to make Singapore feel like a "toy town". Next to the MRT stations you'll find food, shopping, libraries and more." – Geeta
"I love the public transport system, especially the buses. My kids take public transport daily from school. The buses and trains are safe, air-conditioned and on time. The buses literally go everywhere and I love the MyTransport.SG app, as it lets you know when the bus will be arriving at your stop." – Kristen
"I love Singapore's public transport. It's clean, safe and efficient. Sometimes during rush hour it can be crowded, so I try to avoid it then. However, I love that it's air-conditioned, on time for the most part and very easy to navigate around. I feel comfortable letting my 11-year-old and 13-year-old daughters use it on their own, too." – Jennifer
Taxis
Most busy areas have a taxi stand, or you can walk out to a main road and flag one down – except in the CBD where this is illegal. During peak hours, or when it's pouring with rain, it's best to call a taxi on the phone or book one on the app – it's worth the extra fee.
Fare Facts
Base fare for travelling in a standard taxi (for example, Comfort or CityCab) ranges from $3.20 to $3.90.
During peak hours (Monday to Friday, 6am to 9.30am, and Monday to Sunday, 6pm to midnight), passengers pay an additional 25 percent of the metered fare; and between midnight and 6am, they pay an additional 50 percent.
Call-out charges are $2.30 in non-peak hours and from $3.30 in peak hours, while advanced bookings (at least half an hour) are $8.
Expect to pay around $12 for a 10-kilometre off-peak trip.
ERP charges incurred during the trip are chargeable, and there is a CBD surcharge of $3.
Note that there are airport surcharges: $5 (from 5pm to midnight on Fridays, Saturdays and Sundays) and $3 (any other times).
Pay fares in cash – preferably using smaller denominations – or by credit card. Some taxis also accept NETS and EZ-Link cards.
Although taxi drivers speak English, differences in accents can occasionally cause confusion.
Besides taxis, private companies like Grab and Gojek are also available island-wide.
And some top taxi tips from our reader panel:
"My biggest tip is to book in advance so that they have your destination logged. Whether you book your taxi through Comfort, Grab or any other service, at least this way they'll know where you want to go; it eliminates the kind of communication gaps I used to experience in relaying my destination information to the driver in the past before these apps existed. Also, if you're in a taxi on a meter, it's best to insist that the driver follow the route you'd like them to take, otherwise sometimes you can be taken on an indirect or slower route." – Jennifer
 "Use apps like Grab or Gojek as both can be cheaper than regular taxis in non-peak hours." – Firuza
 "My husband swears by ComfortDelGro taxis and uses their app. I use both Grab and Gojek, selecting based on price. Be careful of picking up taxis in the CBD or the Orchard area during peak hours as there are a slew of fees that can double your fare." – Kristen           
"In general, taxi drivers are friendly and communicative, but don't assume that they will always know where they are going! Sometimes, I find that I must test my limited orienteering ability on Google Maps to guide a driver to my destination. It's rare for taxi drivers to use satnav." – Kate
"Download all the apps and check them all out every time you need a ride. It's like stocks and shares – impacted by algorithms." – Geeta
"Download the Grab and Gojek apps and link them to your credit or debit card. It can be tricky at peak times to flag down taxis (often they change shifts at 7pm, making it hard to catch one after work). Some drivers drive with both feet – one on the accelerator and one on brake – and that can mean an uncomfortable ride." – Emer

For more helpful tips, head to our Living in Singapore section.
Second-hand shopping in SG
Churches, temples and other places of worship
This article first appeared in the Expat Living City Guide 2019.
Get the latest events, stories and special offers
sent to your inbox.
By signing up, you'll receive our weekly newsletters and offers, which you can unsubscribe to anytime.