Not only does Singapore have an airport that is regularly voted the world's best, but the trains and buses run on time, and the taxis are plentiful and relatively inexpensive. The public transport system is carefully integrated, so train stations usually have a taxi stand or bus stop nearby. And an EZ-Link fare card saves countless hassles, and can be easily bought and topped up.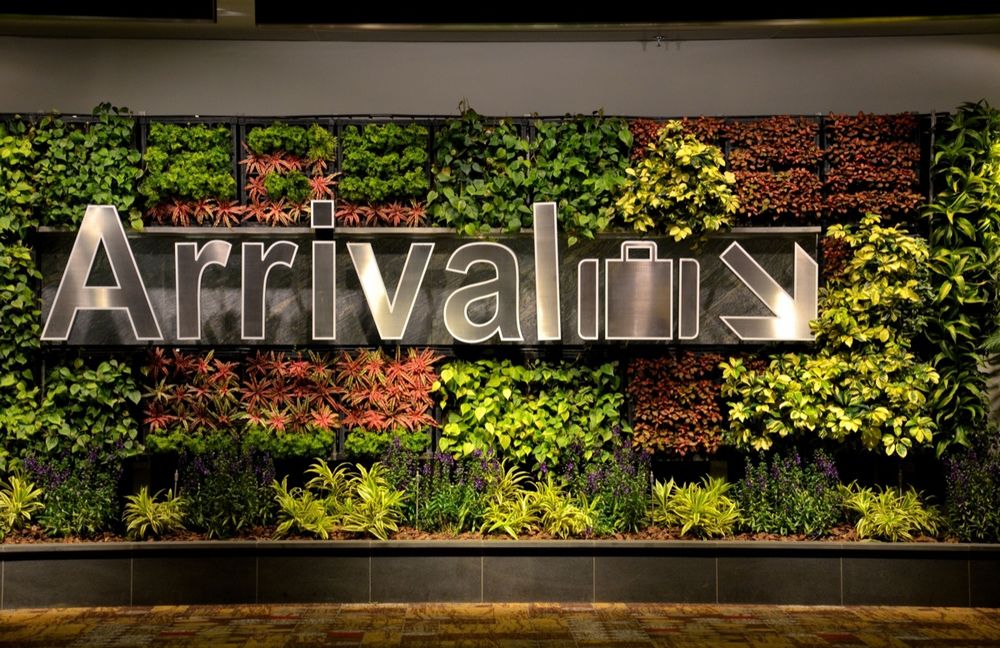 Air
Before we get to trains and taxis, let's talk Changi! Unless you're driving all of your suitcases across the Woodlands or Tuas links, or you're coming on a slow boat from somewhere, you'll be landing at Changi Airport when you arrive in Singapore. The question is: has the famous airport's crown slipped?
We don't think so (big fans here!). Having said that, after countless consecutive wins in the World's Best Airport category in the international Skytrax awards, Changi Airport has now had to settle for a bronze – and for two years in a row! In both 2021 and 2022, the top spot went to Doha's Hamad International Airport in Qatar. Haneda Airport in Tokyo took second spot. There's still a huge amount to admire about Singapore's main airport, though. After all, it efficiently deals with over 100 airlines flying from 400 cities in about 100 countries and territories around the world. In 2019 – the last "regular" flying year before the pandemic wreaked havoc with statistics – more than 68 million passengers passed through. It was the airport's busiest year yet.
In addition to four terminals, the airport is also home to Jewel Changi Airport. This enormous lifestyle and retail complex is worth visiting even if you're not flying anywhere.
What's New?
Plans are underway for Terminal 5 to open in the 2030s; the terminal will be bigger than T1, T2 and T3 combined, and will help Changi serve an additional 50 million passengers per annum in the initial phases. The design of the terminal was unveiled in September 2022, and construction is expected to begin in 2024. Terminal 5 will be an environment-friendly terminal, using
sustainable aviation fuels for aircraft
Changi Trivia Test!
How old is the airport: 21 years, 41 years or 61 years?
Changi opened with just two restaurants – McDonalds was one of them, true or false?
The HSBC Rain Vortex at Jewel is the "World's Highest Indoor Waterfall". What country was home to the previous highest?
How frequently does someone lose a smart phone at Changi: every 3.5 hours; 30 seconds; or 52 minutes?
What airline that served as the regional arm of Singapore Airlines, flying five million passengers around Southeast Asia, ceased
operations last year?
Answers: 1. 40 years. 2. True! The other restaurant was Swensen's. 3. Also Singapore! The indoor waterfall in the Cloud Forest at Gardens by the Bay previously held the mark. 4. 52 minutes (approximately 10,000 mobile phones per year). 5. SilkAir (the airline was absorbed by Singapore Airlines).
Also… Did you know that Changi has its own distinctive fragrance diffused in various areas throughout the airport. It has notes of ylang-ylang, damask rose and orchid tea, and is designed "to leave you invigorated for your journey ahead".
Rail
The MRT and LRT (Light Rail Transit) system is the island's train network, offering reliable, air-conditioned and cost-effective transport. Expats from other big cities in the world with long-running subway systems tend to wax lyrical about the quality of the MRT in Singapore compared to what they're used to!
What's New?
Eleven more stations on the new 32-station Thomson-East Coast Line (TEL) will open by the end of 2022. They include some very useful locations for getting around Singapore such as Orchard, Outram Park, Maxwell and Gardens by the Bay.
Looking forward, the Jurong Region Line (JRL) will fully open from 2029 as an above-ground line using smaller trains to accommodate 150 to 200 commuters.
The Land Transport Authority (LTA) is upgrading the North-South and East-West Lines, two of Singapore's oldest and most heavily utilised train routes, with dozens of new trains already in service, and all old trains to be phased out by 2026.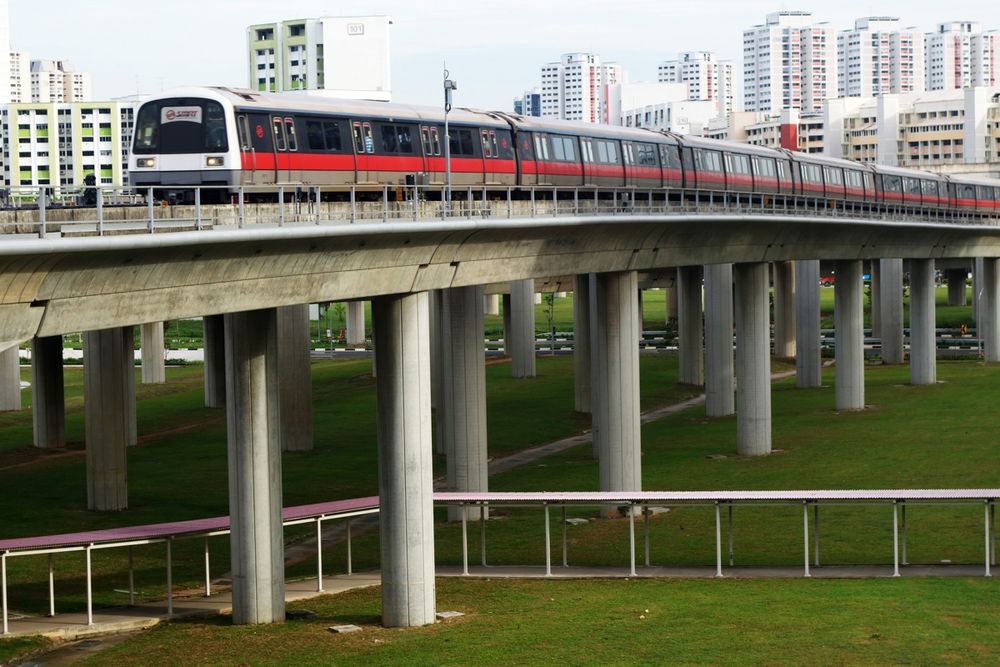 Take a ride on the fantastic (and fantastically air-conditioned!) MRT
The Circle Line Controversy
In 2020, around three-quarters of respondents in a Twitter survey said that they believed the Circle Line was yellow in colour, while a quarter claimed that it was orange. The official answer? It's orange. The LTA posted a tweet to clarify, before adding: "'Orange' you glad we cleared that up."
Road
Buses
It might be a small island, but Singapore is home to more than 5,000 bus stops! The bus service is a safe, comfortable, affordable and reliable way of travelling that reinvents the clunky, dusty systems found in many major cities.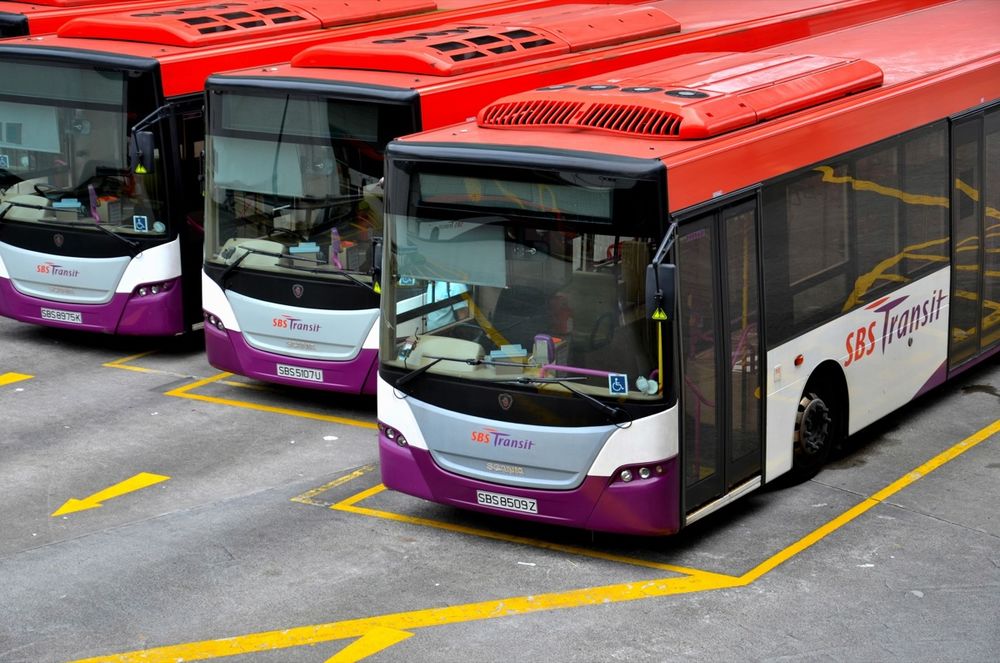 What's New?
 The LTA has committed to using a full fleet of cleaner energy buses by 2040 to reduce its carbon footprint; 60 electric buses have already been added in recent years.
Singapore continues to trial driverless buses, with recent trials at Jurong Island and elsewhere. Expect to see more rolled out in the next few years.
Brand new Passenger Information Display System (PIDS) panels will be progressively installed at over 300 bus stops over the next few years
Editors' tips: EZ-Link card tips
The EZ-Link card is a Singapore essential, allowing you to get around on all public transport types with ease.
he easiest place to buy one is at a 7-Eleven or Cheers outlet, but many MRT stations also sell them. • Don't forget to tap in at the start of your journey and tap out at the end.
Your card can be used in various retail venues, including big-name fast food outlets, a large number of hawker centres, various cinemas, Cold Storage, the Singapore Science Centre and more. • Get the EZ-Link app so you can reload your card using your phone.
Various limited-edition EZ-Link cards, charms and wearables have been released over the years, with themes ranging from Star Wars to the hawker centre artwork of Singaporean artists for National Day 2022.
Readers' thoughts
We asked a panel of our readers for their thoughts on Singapore's public transport:
"The MRT is great if you live and work close to the stations. The trains are clean and air conditioned! However, if you have a 15-minute walk on either side of the commute you'll arrive sweaty and that's not always practical if you have to work all day." – Emer
"I would recommend getting an EZ-Link travel card as soon as you arrive. Download one of the local transport apps (I like SBS Transit and SMRT Connect because they combine the train and bus services) and explore the island on public transport. The stations are well-lit, clean and easy to navigate. Similarly, the buses and trains are clean and comfortable, although this standard is maintained to a large extent by a ban on eating and drinking throughout the transport system." – Kate
"It's frequent, clean and cheap. It runs on time." – Firuza
"It's clean, it's timely and it's structured to make Singapore feel like a "toy town". Next to the MRT stations you'll find food, shopping, libraries and more." – Geeta
"I love the public transport system, especially the buses. My kids take public transport daily from school. The buses and trains are safe, air-conditioned and on time. The buses literally go everywhere and I love the MyTransport.SG app, as it lets you know when the bus will be arriving at your stop." – Kristen
"I love Singapore's public transport. It's clean, safe and efficient. Sometimes during rush hour it can be crowded, so I try to avoid it then. However, I love that it's air-conditioned, on time for the most part and very easy to navigate around. I feel comfortable letting my 11-year-old and 13-year-old daughters use it on their own, too." – Jennifer
Taxis
If you fancy a quieter ride across the city, you have two options. Either hail a cab from Singapore's well-established taxi system, or use one of the rapidly-growing private companies – Grab (which took over Uber's Southeast Asian operations in 2018) and Gojek are the two most popular, while Ryde is a car-pooling app that now offers private-hire services too.
Speaking of apps, taxi provider Comfort Del Gro upgraded its app in April 2022, relaunching it with the name CDG Zig.
Fare Facts
Base fare for travelling in a standard taxi ranges from $3 to $3.40.
During peak hours (6am to 9.30am, and 6pm to midnight), you'll pay an additional 25 percent of the metered fare; and 50 percent between midnight and 6am.
Expect to pay around $12 for a 10-kilometre off-peak trip.
ERP charges incurred during the trip are chargeable, and there is a CBD surcharge of $3.
You can pay for taxis and private hire cars with cash (smaller denominations preferred), credit card, NETS, EZ-Link cards, or via the company's app.
Although drivers speak English, accents can occasionally cause confusion. If you're concerned, just write down the address to show the driver.
One benefit of pre-paying for a journey via an app is that there are always LTA road improvement projects in progress around Singapore – current projects in 2022 include new interchanges on the KJE and TPE expressways. If roadworks slow your journey, you won't need to fret about the fare going up.
Fighting fuel costs!
A sharp hike in petrol prices in 2022 has seen taxi companies implement a temporary one percent increase in distance and waiting-time fares for standard taxi rides to help cabbies cope. It's in effect until 31 December 2022, as is an extra $3 surcharge on taxi rides from Changi Airport.
For private hires, both Grab and Gojek have fare hikes in place until the end of 2022 – an extra 50 cents for Grab trips, and between 50 and 80 cents for Gojek.
Several ERP rates went up by $1 from August 2022 too
And some top taxi tips from our reader panel:
"My biggest tip is to book in advance so that they have your destination logged. Whether you book your taxi through Comfort, Grab or any other service, at least this way they'll know where you want to go; it eliminates the kind of communication gaps I used to experience in relaying my destination information to the driver in the past before these apps existed. Also, if you're in a taxi on a meter, it's best to insist that the driver follow the route you'd like them to take, otherwise sometimes you can be taken on an indirect or slower route." – Jennifer
 "Use apps like Grab or Gojek as both can be cheaper than regular taxis in non-peak hours." – Firuza
 "My husband swears by ComfortDelGro taxis and uses their app. I use both Grab and Gojek, selecting based on price. Be careful of picking up taxis in the CBD or the Orchard area during peak hours as there are a slew of fees that can double your fare." – Kristen           
"In general, taxi drivers are friendly and communicative, but don't assume that they will always know where they are going! Sometimes, I find that I must test my limited orienteering ability on Google Maps to guide a driver to my destination. It's rare for taxi drivers to use satnav." – Kate
"Download all the apps and check them all out every time you need a ride. It's like stocks and shares – impacted by algorithms." – Geeta
"Download the Grab and Gojek apps and link them to your credit or debit card. It can be tricky at peak times to flag down taxis (often they change shifts at 7pm, making it hard to catch one after work). Some drivers drive with both feet – one on the accelerator and one on brake – and that can mean an uncomfortable ride." – Emer

For more helpful tips, head to our Living in Singapore section.
Second-hand shopping in SG
Churches, temples and other places of worship
This article first appeared in the Expat Living City Guide.