Not only does Singapore have an airport that is regularly voted the world's best, but the trains and buses run on time, and the taxis are plentiful and relatively inexpensive. The public transport system is carefully integrated, so train stations usually have a taxi stand or bus stop nearby. Besides, an EZ-Link fare card , NETS FlashPay or the SimplyGo epayment saves countless hassles.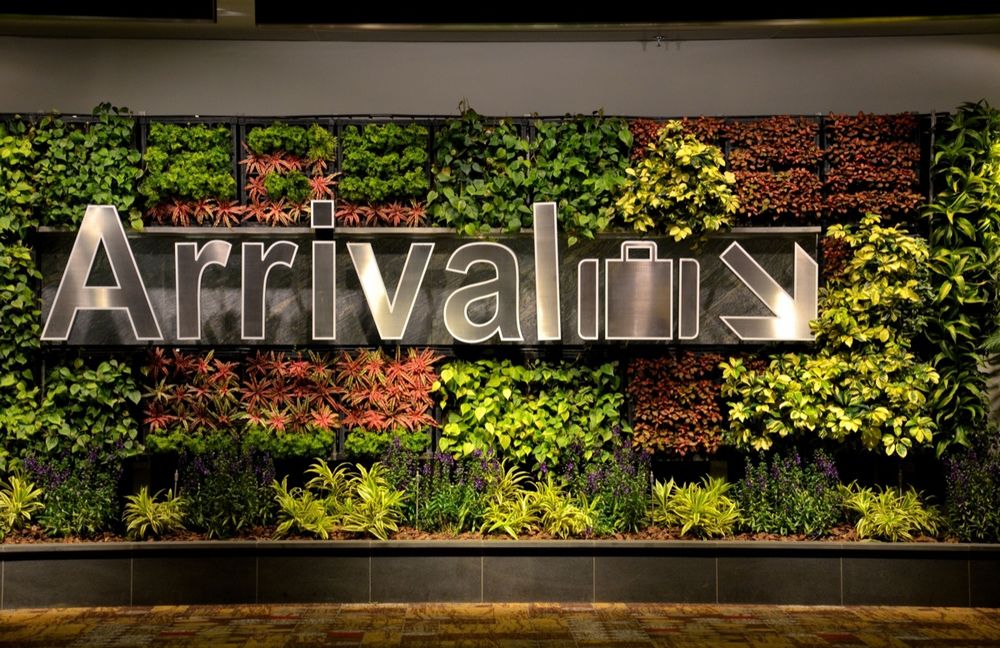 # Air
Unless you've driven in from Malaysia or you're coming on a slow boat from somewhere, you'll be landing at Changi when you arrive. And what an airport it is! In fact, Skytrax has named it the World's Best Airport eight times in the past decade. (Qatar's Hamad International Airport took top spot in 2021 and 2022, but Changi reclaimed its crown this year.)
Over 100 airlines fly to Changi from 400 cities around the world. Passenger numbers for 2022 were around 32 million, a huge increase after the travel restrictions of the two previous years.
In addition to four terminals (and a fifth, T5, set to open in the 2030s), the airport is also home to Jewel Changi Airport, an enormous lifestyle and retail complex that's worth visiting even if you're not flying anywhere.
Changi Trivia Test!
How old is the airport: 21 years, 41 years or 61 years?
Changi opened with just two restaurants – McDonalds was one of them, true or false?
The HSBC Rain Vortex at Jewel is the "World's Highest Indoor Waterfall". What country was home to the previous highest?
How frequently does someone lose a smart phone at Changi: every 3.5 hours; 30 seconds; or 52 minutes?
What airline that served as the regional arm of Singapore Airlines, flying five million passengers around Southeast Asia, ceased in 2021?
Answers: 1. 40 years. 2. True! The other restaurant was Swensen's. 3. Also Singapore! The indoor waterfall in the Cloud Forest at Gardens by the Bay previously held the mark. 4. 52 minutes (approximately 10,000 mobile phones per year). 5. SilkAir (the airline was absorbed by Singapore Airlines).
Also… Did you know that Changi has its own distinctive fragrance diffused in various areas throughout the airport. It has notes of ylang-ylang, damask rose and orchid tea, and is designed "to leave you invigorated for your journey ahead".
# Rail
The MRT and LRT (Light Rail Transit) system is the island's train network, offering reliable, air-conditioned and cost-effective transport. These are the lines that are currently in operation:
North-South Line – red
East-West Line – green
Circle Line – orange*
North East Line – purple
Downtown Line – blue
Thomson-East Coast Line – brown
* The Circle Line Controversy: In 2020, around three-quarters of respondents in a Twitter survey said that they believed the Circle Line was yellow in colour, while a quarter claimed that it was orange. The official answer? It's orange. The LTA posted a tweet to clarify, before adding: "'Orange' you glad we cleared that up."
What's new?
Nine new stations are slated to open along the Thomson-East Coast Line in 2024 and 2025, covering various East Coast locations. And the Jurong Region Line (teal coloured) will fully open from 2029 as an above-ground line using smaller trains to accommodate 150 to 200 commuters.
In 2022, the average number of daily passenger trips on the MRT was around 2.7 million.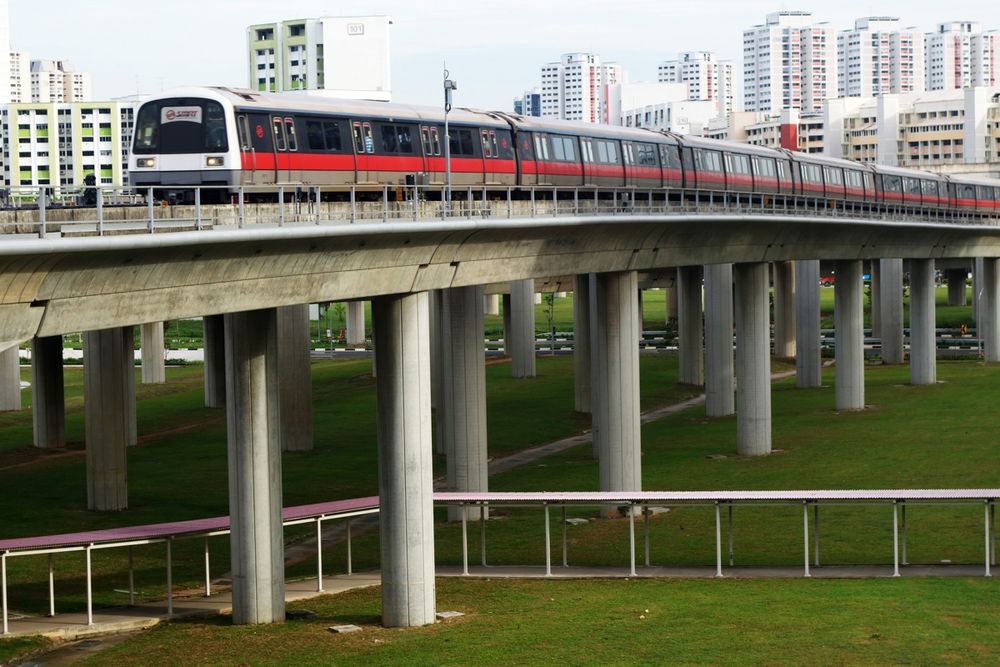 # Road
Buses
It might be a small island, but Singapore is home to more than 5,000 bus stops! The bus service is an affordable and reliable way of travelling that reinvents the clunky, dusty systems found in many major cities. Dozens of electric buses have been added in recent years – the LTA aims to have its whole fleet electric by 2040. Singapore continues to trial driverless buses, too.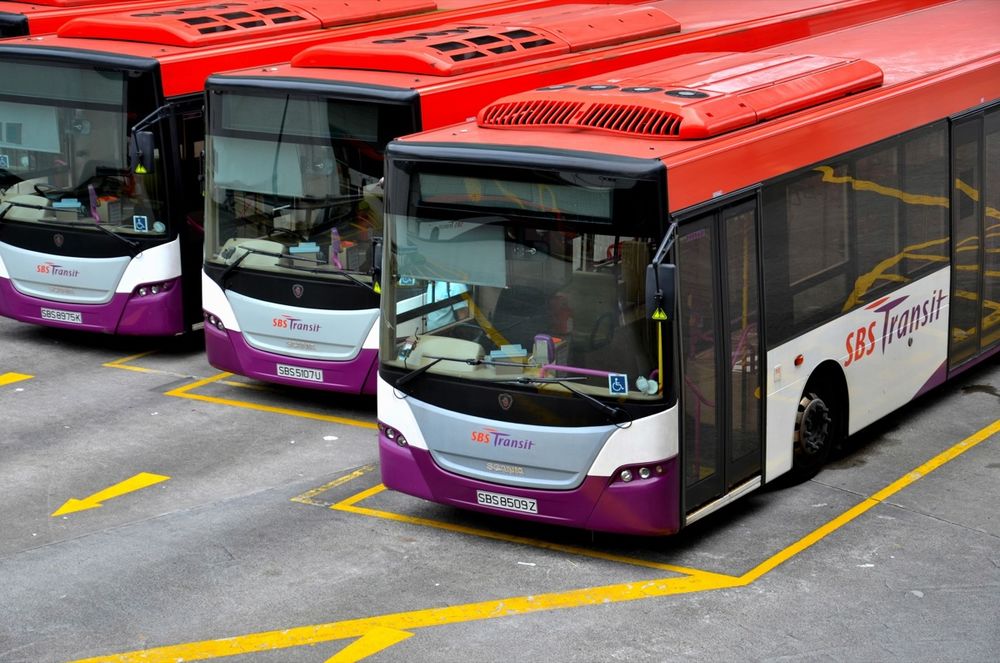 Editors' tips: EZ-Link or NETS FlashPay card tips
The EZ-Link or NETS FlashPay cards are a Singapore essential, allowing you to use all public transport types with ease by tapping in and out to pay for your journey. Buy a card at 7-Eleven or Cheers, or at an MRT station itself.
Cards can be used in various retail venues, fast food outlets, hawker centres, cinemas, supermarkets and attractions. Each has an app for easy topping up of your card too.
Limited-edition EZ-Link cards, charms and wearables are regularly released, including cards with hawker-themed artwork for National Day.
Readers' thoughts
We asked a panel of our readers for their thoughts on Singapore's public transport:
"I usually take a bus to an MRT and walk from the MRT station to my destination. There are covered walkways to keep you cool and dry. Buses and trains are very clean and well kept, partly because of the fines in place for eating or drinking. This rule was hard for me to follow when I was pregnant and not easy to follow with small kids either, but it definitely works the best to keep the buses tidy." – Emőke
"I use taxis or the MRT to get to work at the Marina Bay Financial Centre. The MRT is incredibly efficient – and spotless! Remember to wear a jumper, though, because the air-con can be freezing." – Talia
"I've seen tremendous changes in the MRT in the 20 years I've been here – from just two lines to a vast network; it's amazing. MRT is the best way to cut down on traffic time, too. I typically use it to go to business meetings with clients around Orchard or the CBD, mostly along the yellow Circle Line." – Namrta
"We live a long sweaty walk to public transport now, so we tend to only get it home – usually Raffles Place to Tan Kah Kee. I love the flexibility of being able to jump on with any bankcard or an Apple watch to pay." –Charlotte
"I use public transport when shuttling between meetings in the CBD. It's always pleasant and clean – way better than London! I'm looking forward to the new lines being completed." – Cherie
"I commute from Hillview Avenue to Orchard and take the MRT most often and buses sometimes. The public transport system is generally comfortable, clean, quiet and with no delays." – Nicolas
Taxis
If you prefer to get a car across the city, you can hail a cab from Singapore's well-established taxi system, or use one of the rapidly-growing private companies, including Grab (which took over Uber's Southeast Asian operations in 2018) and Gojek.
The base fare for travelling in a standard taxi is around $4, with additions made during peak hours (6am to 9.30am, and 6pm to midnight), and a CBD surcharge of $3. You can pay for taxis and private hire cars with cash (smaller denominations preferred), credit card, NETS, EZ-Link cards, or via the company's app.
In May 2023, Strides Taxi merged with Premier Taxis, creating Singapore's second largest taxi operator after Comfort.
Top taxi tips from our reader panel:
"If you have toddlers or babies, you can sit in a regular taxi without a car seat for your baby or toddler. For Grab, you need your own car seat for a baby. They also have a Family car option if you'd like to use their car seats for safety. You can buy car sears at Taxibaby.sg; both my toddlers use RideSafer Vests, which are small and convenient." – Emőke
"I shop around for the best rate between two or three taxi apps, and I still have the trusty Comfort Uncle app (now CDG Zig) on my phone. When I know that there's not much traffic on the road during a particular time of the day, or in the area where I'm going, I still use a metered fare in a taxi. I find this the fairest way to pay for a ride." – Cherie
"Taxis are an incredibly convenient way to get around Singapore but at peak times prices can almost triple. Check both Grab and Gojek as one will generally be cheaper than the other – or look at alternative transport like the MRT or bus." – Talia
"I use Grab and Zig, and I check which one has a better price. I also avoid peak hours." – Nicolas
"Register your bankcard and use Grab Pay to pay for every trip – you gain points much faster and they soon add up to free trips; it also boosts your status, meaning you're supposed to be prioritised for pick-up."  Charlotte
"Cross-check the prices on all of the apps, from Grab to Gojek, and Tada to Comfort, and see what's cheapest." – Namrta

For more helpful tips, head to our Living in Singapore section.
Second-hand shopping in SG
Churches, temples and other places of worship
This article first appeared in the Expat Living City Guide.