For many parents, finding the best international school for your children is one of the most important decisions you'll make when moving to a new country. This list of international schools in Singapore features many schools that offer a multicultural environment and have students from a diverse range of backgrounds and countries. There's also a wide variety of curriculums, from single-country programmes – including, for example, a British school in Singapore – to the International Baccalaureate and International Primary Curriculum. Here are 25 parent reviews on Singapore international schools, plus what questions to ask schools and where they are all located.
Which top international school in Singapore is best for you?
While a visit to a school is often the best way to make an instinctive decision based on the individual needs of your children, hearing the opinions of other families about their experiences can be invaluable. The following guide is not just a list of all the top international schools in Singapore, it features referrals from parents to help you slim down the list of schools you will need to visit.
Astor International School
Carmen Canfran and Maxi Poulsen, Spanish and Argentinian; Lucia (8) and Lola (3)
Lucia struggled in the local system. We had heard about Astor (previously Razum International School) by word of mouth and looked them up on the internet before visiting the school. In the first interview, we met with one of the founders and the person who designed the curricula. It was exactly what we were looking for for our daughter. After changing to Astor, Lucia really started enjoying school time; she was happy again after a long time. Our experience is extremely positive in general, especially with the staff and the approach of the teachers.
You can find international schools that charge $30,000 a year and have a teacher-student ratio of 1:25 or higher. At Astor, the fees are half that and the ratio usually doesn't exceed 1:12. This allows teachers to focus on each student according to their needs, have more time to prepare for lessons and be creative with the lessons when introducing new concepts. Students are also encouraged to regularly do presentations in front of other students. This gives Astor students an advantage over other students who only sit and write what the teacher says.
The core subjects of maths, language and IPC are included in the basic school fees. We can manage our budget if we choose more activities from one term to another. As long as the school continues with their low fees and low student-to-teacher ratio, we highly recommend Astor.
1 Kay Siang Road, #05-01/02
6974 5700 | astor.edu.sg
Australian International School in Singapore
Aurelia Rosa, Australian; Rocco (11) and Lennox (9)
We are new to Singapore, having arrived this January. Both Rocco and Lennox started at the Australian International School (AIS) the same month – Rocco is in Grade 6 and Lennox is in Grade 4.
Prior to arriving in Singapore, a few work colleagues had completed work assignments here. They'd sent their children to AIS and all had positive feedback and memorable experiences with the school. So it wasn't a hard decision for me to enrol Rocco and Lennox. A bonus is that AIS's school year and curriculum align with that of Australian schools. So, when we return to Australia in a couple of years, there'll be consistency with their education.
In the four months that the boys have been attending the Australian International School, I've been incredibly impressed with every aspect of their journey. The focus on wellbeing is a strong underlying theme that underpins all aspects of learning.
It's wonderful that the boys are able to learn another language, Chinese. The opportunity to have these lessons almost every day is not something they had available to them in Australia.
The school facilities are of a very high standard and keep improving. Rocco and Lennox are both very sporty and are enrolled in extracurricular activities – they enjoy playing rugby union, soccer, basketball and swimming. Being an avid gamer as well, Lennox also undertakes a Minecraft Coding session every Monday during his lunchtime, which he loves.
The AIS Parents Association is an amazing group that connects the school community through the website, app and regular communications as well as events and activities – there's always an opportunity to get involved in the community. I would highly recommend this international school to anyone considering enrolling.
1 Lorong Chuan
6883 8127 | ais.edu.sg
Brighton College – British International School in Singapore
Samantha and Killian Tracey, British and Irish; Summer (7) and Max (5)
Both Summer and Max joined Brighton College (Singapore) at the beginning of the school year in August 2021, which was also when we moved from Hong Kong to Singapore. Friends had recommended the school to us. The interview process gave us a strong feel for how nurturing the school would be, alongside the brilliant academic foundation that they provide.
We've been blown away by the school. Brighton has the warmth and intimacy of a small school while our children can benefit from facilities that you'd expect from a much larger entity.
Our children came from an IB system previously. We've been super impressed by the fantastic job their teachers have done getting them up to speed with the English system. The school community of this British School in Singapore has been very welcoming, too – our children felt settled and part of the family straight away.
Without question, we recommend Brighton to other families, and we've done so to many friends!
1 Chuan Lane
6505 9790 | brightoncollege.edu.sg
Canadian International School
Hear from a French parent of two children (8 and 6)
We've lived overseas for 10 years and arrived in Singapore a year ago. Both our children attend school at CIS Lakeside. Our daughter is in the G3 French bilingual programme and our son will start it too next year in G1.
Before arriving here, we were looking on the internet for the best international school in Singapore with the IB programme and a French bilingual curriculum. Canadian International School was the only one to offer this.
In the programme, children are exposed 50 percent of the time to French and 50 percent of the time in English. The teachers are native. This means that our children are immersed in a double culture, which goes beyond just learning a language the way one could do at any language centre.
We arrived in the middle of the pandemic so adapting wasn't easy. We were fortunate that the school had authorisation for new families to visit the campus and meet with the teachers. Everyone was kind and took the time to explain the school organisation to us. This was a relief, especially because we came from having school online for almost two years.
The school facilities and the extracurricular activities offered are worthy of great international schools in Singapore. Kindness and diversity are a priority here. We would recommend the school to families who are looking for a school with international standards and a strong language programme.
7 Jurong West Street 41 | 6467 1732
371 Tanjong Katong Road | 6345 1573
cis.edu.sg
Chatsworth International School
Azzah Atique and Waseem Yusaf, Pakistani; Zara (16), Rafae (13) and Hana (9)
We've been in Singapore for the past 14 years and it's home for us now. All our three children are in Chatsworth – the elder two have been there since 2010 and Hana joined in 2018.
I'd heard about the school from a friend whose children were studying there and she had positive things to say about it. When we enrolled our elder children in Chatsworth it was closer to our home on Orchard. Although it's no longer close to where we live now, we've found many more reasons to love the school.
The biggest reason for keeping our children at this international school in Singapore is that it's small where every teacher knows every student. All the subject teachers understand the potential of each child and know them on a personal level, something that's not possible in a school with big student numbers in each grade.
It's not all about grades at Chatsworth, but also how children are learning in other aspects including extracurricular activities. It has a great art programme and it's inspiring to see young children producing some phenomenal work – it's fabulous and very impressive.
The school has a family atmosphere and gives me confidence that my children are safe and are taken care of well. They love their teachers and look up to them for support and guidance. My children love going to school every day.
I would recommend Chatsworth to any parent who is looking for an international school with a friendly environment where the teachers are approachable and accessible any time.
72 Bukit Tinggi Road
6463 3201 | chatsworth.com.sg
Dulwich College Singapore International School
Tsara and Tristan Chiappini, British; Thira (6) and Raife (3)
Both Thira and Raife are attending Dulwich College (Singapore), in Year 1 and Toddlers respectively. We've spent just over two years living in Singapore; we moved here in March 2020 – an interesting moment in time to move countries!
We were aware of Dulwich College in London and were impressed with the Singapore school's impressive academic results across the board and how it balances this with superb sports, dance, music and art.
Another vital component was that Dulwich offers Mandarin as a dual language. In the short time that our children have been learning the language, they can speak fluidly and read hanzi. Parents were recently invited to a Mandarin showcase in the Performing Arts Centre. It was beautiful to see our daughter reciting a poem in Mandarin on stage then translating it on the way home.
Thira has enjoyed weekly swimming lessons in the outdoor pool. Both have relished getting muddy during Forest School, the outdoor classroom experience Dulwich pioneered on the island; using a bow saw – we never thought we'd see our five-year-old handle a saw! – and toasting marshmallows were significant highlights. While the facilities are impressive, the staff made a strong impression – they all seemed so passionate about their role with the kids.
Joining a new school during a pandemic was challenging but the school worked hard to keep us all connected. For instance, Tsara participated in a virtual mystery reader for our daughter's class, and we are kept updated about everything they do daily and weekly. As restrictions ease, parents are encouraged to socialise at the Clock Tower Cafe at the heart of the school on Friday afternoons.
People make a place, and we've been impressed by the children's teachers, who helped them settle and have dealt with any issues quickly and adeptly. Everyone we've encountered has been genuine and experienced, and you sense a feeling of pride in working for this international school in Singapore.
71 Bukit Batok West Avenue 8
6890 1003 | singapore.dulwich.org
Dover Court International School in Singapore
Ana Guimaro and Pedro Almeida, Portuguese; Inês (18), Sofia (15) and Miguel (13)
Currently, Sofia and Miguel are in Year 10 and Year 8 at Dover Court International School while Inês finished her IB Diploma last year and graduated from the school.
Before moving to Singapore in August 2019, we lived for three years in Ho Chi Minh City, Vietnam. While there, Inês attended the British International School, a Nord Anglia Education school. Our very positive experience with the academic standard and school environment meant that DCIS was our first option when we moved here.
One of the main advantages of DCIS is the IGCSE and IB curriculum, which are recognised worldwide. The school also offers different pathways for learning, demonstrating the adaptability and flexibility it has for every child's needs while also developing practical social and personal skills through hands-on projects. Students can also learn a second language like Spanish, Mandarin or French at a high level.
With small class sizes, the teachers know each child individually. They're very committed and competent and the frequent feedback and guidance from them enables students to positively develop every term and progress fast.
The campus has a lot of outdoor space with playgrounds, running tracks and sports fields, and there's a variety of extracurricular activities adapted to all ages. Before COVID, my kids could compete at international FOBISIA sports competitions as well as be actively involved in expeditions and volunteering.
DCIS also has a global collaboration with world-leading institutions like The Juilliard School for drama, art and music; MIT-Nord Anglia STEAM programme for students to develop their creativity and problem-solving skills; and UNICEF where students are challenged to make a difference locally and globally.
The school has a very welcoming multicultural community. New parents can also be involved in the community through the Parents Association.
DCIS equips our kids with confidence, independence and passion, qualities that are fundamental for their present and future life.
301 Dover Road
6775 7664 | dovercourt.edu.sg
German European School Singapore
Ivana and Mile Sikic, Croatian; Lovro (16), Lucija (11) and Luka (6)
We've been living in Singapore since August 2018 and all our children are GESS students – Lovro and Lucija joined when we moved to Singapore, they're now in Grade 10 and Grade 5 respectively. Luka started in Grade 1 this year; before that, he attended a local kindergarten.
This is our first time living internationally and we were looking for an excellent education and a healthy and safe environment for our children. GESS was recommended to us by a good friend whose children were pioneers in the IB curriculum of the school. It seemed a good choice for us since their education is deeply rooted in European culture and values.
We enrolled all children in the IB curriculum, where the instruction language is English. It's not our mother tongue and even though it was challenging for the children, the school's dedicated and caring team provided additional support and helped us to adjust smoothly.
This international school in Singapore has a multicultural environment – the flags of 66 nationalities proudly hang in the Forum and there are events to encourage students to build identities and be respectful to others. For instance, International Language Week allows various nationalities to be presented to the GESS community and our son was one of the presenters on Croatian culture.
The school's top-notch campus with its modern design was one reason we decided on GESS. There are plenty of facilities such as an Olympic-size swimming pool, three libraries (one each for Preschool, Primary and Secondary students), creative and safe playgrounds, various sports fields, a 400-seat auditorium and a black box theatre. Students choose their favourite activities through the extensive CCA programme together with an outstanding range of mother tongue and foreign language learning programmes.
The school is a non-selective school that treats every student with the same respect and gives the possibility for enrolment at any time during the school year. We recommend it to families looking for an international community and a high-level education.
2 Dairy Farm Lane
6461 0881 | gess.sg
Holland International School Singapore
Olga and Wesley Grant, Dutch and South African; Ethan (12) and Emma (10)
Ethan is in Grade 4 and Emma in Grade 3 at Holland International School in Singapore. They joined in August 2014 and February 2016 respectively. Since our children hold a Dutch passport, we wanted them to have roots, which is one of the main reasons we chose Holland School.
For 2022/23, the school will start an international stream based on the British Curriculum, supplemented with a Dutch language programme. If a family of English speakers is considering a move from Singapore to Holland, this is a great way to prepare your child for that move.
The school focuses heavily on social and emotional development. We love the Structural Cooperative Learning approach – children learn to work together in a group, each with their own role, to achieve a goal.
Parents who have knowledge about a subject are invited to hold a presentation. Wesley works for a medical company and when the IPC unit was about Robots and Modern Machines, he gave a presentation on Mako, robotic-arm-assisted surgery. Most children now want a potential knee replacement done by the robot!
The kids have an hour of music and two hours of PE and visit the library weekly. After-school activities include sports, drama, cooking, arts, dance, languages, a self-resilience programme – the choice varies every semester.
As part of the curriculum, all kids have an hour of English class per day taught by native English speakers. For the International Stream, it's an hour of Dutch per day.
As Holland School is a primary school only, new parents get to know other parents quite quickly. There are lots of volunteering opportunities, like helping to cook treats in the school's kitchen for holiday celebrations, helping in the library or helping to decorate the school for the holiday season.
One of the school's highlights is the annual drawing contest organised by the Royal Netherlands Embassy. Out of each grade, two drawings are chosen by a professional jury and the winners are invited to the residence of the Ambassador for a meal of Dutch pancakes and stroopwafels. Such an honour!
65 Bukit Tinggi Road
6466 0662 | hollandinternationalschool.sg/en
International Community School (Singapore)
Efosa and Adesuwa Obazee, Nigerian; Osazee (14) and Ivie (10)
We've been in Singapore for four years. Osazee is currently in Grade 8 and Ivie in Grade 4 at International Community School. They will move to Grade 9 and Grade 5 respectively at the start of the school year in August 2022.
Our experience has been rewarding and good so far. The teachers are friendly, professional, knowledgeable, approachable and always interested in both the academics and the wellbeing of the children. They know all the kids at ICS individually and ensure that each child receives the right level of engagement and support. There's continuous communication about the kids' learning and overall progress, and there's always someone to answer any enquiries we may have.
ICS has relatively small class sizes; we've found this to be a great advantage to our kids because they benefit from individualised learning and appropriate attention from their teachers and the school community.
Ivie is enrolled in the Mandarin language class while Osazee has taken language classes in both Mandarin and Spanish. The school's rich diverse culture means that our kids have close friends from the US, Korea, the Philippines, Indonesia, Canada, Europe and South America.
This international school in Singapore has very good facilities to cater to sports and other social engagements. Our kids really love the ECA programme, especially basketball and soccer, and they get a lot of pleasure from after-school sports.
Parents are given the opportunity to be involved in various school activities and get to know each other, which has helped our family transition smoothly when we moved to Singapore. We highly recommend ICS to families who are looking for a school with committed excellent teachers in a rigorous academic environment and with good Christian values.
27A Jubilee Road
6776 7435 | ics.edu.sg
Integrated International School
Helen and Ulpiano Dulguime, Norwegian and Filipino; Paris Angelo (16), Tristan Josef (15), Kent Albert (14) and Sam Kristoff (11)
We lived in Japan for eight years before moving to Singapore in August 2013. Tristan has been studying in Integrated International School since then.
We learned about the Integrated International School in Singapore (IIS) through our company's service provider who gave us a list of possible schools for children with special needs. We decided on IIS mainly because it's the right size for our son, who we think may need a couple of years to adjust in a new country before he can explore a bigger environment.
Through the years, we saw that he has been thriving in school, is very happy and receives a lot of support from teachers and peers. The school is very responsive to our needs and provides students with opportunities to learn and explore their capabilities and creativity. Tristan has concerned and caring teachers who guide him in daily schoolwork and with navigating relationships with classmates, teachers, mentors and administrators.
A testament to the school's caring and nurturing environment is its sensitivity to subtle cues and changes in the behaviour of students. At one point, the school helped with Tristan's transition through the intricacies of puberty, something that we were not fully aware of and needed guidance in the context of his special needs.
The curriculum is balanced with a steady progression on the topics of inquiry, each year challenging the students to a higher level of learning. Pre-pandemic, students were able to engage in interesting co-curricular activities like yoga classes, and they had a healthy frequency of field trips and events with family or community participation.
We're thankful that IIS provides opportunities for parents to be involved in the community and activities such as the school fair and field trips. This creates a sense of belonging for parents. My son is very proud of his school and looks forward to Mondays. What more can I ask for?
41 Sunset Way, #01-01
6466 4475 | iis.edu.sg
International French School Singapore
Mechie Choa Yu and Selwyn Neal Tan, Canadian and Filipino; Eli Scott (7) and Emma Kate (2)
We started looking for schools when Eli was entering Elementary. We were pleasantly surprised when we visited the International French School – it offers both high-standard teaching quality and modern school facilities at a reasonable price. Also, we found out that, for several grades, children go on annual trips that are heavily subsidised and built into the tuition.
Eli is now in his second year at the International French School and we're planning to send Emma there too. Eli's teachers have been welcoming from day one and made sure that he adjusted quickly to the new environment as we're a non-French speaking family. The FLSCO, which is like a private language tutor for kids, is included in the fees and helped Eli with learning French. Within a month in school, he was able to understand French, and in three months was able to use the language for daily conversation.
There are a lot of mixed families at IFS, which added to the diversity in culture within the school and made our family feel very welcomed.
The school's facilities are comparable to Eli's previous school. Eli can choose from different after-school sport and non-sport activities and holiday camps during big breaks at a very reasonable price. The school offers different curriculum pathways in the higher years. They have high academic standards throughout each level, which translates to high pass rates in the national exams.
As a not-for-profit school, IFS is transparent with plans and budgets. Parents are invited to join the annual AGM to discuss various matters. We're able to ask questions and understand more about the school's future goals and current situation. This makes us feel more invested in the school.
All in all, we have been very happy with the school.
3000 Ang Mo Kio Ave 3
6805 0000 | ifs.edu.sg
Invictus International School in Singapore
Priya and Rahul Mudgal, Indian; Ujjwala (8) and Yash (2)
We've been living in Singapore since May 2013. Ujjwala has been attending Invictus International School Dempsey since Grade 1 in 2020. We're looking forward to sending Yash, too, when the time comes.
We're extremely happy with the way the school has organised the learning experiences for children. Amid COVID restrictions, the teachers adapted to new teaching methods very quickly and made sure that they were engaging and fun for the students. Ujjwala is extremely happy and enjoys going to school every day.
When we were looking to enrol our children, we undertook thorough research on the international schooling ecosystem. Beyond visiting international schools in Singapore and speaking at length with the administrators and faculty, we spoke with several parents who are part of our social network. We sought value in terms of fees without compromising the learning experience, and quality was one of the most critical factors.
Another important criterion was the diversity of the student cohort as we believe that diversity brings interactions and experiences that enrich young minds. We also wanted a school within proximity of our Holland Road/Botanic Gardens neighbourhood.
There's an active Parent Teacher Association where I (Priya) have been the Arts Committee Head since Ujjwala started with the school. In 2021, together with other PTA members, we organised an arts competition where all the children in the school displayed their artworks at REDSEA Gallery over a weekend in April.
The school may not have the usual extracurricular activities or sports infrastructure that schools with large campuses offer. Still, the academic experience, which is IPC/Cambridge based, is on par with schools that charge a much higher fee. We would certainly recommend the school very strongly to other families.
73 Loewen Road, #01-21
6259 3877 | invictus.edu.sg
Marlborough College Malaysia
Lisa Dean and Tom Greenfield, British; Rose (8), Joe (6) and Penny (5).
We have lived in the region for eight years and run our own business supplying sportswear to teams and schools. We learned of Marlborough College Malaysia and its reputation through friends. Rose joined in Year One and is now in Year Three. Joe joined in Year One this year and we're hoping to enrol Penny into Year One this August.
The school is set in a spacious, impressive campus incorporating exceptional facilities. The children enjoy swimming, tennis, touch rugby, ballet, athletics, football and gymnastics, amongst other options.
Aside from the sporting activities, the children experience a wide range of lessons and activities including languages such as Spanish and Mandarin, music, art and exciting expeditions to the on-site mangrove and lake. The teachers are approachable and professional, and there is a very sociable community in and around the school.
The ethos of the school echoes many of the traditions of Marlborough College (UK), which is welcome to us, being British. The pupils take part in many charitable activities through the Outreach Team, which comprises teachers and parents.
We would recommend the school as the standard of teaching and the space and facilities are hard to beat.
Jalan Marlborough, Puteri Harbour, Johor
+60 7 560 2200 | marlboroughcollegemalaysia.org
Nexus International School Singapore
Malavika Singh and Marc Christophe Brugger, Indian and Swiss; Janya Angelique and Kimaya Chloe (9)
This July will be two years that our family is in Singapore. Our twin girls have been studying at Nexus International School in Singapore since August 2020. Both love going to school. Every day, they come home super happy. They love each activity in school, including co-curricular activities and art. I've never seen a happier set of twins who like to go to school every day!
We learned about Nexus through a female friend of ours. Her daughter was a student at the school so she recommended it to us. We got in touch with Mr Rene Kragelund, the Assistant Manager of Admissions, and everything was just a winner from that point onwards.
I highly recommend the school to parents – I recommended Nexus to another parent who was coming from India and they loved it too!
1 Aljunied Walk
6536 6566 | nexus.edu.sg
North London Collegiate School (Singapore)
Makiko and Alex Jeffrey, Japanese and British; Naomi (7), Louis (5) and Kai (2)
We moved to Singapore in 2018 after living in the UK for 11 years and, before that, five years in the US. Naomi and Louis have been at NLCS (Singapore) since August 2021 and we're intending that Kai attends from 2023.
Having lived in London for many years, we were aware of the excellent reputation of the parent school; our sister-in-law's three daughters were at the school and were happy. We wanted our children to join when we heard they were opening in Singapore because, having spoken to the team, we knew they were dedicated to providing the same quality of education as in London.
The quality of the teachers is top class and the curriculum is excellent – we have compared notes with our friends whose children currently attend NLCS UK and we can say that it's very much in line, which is not always the case for schools here in Singapore. This will ensure a smoother transition in the event we return to the UK.
The facilities and line-up of CCAs is impressive. We were surprised to learn that CCAs are at no extra cost and to see even tennis as an option for seven-year-olds. Overall, everyone at the school seems highly professional and dedicated to providing a high-quality education for the children.
The children enjoy school and the location is great for us. This means that our children spend less time travelling to and from school and have more time to rest and play, which is very important for us.
NLCS Singapore is really a wonderful school; we couldn't be happier and we would recommend it to anyone.
130 Depot Road
6989 3000 | nlcssingapore.sg
Overseas Family School
Sarah and Tim Olorenshaw, Australian; Kora (9), Penny (6), Zoey (3)
We arrived here in 2020, Kora and Penny have attended Overseas Family School since we arrived and Zoey joined her big sisters in February.
We relocated to Singapore during the peak of lockdowns in 2020 and there was a lot of uncertainty for us as a family. It was daunting to make the right decision, as we were completely new to Singapore.
A mother of Tim's friend had been a teacher at OFS previously and she spoke highly of the school. We also read lots of positive feedback during our online research for the best international schools in Singapore. Ultimately, given the school's diverse nature and convenient location to where we were going to live and Tim's workplace, we knew OFS would be the right choice.
Our entire experience with the school has been very positive from the beginning. The first tour of the school was a great start, from the warm welcome at reception through to seeing all the excellent facilities such as the athletics track, dedicated art and music rooms, and library that the children would have access to. Our kids have felt very comfortable at the school from day one. It's a very caring environment and provides many rich learning experiences – we always hear them talk about their days with great enthusiasm.
The school has an amazing history and inclusive culture. It has a diverse environment, given the number of countries and cultures present through the children who attend. This makes for a rewarding experience for all students. We've found all the teachers to be excellent and highly invested in seeing our children succeed and reach their goals. No hesitation in recommending the school to other families.
81 Pasir Ris Heights
6738 0211 | ofs.edu.sg
One World International School Singapore – Suntec Campus
Giuliana Savino and David Jackman, Italian and Canadian; Gisele (9) and Ayden (5)
We moved to Singapore last June from Hong Kong and both our kids joined One World International School – Suntec Campus as soon as the campus opened.
The experience so far has been very good. The application and onboarding experience was smooth and the staff have been very helpful. Both kids love their teachers and the school community. They always come home very happy and eager to go back the next day, and they always have positive things to say about the school and their classes.
The kids get to go to Superpark once a week, which they absolutely love.
Co-curricular activities have recently started and the kids are enjoying them. As Singapore opens up, I am sure they will have more opportunities to go on field trips around the city, which will be another perk for the Suntec Campus.
We've found OWIS to be a great offering in terms of educational value and cost of education compared to other international schools. We would recommend it to other families based on our experience, our kids' feedback and the cost of fees.
Suntec Campus: 1 Raffles Boulevard
Nanyang Campus: 21 Jurong West Street 81
owis.org
Singapore American School
Jeanette and Todd Andersen, American; Holland (8), Andi (6), Jackson (4) and Beckham (2).
This July, we'll have been in Singapore for four years. This is the first year at Singapore American School for Holland, Andi and Jackson; we transferred from another international school that they attended for three years as SAS can accommodate all our children on one campus.
We also moved within walking distance to the school and many of the teachers and administration live in our neighbourhood. Knowing that these wonderful people work with and enjoy being neighbours with our children is so refreshing. We've gotten to know many different people who work in different positions and all of them have exceeded every expectation. We can only assume that much of their positivity comes from feeling valued at their place of work, and we reap the benefits as we see how they truly care about our children as individuals and will go to great lengths to ensure they are seen and cared for in a way that is tailored to their needs.
The teachers really love their jobs and care so much about the children they educate. They feel supported and encouraged to progress their methods and resources through regular training throughout the year.
We have felt an overwhelming sense of community, which is important to us while we are so far away from home. The after-school activities are incredible! Many of the programmes are at the school and eliminate the hassle of travelling. We especially love the option of Saturday morning baseball and dance classes, since we stay so close to school.
While the school will happily give you a tour, we highly recommend asking any SAS parent about their personal experience. For years, we had heard how wonderful the school was and how teachers would stay for over 15 years at a time. We couldn't fully understand what that would mean for our children until we experienced it ourselves.
40 Woodlands Street 41
6363 3403 | sas.edu.sg
Sir Manasseh Meyer International School
Olga and Eduard Shtanger, Israeli; Ariel (14), Danielle (10) and Maya (4)
We've been in Singapore for 10 years and all three of our children started attending Sir Manasseh Meyer International School (SMMIS) one and a half years ago. Ariel is currently in Grade 8, Danielle in Grade 5 and Maya in Nursery.
A friend recommended the school to us and after researching it, we felt that SMMIS was the school for our children. We love the warmth, the community feel and the inclusion of all faiths in the Jewish Education and World Religions programme. We feel that any school can give a good education. Finding a school where children are happy when they arrive and still smiling when they leave is not so easy; SMMIS has provided this for our children.
The curriculum is very well balanced and covers a high standard of maths and English. The children also enjoy all the fun activities on "Drop Down Days". The facilities, which include a pool, gym and state-of-the-art classrooms, are new and wonderful. The care from teachers is incredible and the support is amazing. We also love the hot lunches and afternoon snack that are provided free by the school.
SMMIS is a not-for-profit school. You get the international school environment and curriculum without the "I need to take out another mortgage" price tag! Even if you're unsure, take the SMMIS school tour and see how happy the children are.
3 Jalan Ulu Sembawang
6331 4633 | smmis.edu.sg
Stamford American International School
Janine and Jonathan Pentzien, Americans; Calla (14) and Carson (9)
Both our children are currently enrolled at SAIS – Calla in Grade 9, and Carson in Grade 4; they've been at the school since we arrived in Singapore in 2016.
We've had a great experience at SAIS overall. The kids have been involved in various CCAs, sports, music lessons (piano, guitar, choir) and clubs since they arrived.  Carson has been in the bilingual Mandarin programme since Pre-K, and we have enjoyed the close-knit nature of that group, in addition to him having half his day taught in Mandarin. Calla plays on the SAIS U19 Girls basketball team, an activity she really enjoys.
We have also been involved in the school as parents, including on the PTA board, helping to organise social events, and providing some teaching assistance in the music department. We really enjoy being a part of the community at Stamford and feel happy our kids are at this school. When we first came to Singapore, it was supposed to be only for two years; we researched and toured several schools and chose SAIS because we were excited about the academic options and impressed with the facilities, and we also loved the central location. Once we decided to stay longer, we briefly considered looking at other schools but the kids have continued to thrive at Stamford, so there was no reason to move them. We like the IB curriculum and the amount of analysis and reflection involved in all aspects of learning at the school.
We would definitely recommend Stamford to other families, especially if they're interested in the IB curriculum. There are many wonderful programmes and activities on offer, as well as a warm and connected school community, and a great location.  If you're looking for a school offering a variety of academic tracts (IB, DP, BTEC) that also has many sports, drama and music options, all in a great location in Singapore, then we feel Stamford is a fantastic choice.
1 Woodleigh Lane
6653 2947 | sais.edu.sg
St. Joseph's Institution International
Lousia Chng and Aaron Tan, Malaysian; Zachary (15), Ryan (12) and Michelle (8)
We moved here in August 2012 and enrolled Zachary in SJI International in Prep 1 when he was four years old; he's now in Grade 9. Ryan and Michelle joined in Prep 1 too; they're now in Grade 6 and Grade 2 respectively.
Having been with the school for nearly 10 years, we've seen SJII weather the pandemic and continue to grow and evolve. We continue to have a very positive experience at the school.
We love the virtues programme, a common language used by teachers, peers and parents that has been inculcated in the children since Prep 1.
The school offers daily Chinese for its students from Prep 1. The teachers make learning Chinese fun and our boys enjoy the language even though my husband and I don't speak Chinese. Pre-COVID, the school organised annual cultural and language trips for the Grade 5 and 6 students to different parts of China – Zac explored Xi'an and Chengdu, further cementing his interest to learn Chinese.
The school balances building a strong academic foundation for the child with a holistic experience. Singapore Maths is taught in elementary school and the Language Arts programme is anchored around writers' workshops and a strong reading programme. There's an emphasis on sports and music. Our boys are in the school swim and badminton teams, and play soccer and basketball. Zac has also competed in regional swim competitions in Bangkok, Phuket and Darwin.
The school holds solo concerts as well as drama performances. Zac, who's not a singer, sang and danced in the junior musical, Mulan, in his elementary school graduating year.
Our children have had wonderful teachers who are very committed and have taken the time to get to know them as individuals and develop their strengths. Furthermore, we have a lovely parent community and many of the parents I've met have become good friends of mine.
490 Thomson Road
6353 9383 | sji-international.com.sg
Swiss School in Singapore
Héloïse and Patrick Buehler, French and Swiss; Claire (12), Roman (9), Raphaël (7) and Camille (5)
We arrived in Singapore from Zurich in July 2019 with the idea of returning to Switzerland after one or two years. So it was important for us to stay in the Swiss system.
We heard only good things about the Swiss School from friends living in Singapore. The first contacts and visits quickly convinced us that it would make our children happy. All our children started attending the school in August 2019. This summer, Claire will start Primary 6, Roman Primary 4, Raphael Primary 2 and Camille Kindergarten 2, all in the German stream.
The school welcomes children from Little Tots to P6 with two streams: French and English, and German and English. They also have a partnership with UWCSEA for secondary school where Swiss School students can continue their schooling with an equivalence to the Swiss system. There's also a large variety of ECA courses on offer. Our kids are doing robotics, Lego, football, ballet and taekwondo.
The kids love going to school. They tell us a lot about what they're learning, what they've experienced, their friendships and their teachers. The students know each other across the different classes and live an inclusive school life. Newcomers are welcomed, making a fresh start in a new country easier for the parents. The Swiss School is like a second family for our kids, and we've met new friends who make us feel like we're part of a community.
The teachers here are very engaged. This allows them to develop individual relationships with the students, understanding their needs, strengths and weaknesses and accompanying them in developing their potential. Our children learn in a caring and enthusiastic spirit and without pressure.
The Swiss School is next to the Swiss Club where our kids have their swimming lessons. The classrooms are like little bungalows in greenery, which makes it feel like a little village rather than a school. We're happy to see our kids find a second home immediately in this family-friendly environment surrounded by positive energy.
We definitely recommend the school. It's also one of the reasons why we're still in Singapore instead of returning to Switzerland after one year, as originally planned!
38 Swiss Club Road
6468 2117 | swiss-school.edu.sg/en
Tanglin Trust School
Vicky and Charlie Mansour, British; Barnaby (12), Tabitha (10) and India (7)
In August 2021, we moved to Singapore from Hong Kong and joined Tanglin Trust School at the start of the school year – Barnaby in Year 7, Tabitha in Year 6 and India in Year 3.
The children were at a British international school in HK. Before that, we were in London, so we wanted to continue in the British System.
Tanglin stood out from the start. We did a virtual tour and were blown away with the facilities and the opportunities that the children could gain here. We felt that they would all find aspects of Tanglin that they could enjoy and excel at. The children settled in from day one and are really enjoying their time at the school. Barnaby started doing Latin, French and Spanish this year and is thoroughly enjoying the Tanglin language programme. The children have been enjoying co-curricular activities such as basketball, rugby, rock climbing, Masterchef, netball, Tanglin Merlions swim training, gymnastics and Animation Club, to name a few. They've also been on school trips around Singapore after being unable to enjoy them for two years.
There has been limited access to the school grounds for parents due to COVID restrictions. However, this is rapidly changing and we recently were able to see Tabitha in her Year 6 performance, a real taster of the fantastic music and drama department.
The school has lots of ways to make new parents feel included. There's a class rep, class WhatsApp groups and an open-door policy with the teachers, who are helpful. Now, new Year 7 parents also have breakfast with the CEO and there's a tour for Year 3 organised for third term.
The school app is also a great tool – with the touch of a button you can find information about what's happening in the coming weeks, order school lunches, or change going-home arrangements. As a family, we're very happy with our choice, and we believe it can only get better!
95 Portsdown Road
6778 0771 | tts.edu.sg
The Grange Institution
Paulina and Jaroslaw Kazmierczak, Polish; Cyprian (18) and Leon (8)
We arrived in Singapore at the beginning of the year and Leon started attending The Grange Institution. As we were approaching the entrance on day one, a staff member waved to us with a big smile saying, "You must be Leon, we were waiting for you!" The feeling of being expected builds a sense of belonging from the start and the personal touch continues with each step.
This international school has shown a very pupil-centric approach. It's run by a great team of people who care about the education and wellbeing of kids, and they've created a unique place to show learning as an exciting journey.
The school links lesson content with real-life examples and practical usage of the knowledge – an example is the creation of a computer game, where the aim is to build a bridge between two pieces of the forest cut by a highway so that animals can pass safely. This promotes sustainability, respect for nature and responsibility for the planet.
The kids are also asked to identify the top three items from each curriculum subject that they wish to put extra focus on. They write them on a piece of paper and review them after a quarter for progress, accompanied by the teacher. This promotes ownership and accountability for their own development from early years.
For music, kids start to build simple compositions of their own songs from Grade 2. For art, they get to create fully illustrated comics. In PE, they learn discipline and resilience. The biggest deal comes from the home teacher, who also encourages pupils to live full of passion, be inspired by everyday life while remembering core values.
While parents give their children roots, the right school helps to give wings. With The Grange, children can fly high!
449 Yio Chu Kang Road
6817 3630 | thegrange.edu.sg
The Perse School
Sumbal Waqas and Waqas Munir, Pakistani; Maira (9) and Mehreen (6)
Both our children joined The Perse School in January 2021. Maira is now in Year 4 and Mehreen is now in Year 2.
We moved to Singapore in November 2020. Leaving home and coming to a new place can be quite a daunting experience especially for our little ones; finding a school that's a good fit for our kids would make settling in easier. The Perse School in Singapore shares a strong lineage with The Perse Cambridge – there's an abundance of history, academic excellence and good school ranking. During a tour of the school, students from different classes knew each other by name, and the teachers and staff knew the names of the kids passing by. This strong school community felt very comfortable.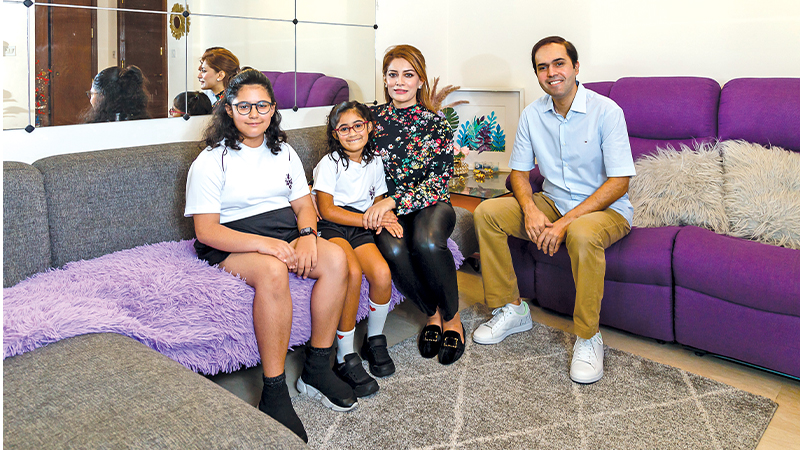 Our kids enjoy the smaller class size and have the advantage of personalised and tailored learning by truly dedicated teachers. It's an inclusive school with families from diverse backgrounds.
The school follows the International Cambridge Programme and has a holistic approach towards education, allowing Maira and Mehreen to develop both academically and personally.
The school provides a variety of elements such as arts, performance, music, sports and leadership skills with daily Chinese and a combination of Singapore Maths incorporated with Cambridge Maths. There's a science lab and a designated library with a creative corner for Lego building, chess and brain games. There's also a variety of ECAs ranging from drama and Scouts, to sports, foreign languages and many more. The school also makes use of conveniently located external resources such as The Rainforest Hub for outdoor sports and the Temasek Club for swimming taught by qualified swimming instructors.
Both our kids are thriving here. Maira was recently elected as the Vice Chairperson of Pupil Organised Democracy, giving her an avenue to develop and enhance her leadership skills as well as giving a voice to the students. Mehreen has taken a liking to Music and Drama – she loves participating in school music performances, plays and public speaking events.
The school recently established a Perse Parent Association, and Sumbal was selected as its Head. The PPA plays an integral role in fostering a positive liaison between the school and the parents to meet our shared goal – to enhance a child's education and to give a better quality of school learning as well as provide a conducive and a comprehensive school experience.
191 Upper Bukit Timah Road
6971 8210 | perse.edu.sg
The Winstedt School
Isabel and Sean Palmer, French-German-Filipina and British-American; Julian (7) and Celia (5)
We moved from Tokyo to Singapore in July 2022. For Julian, we were looking for a school that would provide learning support that was more comprehensive, integrated into the classroom and coordinated than what he previously received. For Celia, we were looking for a school that would lay a strong, rigorous foundation for her academic and social development.

We received several recommendations for Winstedt from teachers and friends, singling out its comprehensive, integrated approach to learning support. Beyond that, we were also swayed by the school's approach to structuring its curriculum around every child's individual interests and needs and incorporating social and emotional learning throughout.
The impact of The Winstedt Way on Julian was immediate. From the very first day, his disposition became brighter, more positive and engaged. Academically, he quickly learned strategies that encouraged him to break out of negative patterns. He continues to gain a strong voice of his own, and no longer shies away from independently tackling challenging lessons and homework.
Meanwhile, Celia, who doesn't require learning support, benefits from an accelerated literacy curriculum that is well ahead of her year group. She also enjoys other subjects at a more moderate pace, thanks to Winstedt's individualised approach. She's also surrounded by a truly diverse group of peers and classmates and learns that "everybody has different feelings, and everybody shows them differently".
As parents, we benefit from constant communication and coordination with Winstedt's dedicated and experienced teachers, therapists, specialists, leadership and staff. They regularly stay in touch with each other and with us about our children, what they're learning, how they're growing academically and socially, and what we can do – at school and at home – to reinforce.
At Winstedt, our children are not just happier students, they're happier all around!
1208 Upper Boon Keng Road
6715 5373 | winstedt.edu.sg
UWC South East Asia
Inna Virchak and Tetsu Serizawa, Belarusian and Japanese; Mari (13) and Nicola (7)
When we arrived in Singapore in 2009, Mari was one year old. She went to preschool but we started looking for a school where she could learn in a stable environment for the long term. Several friends who are parents of UWC students highly recommended the school as one of the prestigious international schools in Singapore. After visiting the campus and meeting with people, we decided to enrol Mari in K1. Mari enjoyed school and we were convinced that UWCSEA was the best possible school for our kids. Nicola also entered UWCSEA in K1. Mari is now in Grade 7 and Nicola is in Grade 1.
Our kids feel very comfortable in the multinational school community and among the diversified student body. The spacious campus in Dover as well as K1 to G12 coverage gives kids plenty of opportunities to interact with other students of different ages through various school events. Most of the Infant School teachers also know Nicola is Mari's younger brother and our kids feel very much at home.
The curriculum is well designed and organised. In addition to a second language selection being incorporated in the IB programme, the Home Language Program is very helpful for kids to keep up with their mother tongue. The teachers make every effort to keep parents updated with their kids' progress at school and support their growth together with the parents.
There's an amazingly wide selection of extracurricular activities available during school terms and holidays so the kids will never be bored.
We recommend UWCSEA because the school builds a strong foundation for kids to become leaders in the global community in the future.
Dover Campus: 1207 Dover Road | 6774 2653
East Campus: 1 Tampines Street 73 | 6305 5353
uwcsea.edu.sg
XCL World Academy
Silvia Fasana and Roberto Avallone, Italian; Viola (12), Rachele (11), Stella (8), Giorgia (4), Matilde (2)
We relocated last July to Singapore after 10 years in Dubai. We found XCL World Academy (XWA) through an internet search while still in Dubai, and we were impressed with the online tour, so we decided to try the school.
Our four oldest daughters have been attending XWA since last August – Viola is in Grade 6, Rachele in Grade 5, Stella in Grade 2 and Giorgia in Pre-K. Mathilde will enrol in nursery in the next academic year.
Initially, the older girls were not too excited to start a new scholastic path in a new city, but they settled down quickly at XWA and were very soon happy to go to school each day. Their teachers help them in all aspects of their life, not just academics.
The school's facilities are simply amazing and outstanding; there are many ECAs available, too, along with a very good bus service.
What we really like the most is the fact that the teachers interact with the kids in a holistic way. There's a huge focus on learning and achievements but they also pay a lot of attention to emotional intelligence. In primary school, the counsellor often goes to each class and speaks about topics relating to emotions, behaviour and feelings. At the moment, we couldn't ask for more for the education of our kids!
We're really satisfied with our choice; even though we don't live close to the school, the daily commute is worthwhile. We're also looking forward to experiencing more of the school community now that COVID restrictions are getting better.
2 Yishun Street 42
6230 4230 | xwa.edu.sg
This feature first appeared in the June 2022 edition of Expat Living. You can purchase the latest issue or subscribe, so you never miss a copy!
Ask yourself these 10 questions when choosing an international school in Singapore
Which curriculum will best suit my child's educational needs and our family's plans for the future? There are many curriculum options, and the right fit will minimise the disruption of moving to another country and a different school.
Is the location of the campus convenient to home and public transport?
How do class sizes and teacher-to-child ratios vary among the schools on my shortlist?
What languages are taught as second languages? Is this compulsory, and will the experience benefit my child?
Will the extracurricular activities offer a balance to my child's academic studies and broaden his or her educational experience?
Are there opportunities for parental involvement at the school? This can be a wonderful way to meet new people and get to know the school.
What facilities are available for outdoor and after-school activities?
What types of school excursions are offered? Many children have the opportunity to visit other countries as a part of the school curriculum, often with a focus on learning about those countries, community engagement and volunteering.
Do the school's holiday and term dates vary from those of my other children's schools or my home country?
How does the school communicate with parents about the child's learning experience and general school news, such as online or through newsletters and excursion permission notes?
Location, Location, Location!

Things to check up front
Enrolment fee: Expect to pay to submit an application; this is sometimes known as an "application fee". Some schools will refund all or a portion of the cost if you decide to withdraw the application before an offer is made.
Registration fee: Some schools charge an additional fee when you accept the offer of a place.
Building or development levy: Most schools add this cost to fund the future development of school facilities.
International school tuition costs
Fees for a year of kindergarten can range from around $20,000 up to $29,000. Fees for Year 12 generally start around the $28,000 mark and can go up to $42,000 per year. Payment terms range from per semester or term to monthly.
Extras
Technology: Older children are often required to bring their own laptop or iPad, or to purchase one through the school's IT scheme.
Uniforms: This generally ranges from $100 to $500 per child.
Lunches: Although not compulsory, most schools offer a lunch from approximately $4 per day.
School bus: Price is dependent on the distance from school, but expect to budget a minimum of $1,000 per child per year.
Excursions and school trips: Younger children are likely to make local day-trips to the Zoo or the Science Centre, but older children often have the opportunity to visit countries such as Thailand or Nepal, at a cost of up to several thousand dollars.
Textbooks: Some texts are included under tuition fees while others are additional, up to around $500 per year.
Exams: For IGCSE and IB diploma candidates, these can cost from $150 to $2,500.
Extra-curricular activities: Many of these are free, but some can cost up to $300 per term per activity

If you're planning to live in Singapore or if you're new to our sunny island, then make sure to read the digital edition of our latest City Guide.  
We also have a list of the best preschools in Singapore; also, check out the amazing range of CCA's and ECA's available at international schools here!