For many parents, finding the best international school in Singapore for your children is one of the most important decisions you'll make when moving to a new country. This list features many schools that offer a multicultural environment and have students from a diverse range of backgrounds and countries. There's also a wide variety of curriculums, from single-country programmes – including, for example, a British school in Singapore – to the International Baccalaureate and International Primary Curriculum. Here are 29 parent reviews on Singapore international schools, plus what questions to ask schools and where they are all located.
Which top international school in Singapore is best for you?
While a visit to a school is often the best way to make an instinctive decision based on the individual needs of your children, hearing the opinions of other families about their experiences can be invaluable. The following guide is not just a list of all the top international schools in Singapore, it features referrals from parents to help you slim down the list of schools you will need to visit.
# Central– Bukit Timah, CBD, Orchard
Astor International School in Singapore
Founded: 2019
School year: August to June
Ages: 5 to 12 years (Year 1 to 7)
Size: 60 students
Curriculum: IPC, Singapore Maths, British English
Brenda Williamson, Australian; Lily (10) and Jasper (6)
"Lily and Jasper have been attending Astor International School in Singapore since 2021 and we absolutely love the school! We've been thrilled with our children's experience at Astor – the school fosters a love of learning in them.
Astor's curriculum is well designed to meet the needs of students at every level. The teachers are knowledgeable, caring and approachable. They've been responsive to our children's needs and challenge them to reach their full potential. Our children have made significant progress academically and socially, and we feel confident that they are receiving a quality education.
The school offers a variety of extracurricular activities including music, drama and sports. These have allowed my kids to explore their interests and develop new skills. We appreciate the strong sense of community at the school and the emphasis on creating a safe, inclusive and fun environment for all the students.
We would definitely recommend Astor to other parents looking for a great educational experience for their child. The school provides an affordable education that doesn't skimp on quality. Despite the reasonable cost, the curriculum is comprehensive and well structured, providing a solid foundation for their future.
Overall, we decided on Astor for its exceptional value and we couldn't be happier with our experience.
1 Kay Siang Road, #05-01/02
6974 5700 | astor.edu.sg
Chatsworth International School in Singapore
Founded: 1995
School year: August to June
Ages: 3 to 18 years
Size: 750+ students
Curriculum: IB (PYP, MYP, DP)
Abigail and Darrin Browne, British-Australian and Australian; Alice (9) and Ewan (5)
We've lived in Singapore for seven years. Alice started at Chatsworth's Orchard campus in Year 1 and moved to the Bukit Timah campus in Year 2 onwards. Ewan started in K1 at the Bukit Timah campus that same year. They're now in Year 4 and Year 1 respectively.
The teaching staff's tenure and mindset are focused on getting the best from each child while also making learning fun. Since the kids have so much fun at school, they enjoy learning, which is important in setting them up for future success.
This international school in Singapore offers Mandarin and French language choices, and students choose a stream from Year 1 onwards. This means they have multiple lessons per week in their chosen language, which helps them learn quickly. Our daughter's favourite class is Mandarin!
The after-school activities are run by both the teachers and external providers. They cover sports, Chef Club, gardening, crafting, drone flying and race-car engineering. While the school grounds are not huge, they're set in an amazing area – the kids call it the Jungle School. Often, monkeys are around on the grounds!
Chatsworth has some sports facilities onsite and shares some with the Swiss Club. Students in Junior years upwards can participate in school teams for a number of sports.
From the teaching staff to the parents' group and the families at the school, there's a big sense of community, and we've always felt a part of this. This is one of the main reasons we would specifically recommend the school.
Our kids have really loved being at school and made great friends. The older kids also really look after the younger ones. Overall, we've all really enjoyed the time at Chatsworth. In our kids' words, "Our school is the best ever and it's perfect for us! We love it!"
72 Bukit Tinggi Road
6463 3201 | chatsworth.com.sg
Invictus International School in Singapore
Founded 2015
School year: August to June
Ages: 5 to 18 years
Size: Centrium, 450 students; Dempsey, 600 students
Curriculum: Cambridge – International Primary, Lower Secondary, IGCSE and International A-levels
Rita and Marcus Sew Hoy, Hong Kong and New Zealand; Chace (9), Tate Sew Hoy (6) and Tyron (4)
We've been in Singapore since 2017. Chace is currently in Y4 Resilience at Invictus International School Centrium. Tate is due to start in January 2024 and we plan to enrol Tyron too, when he's ready to start Grade 1.
The school is five minutes on foot from our apartment so Chace doesn't have to sacrifice his sleep time for a long commute.
Invictus offers a well-rounded curriculum and a Chinese bilingual programme. We're particularly happy that Chace is becoming more confident in Chinese due to daily exposure to the language in subjects such as Chinese, Music, Art and some sessions of PE.
The teachers are dedicated to nurturing Chace's growth. We receive frequent updates on his progress via the Class Dojo app, which helps us support him better in his education journey.
Despite its indoor setting, the school has a system for students' outdoor time. PE classes are conducted at venues such as a swimming pool or sports field nearby, and there's a large outdoor playground next to the school where Chace often plays with friends after school.
The school organises a number of field trips to museums and shops to provide practical life experience in handling money for missions such as purchasing ingredients for a class project or understanding the carbon footprint of their food choices.
There are plenty of after-school extra-curricular activities such as sports, gymnastics, chess, debating, coding, and speech and drama to choose from. There are also school bazaars for families to participate in, along with Sports Day once a year, bringing the school community together.
The school fees are extremely reasonable for the quality of education and fun experience that it provides. We absolutely recommend Invictus.
Dempsey Campus: 73 Loewen Road, #01-21 | 6259 3877
Centrium Campus: 320 Serangoon Road, #06/08-01 | 6271 6088
invictus.edu.sg
The Perse School
Founded: January 2020
School year: August to July
Ages: 5 to 12 years
Size: 160 students
Curriculum: International Cambridge Primary and Lower Secondary
Bonnie Smart and Kenneth Kong, Australian; Zara (9) and Mason (6)
We've lived in Singapore for three and a half years. Mason started Grade 1 last year at The Perse School and Zara joined in January this year.
We were looking for a small primary school that had a strong family and community feel with an equally strong academic focus. The Perse has this unique combination of a small and cosy environment with a tradition of learning extending back over hundreds of years through its connection to the original Perse School in Cambridge.
Both our children enjoy attending The Perse. They find the Cambridge curriculum very engaging, with its subject-specific teaching. Our son has been particularly interested in geography, while our daughter has enjoyed music and choral studies.
The teachers are very dedicated and the students receive a personalised level of attention. This is possible at The Perse due to the smaller school size, which enables the students to get to know and support each other as a community. This community feeling is carried through into assemblies and concerts at The Perse, where all students have the chance to participate and have their efforts celebrated.
If parents are interested in a curriculum that has a very strong academic focus, and are looking for a British school in Singapore where all students have the chance to contribute and participate, they should consider The Perse.
191 Upper Bukit Timah Road
6971 8210 | perse.edu.sg
# North – Ang Mo Kio, Punggol, Serangoon, Woodlands, Yishun
Australian International School
Founded: 1993
School year: January to December
Ages: 2 months to 18 years
Size: 2,000+ students
Curriculum: IB PYP – Preschool to Year 5; Australian Curriculum – Years 6 to 8; Cambridge IGCSE and Australian Curriculum – Years 9 and 10; Higher School Certificate or IBDP – Years 11 and 12
Katie Birch and Benjamin Frost, Australian; Dayna (4), Matilda (2) and Austin (2)
We've been living in Singapore for eight years and our three children were born here. They all attend the Early Learning Village (ELV) at the Australian International School (AIS) – Dayna is in Cuckatoo with Ms Tina while Matilda and Austin are in Kangaroo with Ms Triona.
All the children adore their teachers in the ELV and have developed a great sense of belonging in their classrooms and the school community. They love the wide range of explorations and that their individual interests and strengths are nurtured within the learning structure.
When Dayna was born, we were very excited to find the infant care programme at AIS after extensive research. It provided an abundance of natural light, fresh-air play areas within the classroom and multiple options for safe indoor and outdoor exploration at the school. We were additionally attracted to AIS by the opportunity for our children to have exposure to the uniquely Australian inclusions in their school experience, which could provide a connection to their ancestral heritage.
When our twins were born, it was without question that they would join AIS infant care. We were very happy to have a number of the same teachers leading their class a couple of years later. The consistency of our experience with AIS is the foundation of our trust and appreciation for the school.
Our family has enjoyed the school's inclusive approach to events, from Infant Care through to secondary levels. We've especially loved the annual Fish and Chips event for the awesome slip and slide, bouncy castle, inflatable obstacle course and disco!
The exposure to the school and children outside of the ELV has provided our family with the opportunity to have a glimpse of the experiences ahead of us as we continue our journey with AIS.
1 Lorong Chuan
6883 8127 | ais.edu.sg
Brighton College (Singapore)
Founded: 2020
School year: August to July
Ages: Pre-Nursery (18 months) to Year 8 (13 years). The College has recently announced plans to open to Year 13 (18 years), subject to regulatory approvals.
Size: Over 280 students
Curriculum: Early Years Foundation Stage and English National Curriculum
Amanda Smith and Tom Sanchez, British and Australian; Rafa (6)
We all moved to Singapore in August 2021 from London; Tom had previously lived in Singapore for 14 years. Rafa is in his second year at Brighton College (Singapore), he's in Year 2 now.
We moved during the pandemic so we had to choose a school remotely. We were told about Brighton by a friend who was leaving Singapore. Amanda was attracted by the fact that Brighton College in the UK was recently voted School of the Decade by The Sunday Times' Parent Power list. The school follows the British curriculum, which we thought would give Rafa some continuity as we didn't know where we would move next.
Amanda is used to small, oneform primary schools. Brighton gave us the small school atmosphere but with large school facilities, due to the shared campus with the Australian International School and Stamford American International School.
Despite the shared campus, Brighton has a strong identity and we are a close community. Every teacher knows each child and the children appear to know everyone, too!
Rafa has been learning Mandarin four times a week and has picked up quite a few words; we are impressed with his pronunciation! We're pleased with the specialised teaching as he already has language, art, music and PE teachers. The CCA programme is extensive, although we don't fully utilise it as we find that a couple a week is plenty for a six-year-old. It's been a useful platform for Rafa to try different activities.
If you want a welcoming British school in Singapore with friendly parents and the intimacy you might have enjoyed at an English prep or primary, then Brighton is for you. Our son is happy – that says it all!
1 Chuan Lane
6505 9790 | brightoncollege.edu.sg
Global Indian International School
Founded: 2002
School year: April to March
Ages: 2.5 to 19 years
Size: 3,250 students
Curriculum: IB PYP, Cambridge IGCSE, IBDP and CBSE
Heeru and Clitus Fernandes, Indian; Ian (10) and Hayley (8)
Our children have been with Global Indian International School (GIIS) since the age of 2.5 years. Prior to starting their schooling, our dilemma was the choice of syllabus that we wanted them to pursue. We attended a briefing at GIIS covering the IB Primary Years Programme, its uniqueness and differences from a traditional syllabus and the learning journey involved. Our son became a part of the school's first IB PYP cohort.
From the outset, there's been clarity on what the students will achieve each year, the dos and don'ts of parent help or intervention, forums where the children get to express what they have learnt, and more.
The teaching staff is good and the student cohorts have progressively got more diverse with a multitude of nationalities and cultures.
GIIS is a "smart campus", which means seamless adoption of technology during the pandemic in managing both virtual and hybrid classrooms, with disruption to enrichment kept to a minimum.
There's an array of extra and co-curricular activity options where children are able to find their interests. Competitions across fields of education, arts and sports have added a good dimension to their learning and shaped their personalities.
Parents are encouraged to volunteer in areas where they could contribute and in leading parent groups. There are avenues to provide feedback and seek clarification, and, wherever appropriate, these inputs are taken into consideration in designing future curricula.
We see that our children have met the objectives of the IB PYP programme in adopting a research-based approach, developing independence and ownership, feeling free to express their creativity, and taking accountability for their decisions and actions. We're grateful for the foundation GIIS has instilled in our children.
27 Punggol Field Walk
9631 6000| singapore.globalindianschool.org
International French School
Founded: 1967
School year: September to early July
Ages: 3 to 18 years
Size: 3,000 students
Curriculum: French Curriculum taught in French and English, IGCSE; non-French speakers accepted until Grade 6
Christine and Brendan Moran, American; Fiona (9), Beckett (9) and Wells (3)
Fiona and Beckett have been attending International French School (IFS) since September 2022, after we moved from Hong Kong to Singapore in August 2022. Wells goes to a nursery school and we will likely send him to IFS, starting in Kindergarten.
We found IFS when we were looking at options for international schools in Singapore, before we moved here. In HK, Fiona was attending the international stream at the French school so most of her day was in English and she was taking French classes.
We were impressed at how encouraging IFS was about enrolling our children in the French classique programme as a way to learn the French language.
Our experience at IFS has been great. We weren't sure how we would be accepted in the community as two English-speaking parents, but everyone has been warm and welcoming.
Beckett and Fiona are getting a lot of support for their French language learning through the school's programme for children who are learning French as a second language. They spend time in small groups each day working on their French and their teacher in the programme, Stephanie, is wonderful. Beckett and Fiona haven't had any trouble making friends and they've made huge strides in their French.
We would definitely recommend IFS to other parents. We feel like our children are learning a second language and a second culture. Even if one or both parents don't speak French well, don't be afraid of enrolling your child in IFS as there's lots of support available. We've been able to find tutors to support their French. For example, a couple of secondary students from IFS come over in the afternoons to help Beckett and Fiona with their French. We're even starting to pick up some French ourselves and hope to become more proficient in the language soon.
3000 Ang Mo Kio Avenue 3
6805 0000 | ifs.edu.sg
Singapore American School
Founded: 1956
School: August to June
Ages: 3 to 18 years (Preschool to Grade 12)
Size: 4,086 students
Curriculum: Comprehensive liberal arts education with open admissions
Yuka and Sodai Tanaka, Japanese; Shodai (17) and Mika (10)
We've been in Singapore for 14 years – previously, we lived in the US and Hong Kong. Shodai and Mika both joined Kindergarten at SAS at age five. Shodai is now in Grade 11 and Mika in Grade 4. Our children love every moment in school.
We visited nearly all the international schools in Singapore here before choosing SAS. Our decision was based on how happy the students seemed during our campus visit. We felt it offered a holistic experience where our children could find themselves, while receiving a top-notch international school education.
There are many after-school activities, clubs, community events and philanthropy projects going on at any given time. SAS boasts some of the best athletic facilities in Singapore including an American-style playing field – the only one of its kind in Singapore – and four professional coaches. Shodai has been playing baseball with The Eagle Club for the last 12 years, learning invaluable life lessons by being part of the team. Mika has benefited from the close relationship counsellors have with students. Regular counselling sessions help young kids put their feelings into words. The kids see the counsellors as allies so Mika knows she has adults she can trust and go to for any questions and support.
While 800 new students enter each new school year, the teachers at this international school make a huge effort to get to know each one. Several excellent teachers have helped Shodai find his niche, especially when he entered high school.
There's a diversity of families from all over the world with different backgrounds and cultures. This has enabled our children to accept differences in people and treat everyone with respect. And the PTA and the High School Booster Club create moments where families can connect and build community – just one of the aspects of SAS which make it stand out as a caring community.
40 Woodlands Street 41
6363 3403 | sas.edu.sg
Sir Manasseh Meyer International School
Founded: 1996
School year: August to June
Ages: 2 to 16 years
Size: 280 students
Curriculum: Reggio Emilia inspired preschool; IPC blended with English National Curriculum Literacy and Singapore Maths in Primary School; IMYC and IGCSEs in Secondary School. Mandarin and Hebrew are taught as modern foreign languages.
Isabel Galiano and Isay Lifshitz, Spanish-Luxembourger and Singaporean-Mexican; David (9) and Ilan (11)
Both Ilan and David have been attending Sir Manasseh Meyer International School (SMMIS) since 2019. Ilan is now in Grade 6 (high school) and David in Grade 4 (primary). SMMIS was highly recommended by several friends. We chose it from other schools because of the rigorous curriculum, community feel, school values and because the holiday calendar fits us best.
Our entire family loves the school – it has everything we were looking for. As it's founded and supported by the generosity of a philanthropic trust, the school can really focus on the children's education and wellbeing rather than profit. It's also academically rigorous, cherry-picking the best of different systems – Singapore Maths, British English, the IPC for Sciences, and Hebrew or Mandarin as a modern foreign language.
We love the school's Growth Mindset – "I don't know that, yet. But I'm going to continue trying." – and Harvard's Culture of Thinking that SMMIS uses to facilitate rapid progress, high esteem and resilience in students. You can hear it in the ways our boys express themselves – it's a culture where it's okay to ask, question and challenge.
As SMMIS is small, it's like raising your kids in a small community where you get to know everyone. The teachers and management know every kid and their families well. Children get support if they're struggling and they can join the advanced class when they display a gift and interest for a subject. There's no compromise between the teachers' attention that you get in a small and cosy school, and the quality of education. Students from SMMIS join the best schools after graduation.
The school has a holistic philosophy that includes mindfulness, music, art, sports and extracurricular activities like chess or coding. Children are encouraged to see themselves as global citizens, with charity and volunteering a strong aspect of school life.
While SMMIS accepts children from all races and faiths, the kids will learn about Jewish values and traditions. However, they're not expected to follow any religious prayers or programme. There are over 30 nationalities and six religions so everyone's identity is celebrated. Our boys love the healthy and freshly made kosher food the school provides. One of our sons is intolerant to gluten and dairy, and the school also caters for him.
We would absolutely recommend SMMIS. The teachers are great and the principal and her team are fantastic. They all have their heart in it.
3 Jalan Ulu Sembawang
6331 4633 | smm.edu.sg
St. Joseph's Institution International
Founded: 2007
School year: January to December
Ages: 4 to 18 years (Prep 1 to Grade 12)
Size: 2,000+ students
Curriculum: IPC, IGCSE, IBDP
Jane and Oliver Somerville, Australian and New Zealander; Pierard (8) and Agatha (6)
We've been in Singapore for 14 years and both the children were born here. This is Pierard's fifth year at St. Joseph's Institution International (SJI International); he has been attending since Prep 1 and is currently in Grade 3. Agatha joined SJI International last year in Prep 2 and is now in Grade 1.
We had the benefit of in-person school tours when choosing an international school prepandemic. What impressed us immediately with SJI International was the warm nature of the teachers and staff as well as the lovely school premises and facilities. The state-of-the-art classrooms and sports facilities have been designed in a way that's inviting and not overwhelming. Every building is flanked by greenery, and the grounds are beautiful with multiple outdoor playgrounds and play areas, sports fields and a swimming pool. The classrooms are spacious and flooded with natural light.
What stood out for us the most is the international school's adoption of The Virtues Project. It inspires inclusive and value-based language in the classroom, and enables the use of compliments between teachers and students. It's an environment that fosters safety and inclusivity. We've since adopted this in our own home.
We're thrilled that our children are exposed to daily Mandarin language classes. The school's commitment to the creative and performing arts has had a big impact on our children – our son has discovered a passion for the trumpet, our daughter for art and design.
We really value the Elementary Parents Support Group who inform us on all the activities and events at the school. We would highly recommend SJI International for any family who is looking for the quality of an international school education for their children, coupled with a value-based community feel.
490 Thomson Road
6353 9383 | sji-international.com.sg
XCL American Academy
Founded: 2022
School year: August to June
Ages: 2 to 18 years
Size: Approximately 100 students
Curriculum: American (AERO, Common Core, Second Step)
Lorena Garcia and Santiago Alvarez, Spanish; Daniela (6) and Mateo (2)
We've been in Singapore for about eight years. Daniela started attending XCL American Academy (XAA) in August 2022, in its inaugural academic year. Mateo will be enrolled in August 2023.
We first learned about XAA through social media; then we visited a booth the international school had set up at Great World City shopping mall. The team provided detailed information, which gave us a good impression of the school, and arranged for us to visit the campus. That gave us a chance to view the facilities and speak with some of the teachers. The admissions team offered us the opportunity to become part of the XAA founding families community so we decided to enrol Daniela.
XAA's curriculum will enable a smooth transition to any other similar American curriculum school globally, in case we have to leave Singapore.
The teachers at XAA are highly experienced with a deep dedication to inspiring children; this is something that we highly value in our children's education. During the Parent-Teacher Conferences, parents meet teachers in person with open two-way communication. This allows for strong relationships to be built, and enables us to discuss the child's school life and academic progress as well as their success and happiness both inside and outside the classroom. The school celebrates every single academic milestone and shares authentic American experiences with our children. The tradition of celebrating each child's birthday and hosting a backyard barbecue for Thanksgiving have been heart-warming experiences.
The new campus is almost ready; the purpose built facilities will open in August 2023 for the next academic year. These will feature a three story library, a multi-purpose gym and specialist classrooms equipped with the latest educational technology.
The school has a strong focus on providing a well-rounded education that develops both academic and personal skills in students, which is essential for their future success. Based on our experience, we would highly recommend this school to other families.
2 Yishun Street 42 
6230 4222 | xaa.edu.sg
XCL World Academy
Founded: 2014
School year: August to June
Ages: 2 to 14 years
Size: 800+ students
Curriculum: Nursery, IB (PYP, MYP, DP)
Ariel and Bradley Roensch, American; Wyatt (4), Sullivan (2) and Tucker (1)
We've been living in Singapore for a year and Wyatt has been attending XCL World Academy (XWA) since October 2022. We plan to enrol our other children when they're old enough.
XWA's learning environment focuses on the practical application of classroom lessons as well as enriching creativity and individuality in each child. The school empowers a child's sense of innovative discovery and individual potential; it teaches the child the impact they can have on the world in various ways. There's also a focus on the emotional development of the children, which is equally important but often overlooked.
We've been impressed by the growth we've seen in Wyatt, both personally and intellectually. When Wyatt came home from his trial day and couldn't stop talking about the variety of activities they had done, we knew we made the right choice.
Wyatt's teachers are attentive, encouraging and knowledgeable. The line of communication with them is open and available – we never feel out of the loop. Checking our son's profile on Seesaw (a digital portfolio app) is our favourite part of the day. It provides us with updates of his daily activities at the international school, which we get to discuss, thus creating a sense of self-pride and confidence in his accomplishments.
As XWA is an internationally inclusive school, Wyatt has had many opportunities to be exposed to cultural experiences and education that he wouldn't be able to receive elsewhere. The school provides outstanding facilities with its state-of-the-art auditorium, swimming pool, separate play area for younger children, café and accessibility to many tools for imagination.
We would absolutely recommend XWA to other families looking to broaden their children's view of the world, experience dedicated teaching instruction and be part of a supportive educational community.
2 Yishun Street 42
6230 4230 | xwa.edu.sg
# East – Aljunied, Potong Pasir, Kallang
Nexus International School (Singapore)
Founded: 2011
School year: August to June
Ages: Kindergarten to Year 13 (3 to 18 years)
Size: 1,200+ students
Curriculum: IB
Michelle Klvana and Jamie Earney, Australian; Evangeline (13) and Heidi (10)
We've been in Singapore for almost two years, and both girls have attended Nexus International School (Singapore) since August 2021; Evangeline is now in Year 8 and Heidi is in Year 5. Instead of the Australian curriculum, we enrolled them in the IB programme, which develops inquisitive minds suited to our ever changing world.
The state-of-the-art science and art labs at Nexus have facilitated our girls' entrepreneurial design skills and practical approach experience, from taking a client brief through to procurement and production, testing, gaining and integrating client feedback and delivery presentation.
Our girls have embraced the music programme, performing in orchestras, jazz pop bands, chamber groups, choir, busking and Nexus Beats. The Theatre departments have helped our girls develop as actors, dancers and singers and also in staging, props, lighting and costuming.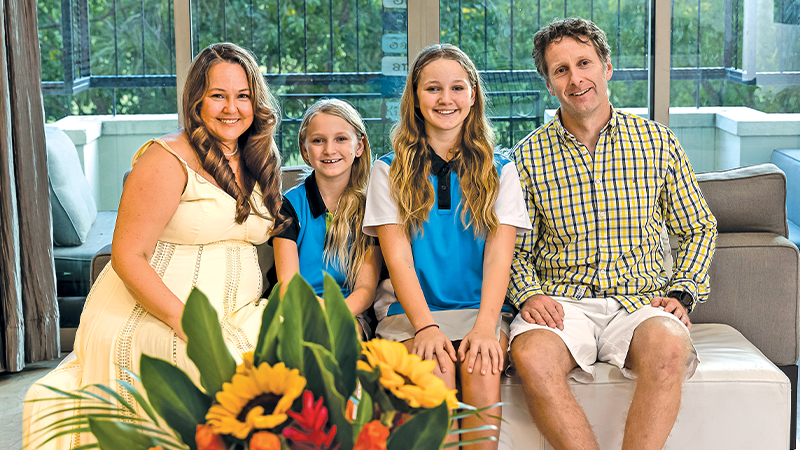 For co-curricular activities, our girls have mostly focused on the competitive swimming, netball and cross-country teams. Both children swam last year in Thailand, where Nexus ranked highest as an international team. They also competed at the Singapore nationals this year, where the Nexus senior swim team was the best scoring international school team in Singapore.
There are a few different communication approaches used by Nexus. Tracking our high schooler's homework and assignments on Canvas has been very useful in helping her manage her workload and extra commitments.
The school integrates parent involvement with a designated parent room, workshops and support material for learner events. This helps parents have a way to network, contribute and belong.
We recommend Nexus to anyone looking for an inclusive and integrative approach to learning. The pastoral care, learner services and contact with teachers have been very useful in helping our children transition countries. The many specialty programmes have helped our girls find their place, have an opportunity to belong and shine, and, most importantly, grow individually.
1 Aljunied Walk
6536 6566 | nexus.edu.sg
Stamford American International School
Founded: 2009
School year: August to June
Ages: 2 months to 18 years
Size: 3,000 students
Curriculum: American, AP, IB DP, BTEC Diploma
Anna Hultman and Jonas Pinzke, Swedish; Simon (12) and Stella (10)
Our kids started at Stamford American in 2017 – Simon in KG2 and Stella as part of the first Pre-K class at the Stamford American Early Learning Village that opened that year. After a stint in Hong Kong, we returned to Singapore in August 2019. Stella is now in fifth grade and Simon started Middle School last year.
Both kids have been part of the Mandarin bilingual programme since their first years at this international school in Singapore, and thanks to that they're well on their way to being trilingual. They're also enjoying Stamford American's extensive sports and extracurricular activities such as the school golf and soccer teams, and the competitive gymnastics squad. Both kids love taking part in the broad music programme: the school musical, the choir and pop band. Simon is also in the Chess Club and is taking a course in Music Production this semester.
Our children are having a great time at Stamford American! Students are encouraged to form their own opinion and create a future that is uniquely theirs. While there's a strong value system, reflecting and exploring different ways of looking at the world are encouraged and welcomed.
We recommend Stamford American for three main reasons. Firstly, the school focuses on the whole person – academics, extracurriculars and strong values – while also recognising that each student is unique and has different needs. For example, while the school may challenge you to do advanced algebra in Grade 6, being a kind, decent person is as important. We'd go as far as to say that Stamford American helps us raise two great kids.
The faculty of this international school in Singapore is also impressive. Teachers are knowledgeable, pedagogical, supportive and readily available to talk.
Finally, we love the amazing Stamford American community – it's international, very inclusive and welcoming. Our children and we as a family have made, and continue to make, friends for life.
1 Woodleigh Lane
6653 2947 | sais.edu.sg
The Winstedt School
Founded: 2008
School year: August to June (rolling admissions)
Ages: 4 to 18 years
Size: 210 students
Curriculum: English National Curriculum
Tracey and Stephane Petitgirard, Australian and French; Sam (13) and Jules (12)
We're an Australian-French family who have been in Singapore for 12 years. Jules has been attending The Winstedt School since April 2022 and is in Year 7. Winstedt was recommended to us by close friends. We only regret not enrolling Jules sooner – as we cannot recommend Winstedt enough.
Jules is doing very well academically however he struggles with self-regulation. As a smaller international school in Singapore with two teachers in the classroom, Winstedt is able to embrace these challenges by offering Jules a safe place to be himself, while providing him the right tools to learn and grow. The pastoral care is visibly building his self-confidence, and the positive and frequent communication we receive as parents is second to none. As Jules whispered to us when he first trialled the school, "This is a place where I can be me."
From our initial email enquiry to today, the admissions team, administrative staff, Jules' teachers and the support team are nothing short of amazing. Jules loves going to school, thanks to the care and patience shown by his teachers, both in and out of the classroom.
Although the grounds lack the bells and whistles of the larger international schools in Singapore, the school makes up for it in many other ways. Jules loves the school farm where he can feed the baby chicks before class. He also loves trampoline time, which is time given to students when they need to burn off energy between classes.
The curriculum is challenging and interesting, and the CCAs are diverse and fun. Jules is on the Student Council and is enrolled in football and Homework Club, and there are many school-driven competitions that he loves to take part in, too.
We strongly recommend this British school in Singapore to any parent searching for a more holistic approach to teaching and supporting sensitive and spirited children.
1208 Upper Boon Keng Road
6715 5373 | winstedt.edu.sg
# West – Clementi, Dover, Bukit Batok, Bukit Panjang, Queenstown, West Coast
Canadian International School
Founded: 1990
School year: August to June
Ages: 2 to 18 years
Size: 3,000 students
Curriculum: IB PYP, MYP and Diploma
Dinah and Suren Pinto, Australian; Sybella (12) and Ayaan (9)
Sybella is currently in Grade 7 and Ayaan is in Grade 3; they've both been at the CIS Lakeside campus since January 2022.
When we decided to move to Singapore in mid-2021, a friend recommended the school to us. We found that it was listed as one of the top 10 leading best international schools in Singapore. Having shortlisted a few and initiated dialogue, we found that CIS was one of the most flexible and accommodating, which made the remote enrollment process very smooth.
Our children previously studied in the Cambridge curriculum but have found the IB curriculum to be very easy to adapt to and are enjoying learning very much.
They both enjoy their daily activities and find the entire environment and vibe of the school to be a very happy and relaxed atmosphere. We've also found the teachers and staff to be very approachable, understanding and proactive when taking up any concerns over my children's academic progress or otherwise.
We love the many cultural celebrations, theatre and musical productions at CIS. Their emphasis is on educating children on the values of kindness and anti bullying. These make the school a very special place.
The school also hosts numerous monthly workshops and sessions for parents on relevant topics, which are very insightful.
As parents who are new to Singapore, we found the CIS PTA to be a welcoming and happy community of like-minded parents from diverse nationalities. This was certainly a great asset to helping us feel more settled here in Singapore
7 Jurong West Street 41
6467 1732 | cis.edu.sg
Dover Court International School
Founded: 1972
School year: August to June
Ages: 3 to 18 years (Nursery to Year 13)
Size: 1,900 students
Curriculum: English National Curriculum, IGCSE, IBDP, BTEC International Diploma Levels 2 and 3 in Business, ASDAN
Sarah and Ralph Davies, British; Isabelle (6), Wilbert (3), and Theodore (18 months)
We have lived in Singapore for nine years. Isabelle joined DCIS in Reception and is now in her second year in Year 1. We plan to send our sons there as well.
We've been extremely happy with the experience and the education Isabelle has received. It's an extremely caring environment – the teachers really nurture the children and ensure that each child's learning experience is individually tailored to their needs. They've helped to develop Isabelle's inquisitive and fun-loving nature; she has felt comfortable at the school from day one.
The teachers do a great job of incorporating the whole campus into the children's day-to-day learning, so lessons are not confined to the classrooms of the international school in Singapore. Isabelle often comes home with stories of the fun and adventures she and her classmates have had while learning.
One example is Superhero Day for the Year 1 children, which introduced them to superheroes in everyday life. They went around campus dressed as superheroes, searching for and solving clues to determine where a "villain" had hidden one of the teachers.
The campus has great outdoor spaces with multiple playgrounds, an Early Years "Atelier" creative play space and a sports field. There's a wide variety of extracurricular activities for all ages – something for everyone's individual interests. The school also has global collaborations with worldwide leading institutions such as The Juilliard School for performing arts, UNICEF, and MIT-Nord Anglia STEAM programme. These are amazing opportunities for children to be involved in.
DCIS has a wonderful small school feel and community. Sarah has become involved in the parents' association, helping to run events that bring parents and children together.
We feel that DCIS is a school that any child can thrive in. The quality of the teachers is top-class and the children's needs are always their priority.
301 Dover Road
6775 7664 | dovercourt.edu.sg
Dulwich College (Singapore) International School
Founded: 2014
School year: August to June
Ages: 2-18 Years old
Size: 2,870 Students
Curriculum: Enhanced English National Curriclium, IGCSE, IBDP, IBCP
Laura and James Rance, British; Izzy (17), Sophia (15) and Ruby (10)
We've been living in Singapore since June 2013. All three kids started attending Dulwich in August 2016, and we've found it to be a nurturing environment right from the start.
What stands out are the teachers who really care about the students, whether academically or in a pastoral sense. The children have strong role models in their teachers, who check in with them regularly and genuinely care for them as individuals. With Izzy looking at universities for 2025, we know they will do all they can to get her to where she wants to go.
Dulwich is a British school in Singapore with an international focus. Our children learn alongside children from different nationalities and backgrounds from across the world. The academics are strong and Izzy has benefited from some very small class sizes in the IB.
The school's holistic education has allowed our children to take art CCAs, play sports, try musical instruments and perform in plays. Izzy and Sophia have enjoyed being part of Ignite!, a sports programme for the most talented student athletes. They're provided with personalised training programmes and access to a mentor who helps them to juggle school work and sporting commitments. There are leadership opportunities across the grades of this British school in Singapore, with options for everyone. Dulwich encourages students to take on leadership roles and to go outside of their comfort zones. This builds confidence in them from a young age, which we think is fantastic.
We love that the schools are all on one site – the children move along the buildings as they get older. While it's a big school in terms of numbers, the facilities are divided to cater for each age group.
The kids have a sense of pride in the school, which we as parents share. We absolutely love Dulwich!
71 Bukit Batok West Avenue 8
6890 1003 | singapore.dulwich.org
Integrated International School
Founded: 2009
School year: January to December AGES: 4 to 16+ years
Size: 85 students
Curriculum: English National Curriculum
Dominika and Waldemar Sadkowscy, Polish; Maksymilian (7)
We moved from Poland to Singapore in July 2022. Maks has been attending Integrated International School (IIS) since January 2023.
We looked on the internet for a small school with a good academic programme and customised teaching approach. We're aware that children are different and they need different learning and social approaches.
We wanted our son to develop his strengths and weaknesses in a friendly environment. We tried two other international schools in Singapore before IIS. This is the first school that Maks loves going to – what could be more important for parents? Maks has made huge developments in both the areas of academic and social skills. The school's family atmosphere has each kid feel appreciated, accepted and important.
Our experience with IIS has been great due to a few factors. One is the excellent academic programme – maths, science and technology, English, creative arts, PDHPE, social skills and some project work, which our son loves. The teachers are very experienced, both academically and psychologically; they know how to support the individual development of the children and they work together with parents of each kid on this. There are two teachers to approximately 10 children in each class and we receive daily feedback from the teachers. The atmosphere is like a family, where children can develop their skills in their own rhythm. There's a cosy space outside for children to play and do sports activities. The school has a variety of extracurricular activities like coding, soccer, track and field, and LEGO, where children learn to think out of the box.
If you're looking for a great academic programme, family atmosphere and social skills development, your child will love IIS.
41 Sunset Way, #01-01
6466 4475 | iis.edu.sg
GESS
Founded: 1971
School year: August to July
Ages: 2 to 18 years
Size: 1,800
Curriculum: IB or German curricula International School
Farishte and Jamsheed Ghaswalla, Pakistani-Canadian; Shanze (15), Shahan (9) and Leila (7)
Our family has been living in Singapore since December 2020. Prior to Singapore, Switzerland was our home for 11 years. All three children have been going to GESS since January 2021.
We moved to Singapore in the midst of the pandemic and were looking for an IB school where our children could continue learning German. We didn't get a chance to visit the school in person but online meetings with the GESS team helped us understand the school's philosophy and curriculum. What's more, we wanted a school that's flexible and inclusive, and GESS ticked all the boxes.
The buddy system and the school support made the settling-in process enjoyable and low stress. GESS covers Kindergarten to Grade 12. Since we have three children ranging in different age groups, this makes it so much easier to have all three of them in one school.
Our children have settled in very well and thoroughly enjoy the school environment. In the corporate world, it's often said that the culture of a company is defined by how employees feel about Monday morning on a Sunday evening. I can say that our children are always excited about school, which is fantastic!
All our children are in the European section, where they're able to maintain and continue learning German. It's an inclusive international school in Singapore that tailors the curriculum to match each child's strengths and needs, which is fantastic. All our children are involved in various extracurricular activities – badminton, taekwondo, football – after school hours.
We absolutely recommend the school – our entire family are ambassadors of GESS!
2 Dairy Farm Lane
6461 0881 | gess.sg
Holland International School
Founded: 1920
School year: August to June
Ages: 18 months to 12 years
Size: 308 students
Curriculum: Dutch National and English National Curriculum with a blend of IPC
Kansiri and Bert Desmet, Thai and Belgian; Felix (8), Loïc (6) and Quinn (3)
Long before we had kids, when we were living in Thailand, we heard about Holland International School (HIS) from families that had moved from Singapore. Knowing about HIS made our decision to move here easy, when the opportunity came up eight years ago.
We enrolled our boys in HIS's bilingual preschool programme when they turned two. All the classes have two teachers: a native Dutch speaker and a native English speaker. Our boys loved preschool from day one – the atmosphere invites them to explore, with lots of outdoor play.
Felix and Loïc enrolled in primary school shortly after turning four. Between an English or Dutch curriculum, we chose the latter. We speak Dutch, Thai and English at home, and we'd like our kids to master at least one mother language. They were followed for a while by a dedicated Dutch language teacher, which helped them reach proficiency surprisingly fast.
The school provides the flexibility to give children extra support where needed, encouraging them to independently develop stronger skills. There's also a policy that children should learn all they need to learn during school hours, so there's little or no homework.
Reading at home is encouraged, with weekly visits to the school library.
The teachers are very forthcoming; we walk our kids to school every day and enjoy a chat at the class door. Parents receive daily news and picture updates through the Social School app. Twice a year, we receive a comprehensive report on our children's progress, followed by a parent talk.
The school is in a wonderful green location where teachers know most of the children by name and parents hang around at the coffee machine for small talk. We recommend HIS to families looking for an environment where children are encouraged to develop confident, independent and adaptive young minds.
65 Bukit Tinggi Road
6466 0662 | hollandinternationalschool.sg
International Community School (Singapore)
Founded: 1993
School year: August to June
Ages: 4 to 18 years (K4 to Grade 12)
Size: 400+ students
Curriculum: American
Nicole and Bradley Fraser, Australian; Jack (18), Ben (16), Jena (12) and Joshua (10)
We've been living in Singapore since September 2009, and became Permanent Residents in January 2021. Jack is currently in Grade 12, Ben in Grade 10, Jena in Grade 6 and Joshua in Grade 4.
Before arriving in Singapore, we did an internet search for a Christian international school in Singapore. We chose ICS because of its strong community spirit. It's a school that cares not only about its students, but about families, teachers and staff, too.
The school also has a strong academic focus, and students are supported and encouraged to succeed academically. However, what drew us to ICS is that it cares about the character of its students and not just about their grades or achievements. Students are encouraged to succeed in and out of the classroom but are also given opportunities to make an impact on the ICS community and the broader community through acts of service. ICS may not have all the facilities of a bigger international school in Singapore, but it has the spirit of Christ at the centre of everything – from admissions and administration to the teachers and the sports department.
We recommend ICS to families that are looking for a strong emphasis on character. If you want a school that not only educates your child but truly cares for your child's heart and character, check out ICS.
There's a saying that "it takes a village to raise a child". Well, we have ICS!
27A Jubilee Road
6776 7435 | ics.edu.sg
Tanglin Trust School
Founded: 1925
School year: August to July
Ages: 3 to 18 years
Size: 2,800 students
Curriculum: Enhanced British curriculum with an international perspective, A-Levels, IBDP
Katy and Paul Rodgers, British; Eva (11) and Annabelle (9)
This is our fourth year in Singapore. Annabelle joined Tanglin in Year 1 in 2019 and Eva Year 3 in 2020.
When we were relocating from Dubai, we were keen to continue with a British school in Singapore. We visited them all and Tanglin stood out instantly. We loved the warm, friendly nature of school and how everything was child-led, from the classroom design to the art on the walls.
We've had a wonderful experience at Tanglin so far. The girls are proud to be in the Winchester House; they adore the House events, where all the year groups join to compete against the other seven Houses in singing, sports and more.
The curriculum is extremely creative; the school uses all subjects to bring topics to life. On the Harry Potter theme day, for example, Annabelle concocted magical experiments in science and made clay dragons; they even played Quidditch! Eva loves to perform in all the shows and has also enjoyed participating in the English Speaking Board – it has boosted her speaking ability, presentation skills and overall confidence.
The Learning Support is outstanding. The teaching staff are brilliant and it's lovely to see how much they enjoy teaching the subjects too.
Both our girls take full advantage of the extensive co-curriculum programme, enjoying choir, netball, gymnastics and football. Eva recently went to Cambodia on a philanthropy trip, learning life skills you just can't teach in a classroom.
Tanglin values engagement with families; we feel 100 percent involved with our girls' educational journey and part of a happy, fun community. An open-door policy to teachers and the leadership team at this British school in Singapore allows for quick resolution of any concerns, and they genuinely listen and act. The pastoral care is exceptional and we adore the ethos of ensuring everything students do is optimised to be the best it can be. That's why we absolutely recommend Tanglin.
95 Portsdown Road
6778 0771 | tts.edu.sg
# Multiple locations
EtonHouse International School
Founded: 1995
School year: Local preschools, January-December; international schools, August-June
Ages: 9 months to 18 years
Size: 2,400+ students
Curriculum: IB PYP, IGCSE, International A-Levels
Misho and Masayoshi Hagiwara, Japanese; Shota (10) and Seiji (7)
We moved from Tokyo to Singapore in October 2021, at a time when travel and immigration was very limited. Both our sons joined EtonHouse Orchard a month later. Shota is currently in Year 5 and Seiji is in Year 2.
When we were still in Japan, we searched for an international school in Singapore. We discovered that it was standard for kids living in Singapore to go to school by school bus. However, we preferred a school nearby and hoped to have frequent communication with the teachers, school staff and other parents. EtonHouse Orchard was the right location and school size for our sons.
One of the things we've found wonderful at the school is that kids have opportunities to learn not only Singapore culture but also other countries' cultures. For example, one of the memorable events for us was the art festival in March this year, where Misho presented the Japanese green tea culture. Henna art in Deepavali was another memorable event.
Together with our kids, we learned how students at EtonHouse Orchard learn and experience other countries' cultures.
We would definitely recommend EtonHouse to other families. The heartwarming atmosphere of the Orchard campus and one class for each year with small student numbers makes it possible to have close communication between parents, teachers and students.
11 preschools and three international schools island-wide
etonhouse.edu.sg
Middleton International School
Founded: 2017
School year: January to December
Ages: 4 to 18 years (Nursery 2 to Grade 12)
Size: 1,300 students
Curriculum: IPC, IMYC, IGCSE, International A-Levels, Singapore Maths
Nadeen Alsamha and Moayad Ismail, Australian; Ameera (11) and Yousef (9)
We've been in Singapore for five years now and both our children started at Middleton in 2018, Ameera in Grade 1 (now in Grade 6) and Yousef in K2 (now in Grade 4).
We found out about the school when researching online. It's in a convenient location close to where we lived and is reasonably priced. Before enrolling our kids, we had a tour of the school and we really liked the teachers.
Our children feel comfortable with their teachers, and the school staff are very friendly and approachable. The international school in Singapore is multicultural and teaches tolerance and accepting others from all nationalities, cultures and religions. It promotes good values and supports both parents and children in getting the most out of their education.
The school is constantly improving its facilities and curriculum. It keeps parents updated on the progress of their children's education as well as news and updates on school events.
We recommend Middleton International School to other families. Our children really enjoy going to school and have made longlasting friendships there.
2 Tampines Street 92 | 6636 1155
20 Harbour Drive | 6916 0740
middleton.edu.sg
One World International School Singapore
Founded: 2008
School year: August to June
Ages: 3 to 18 years
Size: 1,400 students
Curriculum: IB (PYP, DP), modified Cambridge, IGCSE
Maria Carolina Rodrigues and Juliano Piccoli, Brazilian; Eduardo (10) and Antonio (7)
When we first arrived in Singapore about a year and a half ago, both our sons didn't speak English. So we were focused on finding an English as an Additional Language (EAL) programme at an international school in Singapore that would welcome them with patience. We found that support at OWIS Nanyang.
Eduardo successfully accomplished the EAL programme in less than 6 months. He's speaking and reading with confidence, and he's not afraid to give his opinion. This was important for his autonomy as he's now able to communicate with kids and adults in a very fluid manner.
It took Antonio one year to speak with confidence and the EAL teacher went through it with him step by step, with patience and kindness. She understood that Antonio needed other types of stimuli other than verbal, so she played songs to dance and sing to. Nowadays, he's less timid to share his ideas and connects very easily with other kids.
When we first got here, Antonio had a major issue with adapting – he was only six years old and didn't speak a word of English. The emotional support from the Additional Needs team was also crucial.
OWIS Nanyang has a multicultural environment that prepares our children for a globalised experience. There's no dominant nationality so it allows our kids to connect with other children from all over the globe, and thus have the feeling of belonging to "one world". During the flag parade last year, we lost count on how many flags were being exhibited and were thrilled to see the Brazilian flag represented. We certainly recommend OWIS to other parents.
Nanyang Campus: 21 Jurong West Street 81 | 6914 6700
Sunset Campus: 1 Raffles Boulevard | 6914 7240
Digital Campus (opening Aug 2023): 27A Punggol Field Walk | 6914 7351
owis.org/sg
UWC South East Asia
Founded: 1971 (UWCSEA Dover); 2008 (UWCSEA East)
School year: August to June
Ages: 4 to 18 years
Size: 3,060 students (Dover); 2,650 students (East)
Curriculum: UWCSEA concept-based curriculum, IGCSE, IBDP
Nichola Palmer and Eric Canale, British and Canadian; Coco (17) and Sasha (15)
We've been living in Singapore since 2000 and both our girls were born here. They started at UWCSEA East in August 2017; Coco is now in Grade 12 and Sasha is in Grade 9.
After a great experience throughout the local kindergarten and primary school system, we wanted them to be challenged in different ways. We chose UWCSEA because of the breadth of curriculum, commitment through service to communities both here and overseas, and the school's diversity. Our girls have grandparents and great grandparents from seven different countries, and we wanted to maintain the multicultural exposure that they've experienced growing up in Singapore.
Sasha is within the first cohort to go through the newly conceived UWCSEA Programme for the first two years of High School. This alternative to the IGCSE is a springboard to subjects offered for the IBDP. The variety of subjects allows students to explore, test and get exposed to a wide range of learning experiences.
There's an emphasis on participation, too, which fosters an inclusive, supportive atmosphere where everyone can thrive. And the facilities for sports, music and performances are excellent – like what you would find at some universities.
The school also provides continual encouragement to embrace challenges, try new things and step out of the comfort zone. The girls have been able to lean into new subjects, try a wide range of sports – kayak polo, anyone? – and find joy and success in the wide range of outdoor education programmes.
The school is committed to support children through whichever avenues work best, in alignment and consultation with parents while respecting the privacy and wishes of the child.
We recommend UWCSEA if you're looking for a school that encourages out-of-the-box critical thinking and gives students autonomy in their projects and extracurricular activity choices.
Dover Campus: 1207 Dover Road | 6774 2653
East Campus: 1 Tampines Street 73 | 6305 5353
uwcsea.edu.sg
# Across the Border
Marlborough College Malaysia
Founded: 2012
School year: September to June
Ages: 3 to 18 years (Nursery to Upper Sixth)
Size: 750 students
Curriculum: English National Curriculum, IGCSE, IB
Lisa Dean and Tom Greenfield, British; Rose (9), Joe (7) and Penny (6)
We have lived in the region for nine years and run our own business supplying sportswear to teams and schools. We learned of Marlborough College Malaysia and its reputation through friends. Rose joined in Year One and is now in Year Four. Joe joined in Year One in 2022 and we enrolled Penny into Year One in August 2022.
The school is set in a spacious, impressive campus incorporating exceptional facilities. The children enjoy swimming, tennis, touch rugby, ballet, athletics, football and gymnastics, amongst other options. Aside from the sporting activities, the children experience a wide range of lessons and activities including languages such as Spanish and Mandarin, music, art and exciting expeditions to the on-site mangrove and lake. The teachers are approachable and professional, and there is a very sociable community in and around the school.
The ethos of the school echoes many of the traditions of Marlborough College (UK), which is welcome to us as Brits. The students take part in many charitable activities through the Outreach Team, which comprises teachers and parents.
We would recommend the school as the space, facilities and standard of teaching are hard to beat.
Jalan Marlborough, Puteri Harbour, Johor
marlboroughcollegemalaysia.org

This article first appeared in the June 2023 edition of Expat Living. You can purchase the latest issue or subscribe, so you never miss a copy!
Ask yourself these 10 questions when choosing an international school in Singapore
Which curriculum will best suit my child's educational needs and our family's plans for the future? There are many curriculum options, and the right fit will minimise the disruption of moving to another country and a different school.
Is the location of the campus convenient to home and public transport?
How do class sizes and teacher-to-child ratios vary among the schools on my shortlist?
What languages are taught as second languages? Is this compulsory, and will the experience benefit my child?
Will the extracurricular activities offer a balance to my child's academic studies and broaden his or her educational experience?
Are there opportunities for parental involvement at the school? This can be a wonderful way to meet new people and get to know the school.
What facilities are available for outdoor and after-school activities?
What types of school excursions are offered? Many children have the opportunity to visit other countries as a part of the school curriculum, often with a focus on learning about those countries, community engagement and volunteering.
Do the school's holiday and term dates vary from those of my other children's schools or my home country?
How does the school communicate with parents about the child's learning experience and general school news, such as online or through newsletters and excursion permission notes?
Location, Location, Location!

Things to check up front
Enrolment fee: Expect to pay to submit an application; this is sometimes known as an "application fee". Some schools will refund all or a portion of the cost if you decide to withdraw the application before an offer is made.
Registration fee: Some schools charge an additional fee when you accept the offer of a place.
Building or development levy: Most schools add this cost to fund the future development of school facilities.
International school tuition costs
Fees for a year of kindergarten can range from around $20,000 up to $29,000. Fees for Year 12 generally start around the $28,000 mark and can go up to $42,000 per year. Payment terms range from per semester or term to monthly.
Extras
Technology: Older children are often required to bring their own laptop or iPad, or to purchase one through the school's IT scheme.
Uniforms: This generally ranges from $100 to $500 per child.
Lunches: Although not compulsory, most schools offer a lunch from approximately $4 per day.
School bus: Price is dependent on the distance from school, but expect to budget a minimum of $1,000 per child per year.
Excursions and school trips: Younger children are likely to make local day-trips to the Zoo or the Science Centre, but older children often have the opportunity to visit countries such as Thailand or Nepal, at a cost of up to several thousand dollars.
Textbooks: Some texts are included under tuition fees while others are additional, up to around $500 per year.
Exams: For IGCSE and IB diploma candidates, these can cost from $150 to $2,500.
Extra-curricular activities: Many of these are free, but some can cost up to $300 per term per activity

If you're planning to live in Singapore or if you're new to our sunny island, then make sure to read the digital edition of our latest City Guide.  
We also have a list of the best preschools in Singapore; also, check out the amazing range of CCA's and ECA's available at international schools here!