Co-curricular or extracurricular activities (CCAs or ECAs for short) are offered at most of Singapore's international schools, and the choices are impressive! From sports and music to technology and science, students have endless opportunities to explore their passions outside classroom hours. We find out more about what CCA in Singapore the kids can get involved in.
Dulwich College (Singapore) – CCAs and projects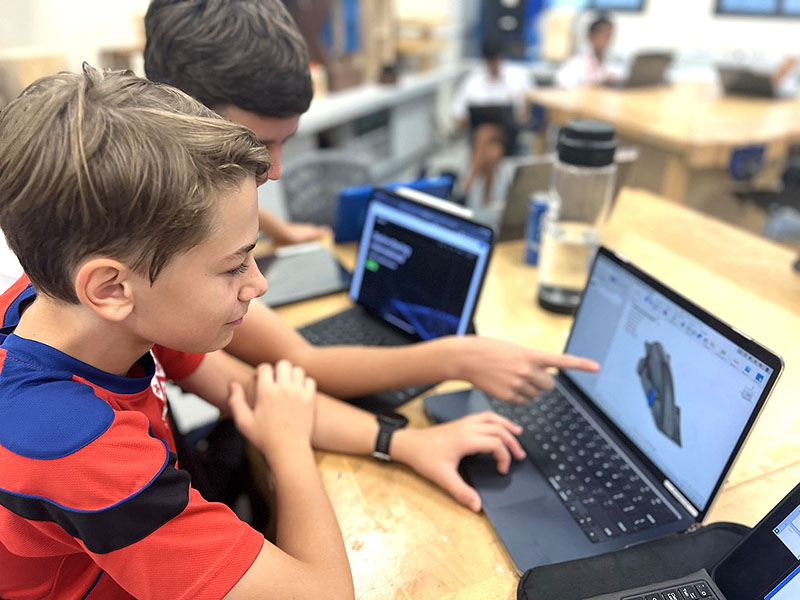 CCAs at Dulwich are part of a broader Learning Beyond the Classroom (LBC) initiative. LBC champions experiential learning and provides a range of meaningful opportunitiesto nurture passion, responsibility and independence. This holistic programme includes extensive local, regional and international trips, as well as co-curricular activities.
Students of all ages are encouraged to take part in CCAs, and there are more than 300 to choose from – something for everyone. In addition to curriculum-centric CCAs such as STEAM, Math, Coding, Music, multi-language writing clubs, Design and Technology, Gym, Football, Hockey and Cricket, also offered are activities that nurture global citizenship skills and values. These include the Kindness Club, British Sign Language Club, Entrepreneurship Club, Gamelan and Life Skills Development Society.
Each term, new CCAs are added while old ones are retired; many persist year after year due to popular demand. Students are also empowered to choose and even propose their own, which results in many student-led CCAs.
Most interesting CCAs
IGNITE: Switzerland is a 12-week programme for the curious, passionate and brave, a unique educational opportunity exclusive to Year 9 Dulwich students. It's hosted at Dulwich's sister school, Hochalpines Institut Ftan (HIF) in the Swiss Alps, and gives students an exciting experience of indoor and outdoor learning. Through leading their own expedition into the world of learning, finding new ways to reflect on the world and themselves in an awe-inspiring natural environment, they'll discover their best selves in this transformative experience.
Dulwich's Forest School is the first in an international school in Singapore. Accredited by the UK's Forest School Learning Initiative (FSLI), it pioneers experiential learning and problem-solving opportunities for young children in a natural environment. Forest School builds on the Nordic concept of "friluftsliv" (outdoor life) where the environment provides the learning stimulus, providing a myriad of positive effects for children's ​physical and mental wellbeing. Dulwich College (Singapore) Forest School is led by the only FSLI accredited Forest School instructor in Southeast Asia, responsible for training many of the FSLI accredited Forest School teachers in the region.
71 Bukit Batok West Avenue 8
6890 1003 | singapore.dulwich.org
St Joseph's Institution International – CCA in Singapore
SJI International is dedicated to nurturing well-rounded individuals and fostering growth in its students from Elementary through to High School. To cater to the diverse student interests and passions, the school has an extensive CCA programme. Offerings at Elementary School include Chess, Brazilian Jiu-Jitsu, Hip Hop Dance, Sewing and Textiles, Vex Robotics, eSports, Parkour, Rock Climbing, Orchestra, and Choir. Exciting new additions that provide creative outlets for students include Acro Dance, Competitive Chess, Creative Photography and Digital Animation. In High School, the most popular CCAs include Badminton, Model United Nations (MUN), eSports, Ultimate Frisbee, Robotics Unbound, Touch Home Care, Chess Club, Engineering, Mock Trial as well as Baking and Cooking.
Competitions are a core component. Students take part in the ACSIS, the Debating CCA participates in Singapore's junior and senior divisions, MUN students engage in conferences, and the eSports team is gearing up for intense challenges in the coming year. Simultaneously, there are age-appropriate coding, robotics and eSports experiences for students in the popular Digital Technology CCAs. Programmes like Vex Robotics, Lego Robotics, Coding, Digital Animation, Stop-motion Animation, Rubik's Cube, and SJI International's competitive eSports team are conducted in fully equipped media studios and digital technology labs, promoting hands-on skill development and collaborative learning.
Some notable CCAs at SJI International
Digital music and animation are explored in the Vocaloid Club, students hone various materials and stitching techniques in the Sewing and Textiles CCA to craft decorative and functional items, while Woodworking promotes creativity through crafting.
490 Thomson Road
6353 9383 | sji-international.com.sg
Marlborough College Malaysia – extracurricular activities outdoors
Co-curricular activities at Marlborough College Malaysia (MCM) are rich and varied. They provide challenges as a part of a meaningful holistic education. MCM pupils are encouraged to engage in a broad range of CCAs outside the classroom for one or a number of these to become a part of the pupil's life. Popular co-curricular activities include rugby, netball, swimming, climbing, gymnastics, baking, MUN and the International Duke of Edinburgh Award.
Popular with MCM pupils is scuba diving – those aged from 10 upwards are given the opportunity to complete their PADI Open Water Diver Certificate. Regular training sessions take place in the school's own pool, before pupils embark on their qualifier training in locations such as Tioman Island and Bali. Also popular is the newly introduced Dungeons and Dragons CCA, while Archery has been reintroduced. House competitions are also part of CCAs at Marlborough. These range across sporting events to creative arts, debating, poetry writing, baking, chess and other less serious events like the pancake race and the tug-of-war.
Some outdoor CCAs
Outdoor education is an integral part of MCM life and pupils are encouraged to explore the natural environment through the Barton Farm CCA. Pupils grow their own crops –anything from banana plants to wing beans or even sugarcane. These are then harvested by the pupils and regularly used in the school's dining hall. The school's best-kept secret is the lake behind the Preparatory School. It accommodates a range of CCAs from fishing to kayaking and paddleboarding. Students can take advantage of the abundance of nature while trying new challenges and experiences that feel miles away from the classroom without leaving the College grounds.
Marlborough College Malaysia
Jalan Marlborough, Puteri Harbour, Johor
+60 7 560 2200 | marlboroughcollegemalaysia.org
Nexus International School (Singapore) – plenty of extracurricular activities

Nexus offers close to 100 CCAs for learners from Kindergarten to Year 13. The most popular among Primary learners include Little Master Chefs, Lego Robotics, Primary Triathlon Club and cheerleading. Popular CCAs for Secondary learners include Puzzles and Games, Chess Club and Dungeons and Dragons. At Nexus, CCA activities are led by staff, older learners or trusted external providers.
Learners also have opportunities to compete through their CCAs. Nexus cheerleading teams, for example, participate in competitions organised by Cheerforce with both the senior and junior teams placing third in the 2023 Cheer Fiesta competition. Nexus has also hosted the World Scholar's Cup in Singapore. This competition highlights the importance of teamwork, knowledge application, and creativity. Earlier this year, a group of Nexus learners went on to represent the school at the international level World Scholar's Cup, which took place at Yale (USA).
One recently introduced CCA is Hydroponics Enthusiasts, where learners explore hydroponic systems, nutrient solutions and plant growth at the on-campus hydroponics farm. Additionally, younger learners have the opportunity to unleash their imagination with Jollijam Artventures. This wholistic creative arts programme provides an immersive experience through storytelling drama and movement, and encourages creativity and problem solving.
A notable CCA at Nexus
In Lego Robotics, learners use coding to build mechanical robots powered by motors and various types of sensors. This helps them to understand gear/machine concepts, discover basic physical concepts through observation, prediction, critical thinking and problem solving. In this CCA, Nexus learners have created an impressive range of creations, from dancing machines and racing cars to a Rubik's Cube-solving robot.
1 Aljunied Walk
6536 6566 | nexus.edu.sg
Tanglin Trust School's co-curricular activities
The Tanglin CCA pathway begins at Infant School. It's an important aspect of the Early Years programme, offering children the opportunity to try new musical instruments or crafts, explore the on-site Forest School Campus and see new places around Singapore. In Junior and Senior school, the CCA programme for students is extensive and participation is high. Popular activities include MasterChef, badminton, musical theatre, and an annual Whole School Hackathon competition. The 2023 school year saw over 500 different clubs and societies on offer, 23 different sports played by nearly 1,000 students, 24 drama performances and 1,226 students involved in residential trips.
The CCAs also provide students with academic and intellectual stretch – Tanglin Debaters, Model United Nations, World Scholars and other academic style activities regularly compete in Singapore and the wider region. Students participate in sport competitions through internal House events and extensive intra-school fixtures. National and international tournaments include SEASAC, FOBISIA, Dubai 7s and Brisbane Touch tournament.
A word from a student and a staff member
"As a Touch and Netball player, progressing through the school, I gained invaluable skills such as commitment, leadership and collaboration, and the opportunity to compete at a high international level." – Skylar, Year 13
"The CCA programme serves as a crucial pathway to broaden our students' horizons at Tanglin, presenting them with avenues to explore a diverse range of skills, interests and enjoyable pursuits that will continue to enrich their lives beyond their school years." – Michael Holiday, Director of Co-Curriculum
95 Portsdown Road
6778 0771 | tts.edu.sg 
UWC South East Asia – hundreds of activities
Through UWCSEA's extensive Activities programme, students learn to explore their passions in a wide range of options spanning music, arts, sport and culture. Activities are chosen based on their ability to enhance students' physical, intellectual, creative, emotional and social wellbeing. Some student favourites include Gymnastics and Robotics in Infant School; Rainforest Restoration and Debating in Middle School; and Creative Performance through dance and drama in High School. All activities are designed to offer participants the opportunity for leisure, relationship building and teamwork as well as fostering mindful engagement with the world around them.
Depending on the activity, students on both campuses are given opportunities to flex their creative and physical muscles in local and international competitions. Student members of Model United Nations engage with peers both locally and internationally through events and competitions such as SEASAC MUN and IASAS MUN. Competitive sports teams are focused on developmental training and resilience in preparation for fixtures such as the ACSIS conference, SEASAC tournaments and other inter-school, regional and international meets.
One new CCA is Kitchen Science on Dover Campus. Students explore the chemistry behind cooking and baking on their edible science adventures. There's also Ballet x The Movement where students build an understanding of body alignment, movement and flexibility. They will also be invited to participate in the end of year ballet recital.
Interesting CCAs
Aerial Silks and Hoops was first introduced as part of Circus Club. With strong interest from students season after season, it's now an activity on its own. This artistic  performance on a long silk suspended from the ceiling or rig points improves strength and flexibility. Magic Club was introduced a year ago for students to learn various magic tricks and performance presentations.
Dover Campus: 1207 Dover Road | 6774 2653
East Campus: 1 Tampines Street 73 | 6305 5353
uwcsea.edu.sg
International French School – popular ECAs and CCAs
The wide range of Co-curricular and extracurricular activities at International French School (IFS) cater to various interests and talents. Their top 10 most popular CCAs/ECAs for this academic year are Football, Climbing, Swimming, Gymnastics, Roller skating, Drama, Engineering Club, Badminton, Choir and Cooking. These CCAs/ECAs offer opportunities for personal growth and foster a sense of belonging among IFS students.
IFS sports teams take part in tournaments involving different French schools in the Asia-Pacific zone of the AEFE (Agence pour l'Enseignement Français à l'Etranger) network. This gives IFS students amazing opportunities to discover other countries and meet students from different cultural backgrounds. IFS also takes part in the ESPZEN Football championships throughout the year, from Under 9 to Under 18. The school also participates in local competitions and organises friendly matches over a range of sports including volleyball, badminton, football, swimming and climbing. For the first time in 2023, IFS co-organised a Cheerleading competition at the school's premises and teams from other international schools in Singapore participated.
The school recently introduced several new activities to their ECA programme. Artistic Swimming gives both experienced and beginner student swimmers an artistic approach to aquatic fitness and performance. Adding to the school's line-up of intense and competitive physical activities is Wrestling. On the performance side, Musical Comedy lets students explore the world of theatre, music and comedy in workshops.
Two unexpected extracurricular activities on offer
Parkour and Sewing are two unexpected ECAs available for IFS students to pursue. The primary goal of Parkour, a sport that originated in France in the late 20th century, is to navigate obstacles and urban or natural environments with precision, speed and fluidity. It's often associated with a philosophy of self-improvement, adaptability and freedom of movement. Sewing provides numerous avenues for both artistic expression and pragmatic problem-solving, whether students are novices developing their skills in clothing repair or a seasoned seamstress crafting their own fashion designs.
3000 Ang Mo Kio Avenue 3
6805 0000 | ifs.edu.sg
North London Collegiate School (Singapore) – challenging CCA's
NLCS (Singapore) offers a wide range of academic, sporting and artistic enrichment co-curricular and extracurricular activities to cater to students' diverse interests and talents. Scuba, Photography, Golf,
Instrumental Music Lessons, Orchestra and Coding, as well as new activities such as Dungeons and
Dragons, Arabic Art and Calligraphy, Bridge, Academic Seminars, and Videography, are some of the co curricular activities in the enrichment programme.
Among the popular CCAs are Chess, Debating, Fitness, Maths Workshop, Fashion Shows, Model United Nations (MUN), Tennis, School Production, Environment and Sustainability, Duke of Edinburgh Award, Lego Construction and Design, Climbing, Gymnastics, Sports Super Skills, Comic Book Club and Musical Theatre Group.
Students also actively engage in a variety of competitions through their CCAs. These include external conferences for MUN and the Chemistry Olympiad. Additionally, NLCS (Singapore) competes in all sporting events and environmental conferences as a member of FOBISIA and the Athletic Conference of Singapore International Schools.
Two interesting CCAs
The NLCS Academic Seminars allow students to acquire public speaking strategies and cultivate their oratory skills. Students are supported in finding ideas they are passionate about and delivering short TED-style presentations. Thereafter, students participate in the TED-Ed Student Talks programme, where they have access to resources from TED to prepare talks for larger audiences. In Vocabulous!, Senior School students support local school children in Grade 3 (9 years) from lower income backgrounds by teaching them vocabulary online.
130 Depot Road
6989 3000 | nlcssingapore.sg
XCL World Academy – many new extra curricular activities
XCL World Academy (XWA) aims to maintain a well-rounded extracurricular activities programme to encourage every student's personal growth, skill development and the discovery of their true passions. The school offers a wide range of extracurricular activities (ECAs) in academics, sports and the arts. This caters to students from Kindergarten to Grade 12. Their top 10 ECAs for the past two academic years include football with the French Football Federation Academy, Basketball with Fast Break, Culinary Art, Cricket run by King Brothers Cricket, Esports, Swimming with XLAB, Lego Building, Coding, Rock Climbing and Table Tennis.
This academic year, XWA has introduced many new ECAs. These include Chess Club, Matata Coding, Skateboarding, Golf, Science Club, Math Club and Coding App Jamming. These are designed to engage and inspire students of various ages and interests.
Students participating in competitive sports and Esports actively participate in tournaments alongside other international schools. Additionally, XWA also hosts a Math Olympiad as another exciting avenue for competitive engagement.
Most interesting ECAs
The Esports Club is a year-long, twice-weekly extracurricular activities programme led by NASEF-certified coaches. It fosters the gaming skills, teamwork, leadership and competitive spirit of students with top-tier equipment. The club actively competes in regional tournaments. In the process, the students nurture gaming prowess and critical life skills for success in the digital age. The Young Innovators Entrepreneurial Mindset Programme empowers students with the skills, mindset, and knowledge needed to become innovative problem solvers and successful entrepreneurs. There are multiple skill development levels through interactive activities, challenges and projects, and a chance to participate in The Young Entrepreneurs Premier Schools Event.
2 Yishun Street 42
xwa.edu.sg
Now you've looked at extracurricular activities at international schools, hear what the parents have to say in this article Singapore's international schools and get ideas for the best things to do in Singapore.