The iconic, smash-hit show Cabaret has been wowing audiences all over the world for almost 60 years. Producer and founder of Sing'theatre NATHALIE RIBETTE is bringing this fabulous theatre production to our shores. Here she tells us all about it and why it's one musical in Singapore not to miss!
Tell us a bit about yourself and Sing'theatre.
I'm a French citizen and proud Singapore Permanent Resident. In 2006 I founded professional theatre company Sing'theatre as a charity, with the mission to create a better world with the power of music. Our motto is "performing for a better society".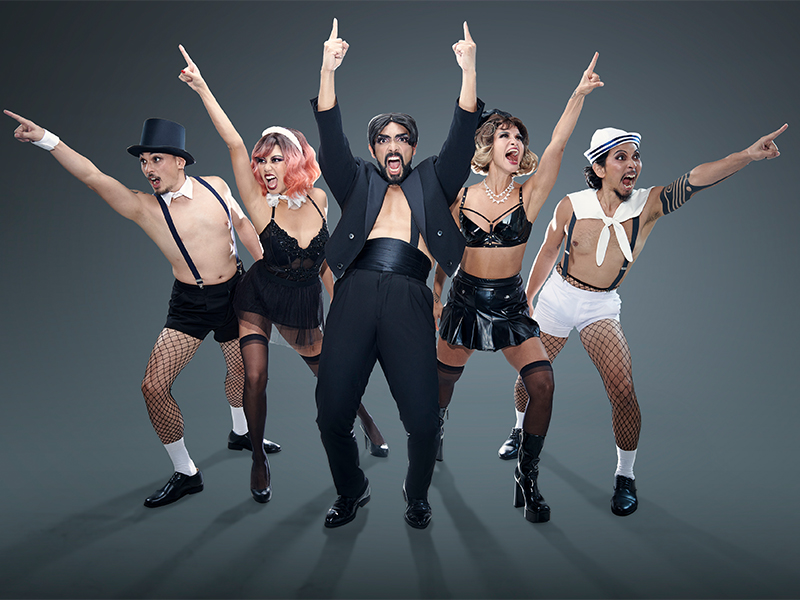 We have three primary purposes. Firstly, we produce musicals that open social dialogues in the Singapore community and promote multicultural interaction. Secondly, we educate at the Sing'theatre Academy by offering musical theatre classes for four-year-olds and above. Finally, through our community outreach programmes we bring live music to patients in public hospitals and organise singing groups with underprivileged communities.
We're a recognised Institution of Public Character. By bringing music to different groups of people, we're not only spreading the joy of music, but also fostering a sense of community and making a positive impact. Our designated initiatives 365 Hours of Music, MusicFest@Singapore General Hospital and Sing Me A Story bring music to those who may not have access to it. Sing Me A Story allows children in hospital wards to experience and escape into magical worlds with musical performances by princesses and superheroes. Music and laughter really is the best medicine.
Why did you decide to bring the show Cabaret to Singapore?
Cabaret is a French word for the form of theatrical entertainment that was born a few hundred years ago in Paris. So as a French national I feel very connected to the genre. Cabaret the show holds a very special place in my heart; it was my very first musical, and I was fortunate to see it in Berlin, where it's set. I've always dreamed of presenting it in Singapore, but was concerned it was too big of a production for Sing'theatre.
Last summer, I attended a new version of Cabaret in London. It won seven Olivier Awards, among them the best musical revival award. I was blown away by the quality of the screenplay and music, and its relevance today. This inspired us and our team decided it was time for Sing'theatre to take a risk and present the Cabaret musical in Singapore!
What was going on in 1931 Weimar Germany where the show is set?
The scene is just after the Great Depression of 1929, at the end of the Golden Twenties, while Hitler and the Nazis were coming to power. It's based on the largely autobiographical 1939 novel Goodbye to Berlin by Christopher Isherwood, who travelled to the city in 1929 to pursue its vibrant gay scene. There, he lived among a crowd of misfits. Isherwood found before him a country blindly barrelling into the abyss as its inhabitants drowned in decadence. Anti-Semitism was on the rise, Nazi rallies doubled, tripled and quadrupled in size. The bohemians – gay people and communists – all living like every year was their last, were soon to be purged and imprisoned in concentration camps alongside the Jews.
The sentiment is aptly described in this piece of dialogue: "So, life is disappointing? Forget it! In here, life is beautiful! Leave your troubles outside! And welcome to the Kit Kat Club."
How have audiences responded to this theatre production over the years?
Cabaret opened on Broadway in November 1966 and has been a hit on both stage and screen. Bob Fosse's film version, starring Liza Minnelli, won eight Oscars. The musical has been revived many times since then, and many big stars have played the iconic role of Sally Bowles, making Cabaret the most awarded musical of all time.
Cabaret's enduring success is partly down to John Kander and Fred Ebb's incredible score, with songs like "Wilkommen", "Don't Tell Mama," "Mein Herr", and "Money". The universal themes resonate with everyone from any background, age, and culture. It's about standing up for freedom and human rights.
Why do you think that the show Cabaret is relevant in today's political climate?
With the current war in Ukraine and the general return to nationalist movements all over the world, I wanted to highlight this period of history, which is one of the darkest mankind has known. It's important to regularly recall this period and explain especially to the younger generation to avoid such an abomination happening again.
Where to see it!
The Cabaret theatre production is showing from 5 to 15 October at the Drama Centre Theatre, 100 Victoria Street, #03-01 National Library / Lee Kong Chian Reference Library.
Love heading to a musical in Singapore and getting out and about? Why not check out our list of the best things to on the island.
This article first appeared in the September 2023 edition of Expat Living. You can purchase the latest issue or subscribe, so you never miss a copy!
To make the most of living in Singapore, read our latest City Guide here for free!