If you miss watching a good theatre performance in Singapore, we have news for you. This December, Esplanade is screening three productions from the National Theatre. From comedy to love stories, the theatre shows were recorded live in London and feature top talents in the industry. Two new shows for Fleabag and more seats for Cyrano de Bergerac and Present Laughter are being released, so book fast!
#1 Fleabag
We could all use a good laugh after the crazy year we've had, right? Captured live on stage from London's West End in 2019, Fleabag tells the tale of a stubborn young woman who owns a failing guinea-pig themed café in London. The audience will get an inside look at her relatable struggles with life and strained relationships. In spite of all the drama and challenges that life throws at her, she doesn't lose hope and soldiers on.
Written and performed by the talented Phoebe Waller-Bridge, the quirky one-woman performance was so well-received that it inspired BBC's popular TV series of the same name. There'll be some provocative and raunchy dialogue, so it's be best to keep the kids at home. For those who enjoy Killing Eve and Pitch Perfect, this is one to bookmark! 
When: 9, 10 and 13 December, 7.30pm. Two additional shows have been added on 12 and 13 December, 10.30am.
#2 Cyrano de Bergerac
Fans of James McAvoy, get excited! British playwright Martin Crimp's take on the classic play Cyrano de Bergerac features the popular actor from the X-Men franchise. He stars as Cyrano, an arrogant and narcissistic man who appears to have it all – intelligence, wit, physical prowess and a big heart. Confident and eloquent with his words, he uses his mastery of language to try to win over his true love Roxane. Themes of the play include deception, courage, identity, beauty, self-belief, love and friendship.
Originally written in 1897 by Edmond Rostand, this new adaptation offers a modern spin, with contemporary dialogue and minimal staging. Recorded live from the West End this year, the production currently holds the Olivier Award for the Best Revival (2020).
When: 11 and 12 December, 7.30pm. 50 more seats per screening are being added.
#3 Present Laughter
Captured live from The Old Vic in London, Present Laughter looks at the life of Garry Essendine, a successful English actor who's about to head on tour in Africa. He goes on a journey of soul searching as he deals with unwanted advances from different women, including his best friend's wife. The main role of Garry is played by Andrew Scott, who won the 2020 Olivier Award for Best Actor. If you're wondering why he looks so familiar, he also plays Jim Moriarty in BBC's Sherlock. 
Written by Noël Coward and directed by Matthew Warchus, the lighthearted comedy is filled with many farcical elements and touches on societal issues such as fame, desire and loneliness.
When: 12 and 13 December, 2pm. 50 more seats per screening are being added.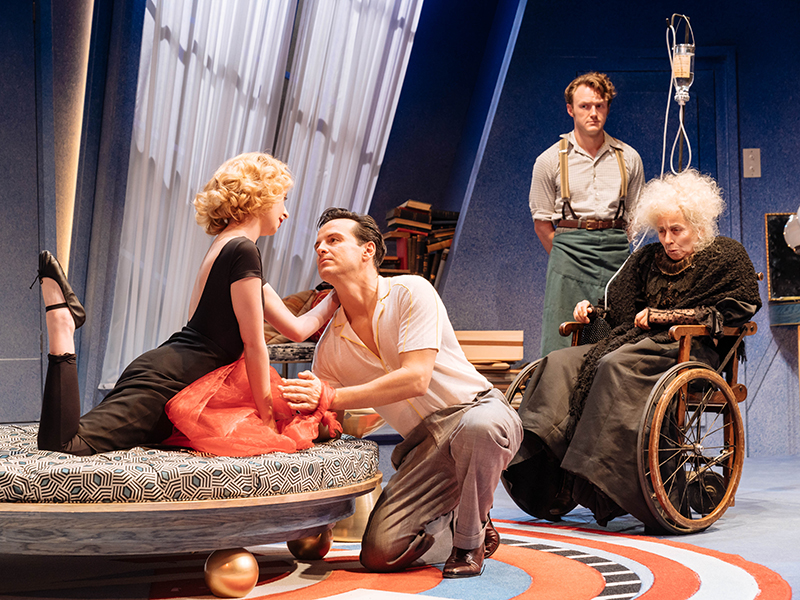 What is National Theatre Live?
It's an on-going initiative by the National Theatre to broadcast live theatre shows from three stages in the UK: National Theatre, Barbican and the West End. Performances are screened at more than 2,000 places in over 40 countries worldwide.
Get your tickets for these theatre shows!
Entry to each screening goes at $25 per person. If you're keen to go in a small group, get the package for four people at $88 (applicable for all three shows). Esplanade&Me members can snag some great savings, too: 15% and 10% off for Black & White and Discover card holders respectively.
Buy your tickets now!
Esplanade – Theatres on the Bay
1 Esplanade Drive
esplanade.com
Check out more things to do in Singapore.