This is a great article from Tekkie Help – over 20 tips on how parents (and kids) can manage the technical and practical aspects of homeschooling and remote or online learning. And some very helpful resources and ideas to help parents do their 'new' job!
How to be organised & what tools to use
With schools beginning to close to stop the spread of coronavirus, you may find yourself working from home with a new side-gig: teacher.
If you're new to homeschooling, you're probably wondering how you can help your kids learn and keep them occupied while you work. Is it possible to avoid a screen-time free-for-all and keep your sanity?
To make homeschooling a unique and fun experience for both you and your kid, using some kind of technology has become a must. Not only does it put a twist on traditional learning, but it also makes your teaching job easier. We have put together a basic "toolbox" of how to get up and running with homeschooling, engage your kids more in the learning process, and teach them how to manage their time, focus, and master their own productivity.
#1 Access resources at home
First things first, see if your teacher or school has online learning facilities via Google Classroom, Zoom or another platform. Schools in Singapore are very prepared and generally provide some online resources. For seamless access to these online platforms, you need to ensure firstly that you have enough devices for all your children. This can be a challenge, especially with many parents now working from home too. You may need to work out a schedule to rotate and share the computers you have in your household, or alternatively consider buying another device. As a cost-effective option, Tekkie Help have a number of refurbished Macs starting at around $400.
Secondly, you will need to ensure your Wi-Fi network is up to handle the increased demand placed by conference calls, video streaming and more. Check out our blog article on setting your IT set up and running for seamless remote working.
#2 Set up a routine
Looking for a homeschool daily schedule? This quarantine homeschool schedule template has been making the rounds as a COVID-19 daily schedule.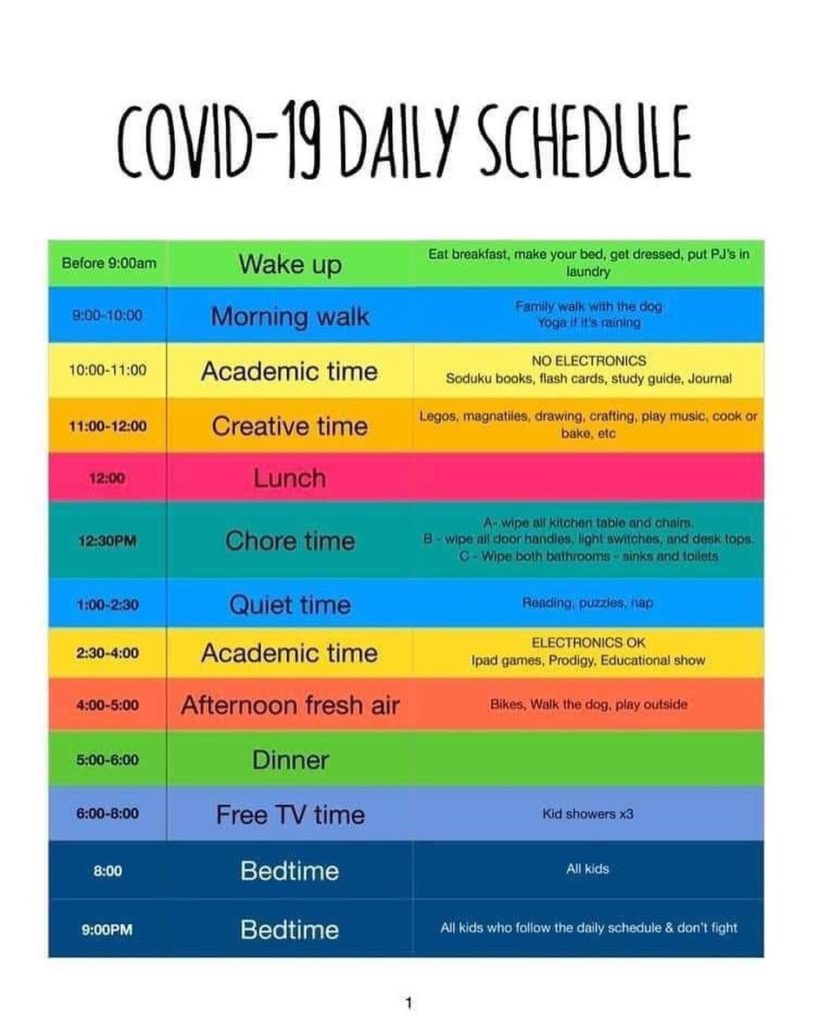 You may want to try to follow your child's regular school schedule or decide on a plan with a family meeting. These printable schedules let you plan out your day, or you may prefer to use special apps to manage time tables – we love Tiimo for primary school children (offering a free 30-day trial). To encourage self-management, you can also set various alarms that match your schedule to let kids know when it's time to move on to the next planned activity.
#3 Set up parental controls
Using technology to home school is essential, especially if you're busy working too. But how do you prevent your children getting sidetracked and using their devices to access other content and apps? This is where setting up parental control software can really help and give you peace of mind that learning hasn't taken a detour! Apple's in-built controls are fantastic as not only are they free, they also enable you to set access rights on specific apps and websites.
Set up with Family Sharing, you can remotely control each child's electronic access and check on their productivity! It's fairly intuitive to set up but if you need help, our team of Tekkie Specialists can assist.
#4 Use free online resources
It's so lovely to learn that people are giving up their time to help support parents and children at home by streaming free webinars. Mo Willems, of Don't Let the Pigeon Drive the Bus and Elephant and Piggie fame, is hosting "lunchtime doodles". Jarret J. Krosoczka, author of the Lunch Lady graphic novel series and the National Book Award finalist Hey, Kiddo, is hosting daily drawing webcasts on YouTube.
Khan Academy is a great, free resource for instructional videos on many topics. Mystery Science is offering free science lessons during school shutdowns. Many educational websites are offering free subscriptions during school closures. The streaming audio service Pinna is offering families and teachers two free months of access to their audio streaming service for kids aged three to 12. To activate, go to Pinna and use the promo code "PINNA4KIDS". There are plenty of educational and entertaining podcasts for kids, including NPR's WOW in the World, Story Pirates and Brains On!
For greater engagement and to draw your kids away from small screens, you may want to run these online resources on your TV. If you don't have a smart TV, you can do this by either streaming over the Wi-Fi using a media device such as AppleTV or Chromecast. Alternatively, you can plug in your computer directly to the TV using an HDMI cable.
#5 Get physical
With kids kept indoors more than usual, don't forget to provide plenty of wiggle time. The Kidz Bop YouTube channel has dance-along videos. Mark Kanemura, a former backup dancer with Lady Gaga and contestant on So You Think You Can Dance, is offering virtual dance parties on Instagram. Cosmic Kids Yoga has free yoga resources for young children; and Go Noodle features short videos to get kids moving.
If you're not on a Stay Home Notice, take your work outside and let the kids dig, or just observe nature. They can track what they see in a science notebook. Tinkergarten, the outdoor early learning programme, is offering Tinkergarten At Home for families with weekly activity ideas and other resources.
#6 Watch documentaries
If your kids Netflix, you can chill (or get some work done). And there are plenty of quality films to get you through quarantine. Common Sense Media keeps a list of the best documentaries for kids. For an all-family TV break, shows about cooking and travel can be great crossovers.
Be kind to yourself; remember, this is temporary and no one expects perfection! You've got this!
Written by Tekkie Help
We hope you found this interesting; click here if you'd like to read more.