Fancy a local breakfast in Singapore? There are so many options at kopitiams or hawker centres. With less than $5 for a satisfying meal at most places, what's not to love? Most of our suggestions are available at any hawker centre; these were just the places that got rave reviews from customers and regulars. Getting around to these spots is fairly easy, but you can also rent a car for short periods to make it a whole lot easier!
#1 Chee Cheong Fun
For those who love noodles, be prepared to be blown away by this rice noodle roll. A rice flour mixture is first steamed into thin sheets before it's rolled into tubes and dressed in light soy sauce and sesame oil. Silky smooth and savoury, this is an absolute must-try. Common fillings include shrimp and char siew (roasted pork), although the ones without filling are equally tasty.
Where: Pin Wei Hong Kong Style Chee Cheong Fun, #01-25 Pek Kio Market & Food Centre, 41A Cambridge Road
#2 Nasi Lemak
Traditionally wrapped in banana leaves, nasi lemak is an extremely versatile dish that can be served with different toppings. A classic nasi lemak comes with fragrant coconut rice, ikan bilis (fried anchovies), peanuts, egg and sambal (chilli paste). If you're lucky, your set might even come with a fried chicken wing or fish at some stalls.
Where: Tan Beng Otah Delights, #01-74 Old Airport Road Food Centre, 51 Old Airport Road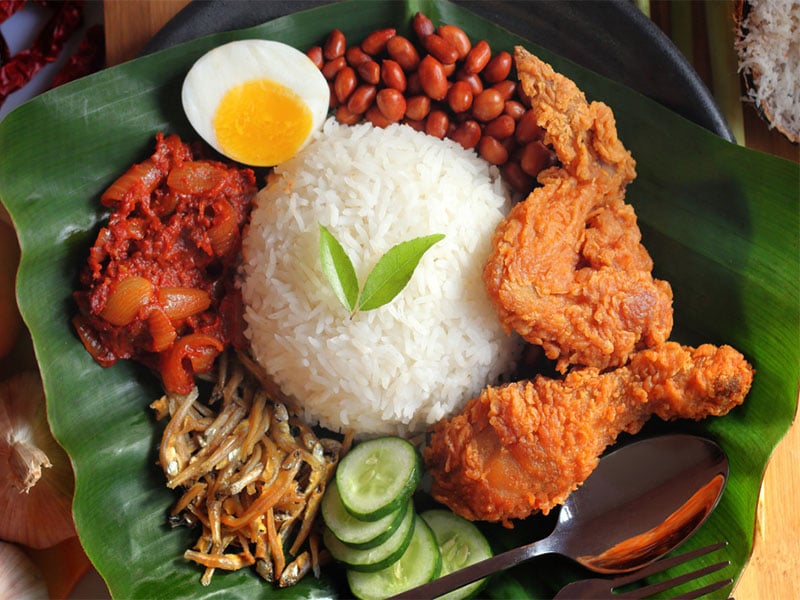 #3 Kaya Toast
Available at almost every kopitiam, kaya toast and soft-boiled eggs accompanied by a nice, strong kopi is the quintessential traditional breakfast. And, hey, what could be better than hot toasty bread slabbed with a sweet kaya jam and some coffee to wake up our senses?
Where: Heap Seng Leong, Blk 10 North Bridge Road, #01-5109
#4 Chwee Kueh
We love our kueh here in Singapore, but chwee kueh takes the prize among all the others. This dish perhaps isn't the best visually, but it definitely makes up for it in taste. While the freshly steamed rice cake itself isn't too unhealthy, the preserved radish and chilli on the side give this local breakfast a sinful calorie boost. Completely worth it, though!
Where: Jian Bo Tiong Bahru Shui Kueh, #02-05 Tiong Bahru Market, Seng Poh Road
#5 Bak Chor Mee
Literally translated as minced meat noodles, bak chor mee is a bowl of deliciousness tossed in a mixture of vinegar, pork lard and chilli, perfectly coating al dente noodles. It's then topped off with all things pork – minced meat, pork slices, pork balls, you name it. Our favourite addition, though, is the savoury, stewed mushrooms slices!
Where: Fa Ji Minced Meat Fishball Noodle, #01-05 Kovan Market & Food Centre, Blk 209 Hougang Street 21
#6 Kway Chap
This is another classic and a favourite among locals looking for some warm comfort food. A traditional Teochew dish, it features thick, broad sheets of rice noodles served in a savoury soy sauce broth. A set usually comes with pig innards, hard-boiled eggs and tau pok (deep-fried tofu) drenched in a dark sauce, though you could always request to omit certain ingredients.
Where: Garden Street Kway Chap, #01-21 Serangoon Garden Market and Food Centre, 49A Serangoon Garden Way
#7 Carrot cake (Chai Tow Kway)
Not related to the dessert at all, this is a local staple present in most, if not all, hawker centres. Fried with delicious nuggets of radish cake, garlic and chai poh (preserved radish), this dish is offered 'black' or 'white' style. The black variety is fried with dark soy sauce, giving off a slight sweetness, whereas the white is only fried with eggs to create a crispy exterior that perfectly contrasts the soft rice cake.
Where: Ghim Moh Fried Carrot Cake, #01-16 Ghim Moh Market & Cooked Food Centre, 20 Ghim Moh Road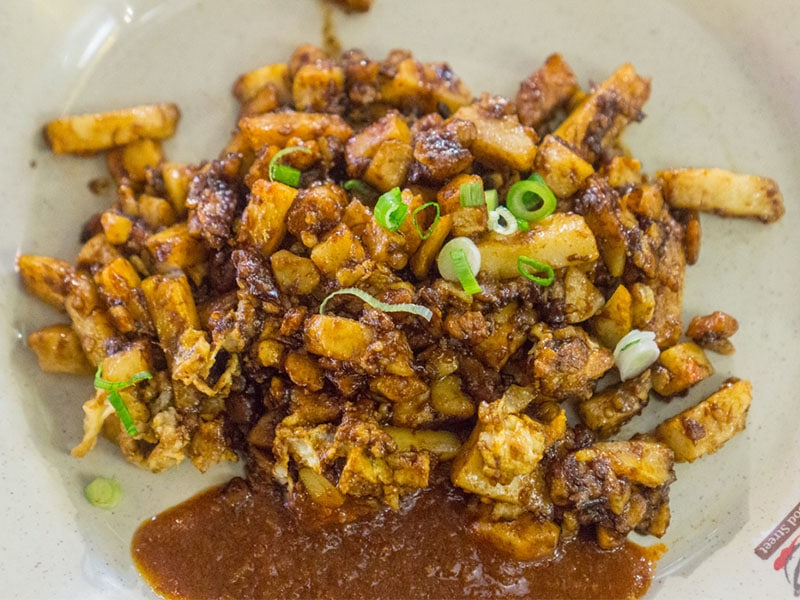 #8 Lor Mee
Carb-conscious friends turn away, this noodle is far from healthy but oh so worth it. Coated with a thick, starchy gravy and served with flat yellow noodles, it's definitely not a light items as far as local breakfast goes. Add on the various toppings such as deep-fried fish, fish cakes, crispy bits and more, you've got yourself a happy belly.
Where: Zhi Xiang Special Lor Mee, #01-49 Palm Springs Hawker Centre, Blk 93 Toa Payoh Lorong 4
#9 Congee
This delicious Cantonese-style rice porridge is the perfect light breakfast for those who prefer something a little less heavy in the morning. Rice is boiled until it starts to break down into a creamy consistency, forming the classic congee texture; it can be made with any ingredient you fancy. The most common ones are fish, pork, chicken and century eggs. Crack in a raw egg for good measure to add a little oomph.
Where: Zhen Zhen Porridge, #01-54 Maxwell Food Centre, 1 Kadayanallur Street
#10 Popiah
Sort of like the lighter sibling to the regular fried spring roll, popiah is usually stuffed with stewed turnips, eggs, bean sprouts and crispy bits, all wrapped in a deliciously thin crepe-like skin. More innovative fillings have come onto scene in recent years but the original style is our personal favourite.
Where: Old Long House Popiah, #01-03 Kim Keat Palm Market & Food Centre, 22 Lorong 7 Toa Payoh
#11 Curry puffs
A delicious, savoury curry filling that's encased in buttery pastry – who can say no? The classic version is a chicken curry with potato but variants such as tuna are available as well. Perfect for an on-the-go breakfast or quick snack when you're feeling peckish, this humble puff simply had to be included in our list.
Where: AMK Curry Puff, #01-372 Super 28 Coffee Shop, Blk 184 Toa Payoh Central
Hungry? Here's how to get to these spots!
There's so much of Singapore that's easier explore by car. If a long-term rental option's not on the table ('scuse the pun), rent one for a weekend or a month so you can get your fix of local food, walks and historical buildings that are hard to get to by public transport. It's especially fun and convenient for when you have visitors, parents or kids in tow.
Find out more through the team at BizLink Rent-a-Car:
Bizlink Rent-a-Car
6285 6616 | bizlinkrentacar.com.sg
For more helpful tips, head to our Living in Singapore section!
10 quirky places to take out-of-town visitors
Must-try local desserts in Singapore