If you're about to move to Singapore, you might be wondering what children's gear to stack your container with. The good news? You don't need to bring much! Shopping in Singapore is easy – it's actually a national pastime! There are malls everywhere, and you can shop for American, European and Asian brands. We've compiled some of the best baby stores and toy shops in Singapore, plus places for kids' clothes, gifts for your next baby shower, dressing-up costumes, shoes and kids' beds.
As for where to start, there are international chains in the big shopping malls like VivoCity and Suntec City Mall to luxury and designer labels on Orchard Road, at the likes of Paragon and ION Orchard. Smaller malls with more independent boutiques include Cluny Court, Forum and Tanglin Mall; all have toys shops and kids' clothes.
Best children's stores for babies' accessories, kids' clothes and more
Hegen
Singapore brand Hegen has everything you need to feed your little one, from bottles and breast pumps to beautiful starter kits. Its iconic square-round feeding bottles, with their Press-To-Close Twist-To-Open lids, have been a favourite among parents at this baby store since 2015.
The popularity stems from the practical, high-quality and multifunctional products. For example, you can switch between interchangeable lids for expressing, storing and feeding all within a single Hegen bottle. And, once your baby has outgrown the feeding stage, the bottle transforms into a storage container for semi-solids, snacks or even kitchen spices.
Whether it's for yourself or an upcoming baby shower, Hegen's beautiful starter sets are lovely gift options. The bottles can even be personalised with a name and selected print. Plus, the company also provides education, full lactation consultations and training services at its Hegen Lactation Centre. In short, these are baby products that have been designed with thought, experience and care to satisfy the needs for mums.
Stores island-wide
hegen.com
Raph&Remy
This is one of our go-to baby gifting brands in Singapore! Started by an expat mummy-and-daddy duo and named after their two gorgeous sons, the locally-based brand designs eco-friendly baby products with style, comfort and our tropical climate in mind. All Raph&Remy clothing is high quality and sustainable with a nod to minimalist and modern design. You'll fall in love when you feel the softness of the bamboo fabric! Plus, the kids' clothes are super breathable, naturally hypoallergenic and temperature regulating.
The brand's best-sellers are bamboo onesie bodysuit and zippy pyjamas. There's also a gorgeous matching sibling collection. From swaddles and mittens, to bibs, towels and more, all products are OEKO-TEX 100 certified. Raph&Remy also offers personalisation across a range of products (including teethers!) for that extra special touch. As part of their focus on sustainability, every purchase also contributes to planting bamboo.
All items come beautifully packaged and are shipped around the world. You can shop the brand online, at the flagship store on Neil Road or at selected stores across the island, including Tangs at Tangs Plaza (Level 2) and Mother & Child at Tanglin Mall (Level 2).
33 Neil Road
raphandremy.com
The Plush Club
If you're a parent looking for high-quality, sustainable and stylish baby clothing, look no further than The Plush Club. This baby clothing brand makes practical and functional newborn gowns, zipper rompers, baby essentials and everyday wear – all without compromising on the fabric quality, sustainability and style.
Using hypoallergenic bamboo fabric, each garment is gentle on sensitive skin and naturally antibacterial. Parents have even reported that their kids' eczema has significantly improved or been cured by wearing The Plush Club clothing.
Whether it's for dressing up or down, this range is all about encouraging your little ones creativity to flourish, so you don't have to swap style for comfort. The fun and fresh designs are perfect for newborn babies up to age five and available at the Mummy's Market in Suntec City and online from The Plush Club website and Tangs.
thebabycloset.sg
This Singapore brand began when two new parents were on the hunt for quality, organic and sustainable baby essentials. With so many baby store products often thrown away, they had the idea to curate a store of items parents use every day that can be handed down to the next generation.
The range at thebabycloset.sg includes all-organic reusable nappies, pure water baby wipes, gorgeous growsuits and swimwear, 100% natural rubber pacifiers, organic baby skincare products and more. All of the stores baby essentials are eco-friendly, chemical free and non-toxic, so you know the products will be safe and gentle on your little one's delicate or sensitive skin.
You'll find global organic brands for babies up to two years old, including Purebaby, Cam Cam Copenhagen, Mushie, Cloversoft, Natursutten, L'ovedbaby and Laboratories de Biarritz.
And, if you're shopping for a gift, thebabycloset.sg takes the hassle away with a gift-wrapping service. Free shipping is available in Singapore for orders over $60 and in Malaysia for orders over $120.
Piccolo House
Childhood bedrooms are not only a space where you sleep and dream. They're also a place where you play, learn and form some of your very first memories. So it's important to create a bedroom for your child that is safe, comfortable and full of possibility.
This was the dream that started Piccolo House. For 15 years, the store has been providing kids' beds and furniture to nurture imagination and creativity. The store's range of bedroom and nursery furnishings combines quality, comfort and style, with something for little ones and not-so-little ones alike! You can find modular kids' beds, play desks and different types of storage from fun bookcases and thematic cabinetries to toy boxes. Piccolo House also has a wide selection of kids beds and mattresses to support your growing child.
And, for fostering a sense of fun and play, browse the wide selection of accessories, from peel-off wall decals and beautiful loomed rugs to fun lighting and cosy cushions. You can shop Piccolo House online, at the flagship store, and at HipVan Singapore and TANGS.
Retykle
Retykle is Asia's largest online consignment store for buying and selling designer baby, children's and maternity fashion, gear and toys. The store takes the hassle out of resale. Parents simply book a free home pick-up and Retykle does the rest. It's the most convenient way to clean out kids' closets, earn cashback and buy quality new and preloved items from 50 to 90 percent off.
Customers can shop from over 2,500 of the best childrenswear brands, including Bonpoint, Jacadi, Petit Bateau, Stella McCartney, Nicholas & Bears and Burberry, catering for ages 0-14, as well as a selection of maternity wear. With a strong emphasis on impeccable quality and a seamless user experience, the platform enables shoppers to purchase with confidence, safe in the knowledge that every item listed for sale has undergone thorough inspection in order to meet Retykle's rigorous quality, cleanliness and authentication standards. Free local shipping is applicable on orders over $50.
Children's shops with cool things for kids
Personalise with Alskar
Put a stop to lost water bottles with a personalised Kidcelence Tritan Kids Bottle ($16.96). As the Tritan is made from tough and shatter-resistant copolyester that's 100% BPA free, it can withstand shocks as well as sub-freezing and boiling temperatures. It's spill-proof valve eliminates spills and leaks even when the spout is open, which means no more accidental spillages onto uniforms, shoes or schoolbags. Having your child's name on it will also make it easier for the bottle to find its way back to its owner!
Alskar also personalises backpacks and creates personalised puzzles, fridge magnets, jewellery coasters and more!
Children's shoes in Singapore
Salt-Water Sandals are perfect for Singapore kids (and big kids)! These children's shoes can get completely wet without the leather warping or cracking – just rinse them off and leave to air-dry, and they'll be as good as new again the following day.
Back in the 1940s, Walter Hoy, a father in St Louis, Missouri, fashioned the first simple pair of sandals out of scrap leather for his daughter. Since then, they've become a firm favourite amongst families from Tokyo to Helsinki and London to Perth.
The enduring classic Salt-Water style can be punched up a notch if you choose a juicy fruit colour, like the patent yellow, shiny fuchsia, turquoise or cherry-print leather varieties.
Shop online at salt-watersandals.com/asia-en
Beautiful baby wear
Want all-natural, organic, eco-friendly and sustainable baby essentials?
Singapore-grown brand the baby closet began with the objective of curating high-quality organic baby essentials that are soft and gentle, and can be handed down through generations. At the same time, the focus was on using sustainable methods and only natural materials.
Many businesses get started out of a personal need and this is one of them. The business owners had their first baby a few years ago and they wanted what was best for their little girl. They found, among other things, that many of the clothes they purchased just didn't last; they also realised how much waste there was from this kind of fast fashion.
The waste was not only in the manufacturing process but the packaging too. This is why they evaluate and source packing material individually and extensively. This involves using recycled, reusable and recyclable materials, and removing anything that might be unnecessary.
Their products are individually tested and handpicked; they're also eco-friendly, chemical free and non-toxic, making them gentle on the most delicate and sensitive skin.
thebabycloset.sg
Instagram & Facebook: @thebabycloset.sg
Cool and gentle kids' clothes
Dilly & Fin is an online baby and kids' store offering an exclusive handpicked collection of summer fashion and swimwear from the world's best brands. Many of these you won't find anywhere else in Singapore; think favourite European labels such as Olivier London, Little Cotton, Nellie Quats and Bebe Organic.
Catering for babies and kids up to age four years, every piece of clothing suits the hot, humid and sunny weather while bridging the gap between everyday wear and something a little more special. Most importantly, the clothes are chosen for comfort – they're loose-fitting, light and breezy, and gentle on the skin.
Environmentally-conscious shoppers will be pleased to hear that Dilly & Fin is passionate about sustainability and only works with brands that share its values. That means heaps of natural, organic materials, timeless designs and clothes that are crafted with longevity in mind.
dillyandfin.com | info@dillyandfin.com
Instagram: @dillyandfin
Best shops with shoes for kids
Happy Step Store
Is your little one starting to totter around? Are you looking for a pair of perfect shoes for your tiny runner? The Happy Step Store's collection of girls and boys shoes are orthopedist-recommenced and as fun as they are well-designed. Offering stability and comfort, the range has a semi-hard heel to give the right support to growing bones and muscles. For confident walkers, there are lots of fashionable options too.
The store's shoes for kids are made of natural materials like leather and suede, which lets the feet breathe and helps to prevent bacteria and fungus from growing.
happystep.store | facebook.com/happystepsg
The ShoeCo.
A stylish shoe shop for kids with items for junior, including brands like Richter, Kavat and Pediped, plus a range of school kicks, with the obligatory pair of nostalgia-inducing Mary-Jane's thrown in for good measure.
Located at Tanglin Mall, Delfi Orchard and The Centrepoint
theshoeco.com.sg
Ten Feet Tall Shoes
If you're looking for properly fitted runners and school shoes for kids, head to Ten Feet Tall. Not only does the store stock proven term-time footwear, but it also has Trutex uniforms.
#02-16 Holland Road Shopping Centre
tenfeettallshoes.com
Superga
Looking for casual canvas sneakers for your kids? The Superga Junior range is fun, colourful and cool. Check out the seasonal collaborations with brands like Disney and for Mums, Alexa Chung!
Located at Westgate, Wheelock Place and VivoCity
superga.com.sg
Havaianas
Waterproof, comfortable, light and available in every colour, there are over 210 million pairs of Havaianas sold every year! They're perfect for when the kids want to run around on the grass, dig in the sand and splash in the water.
Hopla! Kids Shoes
Kids shoes that look fantastic, support proper foot development and breathe in this hot and humid weather? Yes, please! That's what you'll get at this store.
Located at United Square and Cluny Court
hopla.sg
And a few others: Stride Rite, Clarks, Shooz4Kids, Elly Store.
More baby clothing and kids' clothes
Angelibebe
This online shopping outlet has the latest designer and up-and-coming brands of kids' clothes for ages 0-14. Browse the stores baby and kids clothing from the comfort of your sofa – plus, your order will be shipped within 24 hours.
Ksisters
If you're looking for cute matching kids' clothes, as well as for yourself, you need to check out Ksisters. This is a Korean-style online boutique run by Jungmin Lee, who is a Korean mom of two kids.
Big chains and baby stores that sell kids' clothes here: H&M, Marks & Spencer, Zara Kids, Uniqlo Kids & Baby, Next Online, Fox Kids & Baby, Cotton On Kids, Seed Heritage, Decathlon, Royal Sporting House.
Best toy shops
White & Black Trading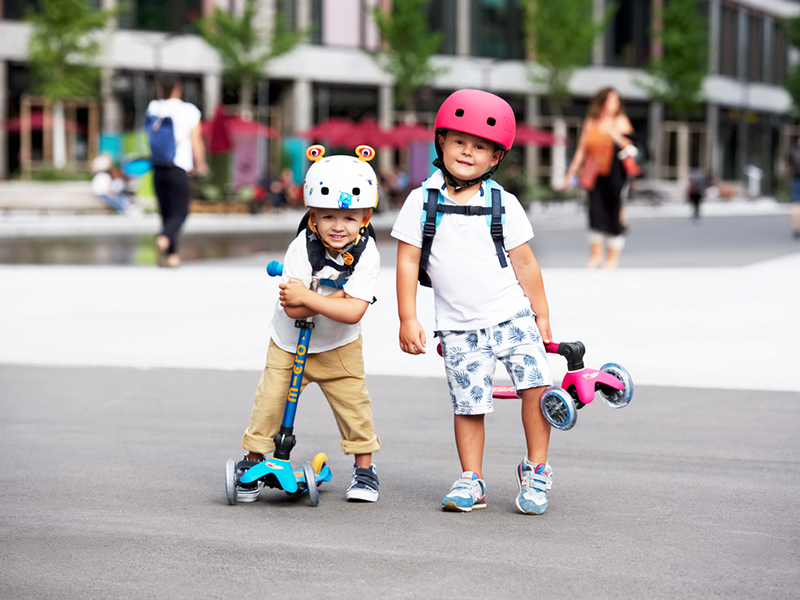 Get the kids out for some active fun! As the official Micro distributor in Singapore, White and Black Trading's range of scooters and accessories are a lifesaver for busy mums and dads. You'll find varieties that are suitable for kids of all ages, even for those as young as 18 months. For the littlest ones in your brood, we'd recommend the Mini2go Plus, which has a parent handle, detachable drawer and seat. Pair your new rides with safety equipment such as helmets and lights, which come in fun vibrant colours that kids will love. To add to the fun, there are also other great kids' toys in the shop for outdoors, from Penny Skateboards, Ezyrollers and Waboba beach balls to Crazy Catch, Swingball and QuickPlay sport products.
Browse the extensive range on the online store. Items can be dispatched within 48 hours (perfect for that last-minute gift!) and, best of all, orders above $100 enjoy free delivery.
#09-123 Enterprise Hub, 48 Toh Guan Road East
whiteandblacktrading.com
The Better Toy Store
Be warned – you'll want to chuck out the contents of your child's toy box and replace the whole lot with quality wooden pieces from The Better Toy Store. Shop for award-winning kids' toys that are environment-friendly, with 100 percent organic toys for babies, from brands like Plan, Djeco and Haba. We love their water-play toys from AquaPlay, too.
Located at Tanglin Mall, Paragon and Jewel Changi
thebettertoystore.com
Playhao
If you're looking for kids' toys that entertain, educate and are stylish, smart and safe, head to Playhao toy shop.
#02-15 Forum The Shopping Mall
playhao.com
Secret Chamber
Do you have a Lego-mad small human in your house? Get them down to the Secret Chamber – it's wall to wall with Lego! From Duplo, Lego Friends, Juniors, movie-themed to Mindstorms robotic Lego, the shops kids' toys range is huge!
Located at Thomson Plaza and Parkway Parade
secretchamber.sg
Hamleys Singapore
Looking for kids' toys? There is something simply magical about walking into a Hamleys store. The Singapore store reflects their London heritage of being the oldest and biggest toy shop in the world. Super helpful staff are on hand to advise those of us who like to browse in wonder, while children will be captivated by the sights and sounds!
#B1-57 The Shoppes at Marina Bay Sands
Growing Fun
Grab your imagination and head to the Growing Fun website or store. Well-priced and conveniently grouped into suitable ages from one to 12, there are all sorts of kids' toys in the shop, from games, robotics and jigsaws to science experiments and puppets! Solve all your responsible birthday present gifting in one go.
#02-16 United Square
growingfun.com
Also, there are big name chains with multiple toy shops in Singapore: Toys R Us, Early Learning Centre (at Mothercare), Lego Store.
Best shops for children's furniture and accessories
Kuhl Home
When picking furniture for your little one's bedroom, safety and durability are key. Kuhl Home stocks beautiful and functional Nordic furniture that has been hand-crafted using toxin-free materials from sustainable solid pine wood from Scandinavia – good for your kids and the environment. Also, with the modular designs on offer, your toddler's bed could be used until they leave home!
The Lifetime Kidsroom range has canopies, slides and tent tops. Are they kids beds or playhouses? Let your kids' imagination run wild! They'll love, learn and imagine, while you take comfort knowing that it's all to the highest global safety standards.
#01-01 Century Warehouse, 100E Pasir Panjang Road
kuhlhome.com
House of AnLi

From princess carriages to treehouses, tents to mini-caravans, three-storey bunkbeds to kids beds with study desks, the Mathy by Bols children's bed range at the House of AnLi will make bedtime easy (well, easier!). Turn the kids' rooms into awesome adventure and imagination zones.
#02-21/22 and #03-17 Tanglin Mall, 163 Tanglin Road
houseofanli.com
Flexa
From low-to-the-ground single kids beds and wooden play centres, to bunk beds with additional trundles, to study spaces and shelving, Flexa adapts as your children grow. The solid pine and oak used in all Flexa furniture comes from sustainable sources and has a tough, eco-friendly UV-lacquered finish. This means you can relax knowing those little nashers won't chew off any harsh paint or chemicals.
Located at United Square and Forum The Shopping Mall
flexasingapore.com
Others to check out: Piccolo House, Kids Haven, Ibenma, LittleWode, Deer Industries, Liliewoods, HipVan
More good baby stores in Singapore
thelittleonesinmylife
This baby store stocks high-quality Korean baby and mummy products. From feeding to carrying, changing and even playtime, you'll get it all at this online store.
Mothercare
If you've lived in the UK, you'll be familiar with the Mothercare brand. The products at this baby store support you and your children from pregnancy onwards.
Stores islandwide
mothercare.com.sg
Motherswork
Need something urgently for your baby but can't get out? Motherswork will deliver within two hours and stocks only the highest quality international and local brands.
Stores islandwide
motherswork.com.sg
Pupsik Studio
Everything you need for your baby in one store! From basics like nappies and wipes to kids' toys, clothing and books, there are over 200 brands and 5000 products here!
More toy shops and kids' gifts and party goods
My Greatest Child
Keep your little bookworms entertained with books, books and more books! They're award-winning, educational and fun, and you can join as a member for extra discounts and events.
Located at City Square Mall, Plaza Singapura, SingPost Centre and Chinatown Point, United Square, Jewel Changi
mygreatestchild.sg
The Children's Showcase
The products at The Children's Showcase are truly beautiful. The colourful range covers gifts, décor, kids' toys, party accessories, arts and craft, and even cool tableware. It's all high-end and sourced from around the world; you'll soon be asking "Where was this store when I was a kid?"
Located at Tanglin Mall and Cluny Court
thechildrensshowcase.com
Smiggle
Deck your kid out with the latest pencil cases, backpacks, lunchboxes, water bottles, headphones, hair decorations and stationery around. Colourful, fun and fashion-forward, Smiggle gets it just right. Be prepared to spend a few hours here, as your kids will want to pick everything up!
Stores islandwide
smiggle.sg
Fancy dress costumes and kids' clothes
Themed birthdays, annual celebrations and the like – our children's social calendars seem to be full of them, and they creep up on us when least expected! Whether you're on the hunt for a Disney outfit or a costume for Halloween, Christmas or Chinese New Year, these handy Singapore-based kids' party wear and prep stores ensure you're prepared for anything.
Angelibebe
For chic, classic and fashionable party wear for children under 12, pay a visit to Angelibebe. This multi-label store sources up-and-coming brands from around the world at wallet-friendly pricing. Our favourites include easy-wearing tutu dresses by I Love Plum or Tutu du Monde, pretty gowns by Spanish designer Graci and Le Petit Tom, known for their playful and stylish ballet dresses and dolly skirts. Perfect for little princesses!
Shop online at angelibebe.com
Ministry of Costumes
Catering to all ages, Ministry of Costumes carries outfits and accessories for all the family. It has a whopping 25,000 costumes on offer, with themes ranging from Alice in Wonderland, Disney princess and superheroes to Harry Potter, Lord of the Rings and Star Wars. Rental starts from just $20 for three days and rental periods are flexible.
#09-03, Block 203A Henderson Road | 6270 1733
Costume City
Whatever you're dress-up theme, you'll find what you're after at this awesome shop. From wigs to tiaras, and masks to fancy dress, here's your chance to be any superhero you want, be it Batman, Spiderman, Wonder Woman or even The Hulk. Rental starts at $70.
#09-03, Block 203 Henderson Road | 6270 1722
Fashion Directory for Kids Clothes & Children's Shoes
Saltwater Sandals | salt-watersandals.com/asia-en
the baby closet | thebabycloset.sg
Dilly & Fin | dillyandfin.com
Gen Woo | zalora.sg/gen-woo
Raph&Remy | raphandremy.com
Roses & Rhinos | rosesandrhinos.com
Momo and Bubs | momoandbubs.com
Viva Vida Kids | vivavidakids.com
Minor Miracles | minormiracles.shop
Children Salon | childrensalon.com
Les Ateliers J | lesateliersj.com
Lovingly Signed | lovinglysigned.com.sg
Wild Sundays | shopwildsundays.com
Oeteo | oeteo.co

Enjoyed this? Read our huge guide on international schools in Singapore and where to live in Singapore.