Love skiing and fancy a holiday home with some of the best powder around? There's a new development on the most beautiful couple of hectares in Japan's renowned Niseko that includes homes and hotel options. All year round there is something for everyone, and it's not that far from Singapore. The Ginto Residences and The Pavilions Niseko Resort near Hirafu are well set to be something world-class. The man behind them, Gordon Oldham, has a fascinating story. From a humble start, he went on to own a successful law firm in Hong Kong and a publishing firm on the side, before expanding his interests to hospitality.
The Pavilions Phuket and The Pavilions Himalayas were his first two fully branded developments following the acquisition and renovation of The Pavilions Bali in 2001. Pavilions Hotels & Resorts was formed after subsequent acquisitions in Amsterdam, Madrid, Rome, Lisbon and Niseko. I met him at the stunning new site in Japan and asked a few questions.
Your life is full and successful; why take on so much more and in a completely new area of expertise?
I'd like to tell you there's a grand design, but there isn't. I just have always pursued things that I find interesting and that make me happy, and I don't get stressed out. If you pursue things you like, it's not really work. Do I get frustrated with people who can't read my mind? Yes, but I refuse to get stressed by it.
It's not just about hospitality though; I love real estate, and the building and design aspect of it. But, I have no skills in that area so I have an idea and then need someone good to interpret it.
Why Niseko?
It ticks all the boxes from a business point of view. It's attracting a lot more people – a growing foreign market, and the domestic market in Japan is increasing too. You are able to own the land in your own name. And the food is good!
I love Japan and I had forgotten just how unique it is and how it operates. In the last 40 years, I've seen quite a few jungles and tropical islands and this is something different. High streets everywhere look the same – homogenised – but Japan has kept its authenticity and I am a big believer that people go for authenticity.
It's also an all-year-round destination with some of the most pristine natural beauty in the world and offering a host of outdoor activities on the doorstep: world-class skiing in the winter, and hiking, mountain biking, river rafting and golf in the spring and summer months.
What's different about the holiday homes you're building in Niseko?
What I want to build is happiness – that's the common element. If you get a second house somewhere, you want it to be a pleasure; you don't want to find the cook has run off with the taxi driver. It's got to work for you. We are all starved of time, so the last luxury money can buy is service. Saving people time and worry – that's what The Ginto Residences are all about.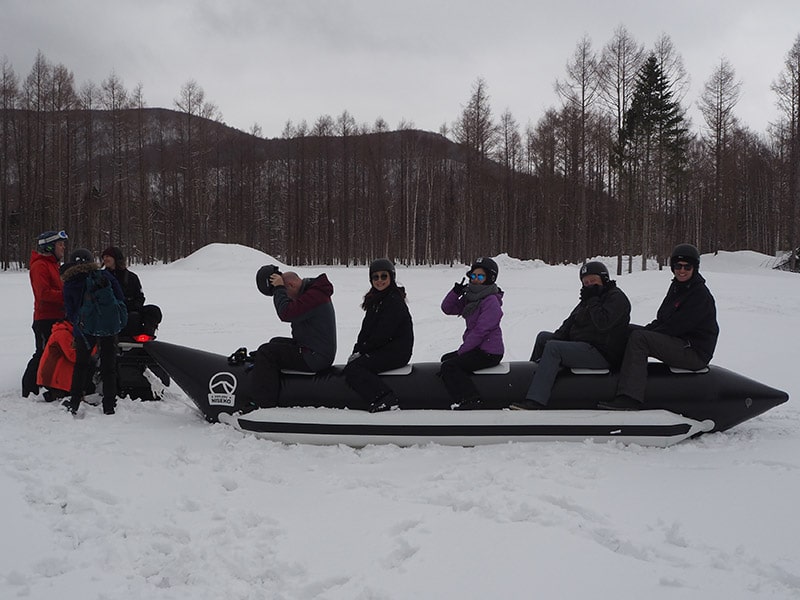 They're also about flexibility. Owners can rent them out for an income stream, if they wish; it's freehold and it's in their name. They can build themselves or we can build for them – we have really good building rates, because of the quantity we're building. We do have to maintain some veto rights on the outside appearance; there are certain restrictions, aesthetics, legal elements, making sure sightlines aren't blocked, which materials are used and so on. Then, after the build, the levels of involvement are varied. If you want the snow cleared, we can do it; we will keep an eye on the place, and clean it before you arrive. If you become a member, you'll get discounts on F&B, spa treatments and sports – it's a very flexible menu of services.
The hotel will be ready in 2020; the residences are starting building now. They should take about a year. Over 70 percent of the plots are already sold – they're going at between US$800 and $1,500 per square metre.
How do you decide what to do next?
There's a personal interest in everything I do. What's the acid test? I say to myself, "Gordon, would I be the end user?" And if the answer is yes, then I go for it.
Gordon seems like a strong character, and knowing what he wants shows in various areas of his life. He met his French partner at 15 and they're still together over 40 years later. "Daniele is very balancing – she doesn't get too involved, but I use her as a sounding board."
He appears to be successfully managing and building life in general, and it's an exciting time for his group. Subsequent phases in the residential rollout will involve The Pavilions Phuket Residences and a luxury development in Lisbon, Portugal, involving the renovation and restoration of two 18th-century buildings; it's due to open in 2020. They will join the company's existing hotel inventory of boutique hotels and resorts in Asia and Europe
• For more information about The Pavilions, contact emilia@pavilionshotels.com or +852 3702 6588, or visit pavilionsresidences.com.
• Explore Niseko (explore-niseko.com) provides concierge services and activities (biking, snow trekking and more).
Like this? Read more at our Travel section.
A staycation perfect for wine and dine fans
10 tips for tackling Osaka with kids
Where to stay and play in Vietnam
This article first appeared in the July 2018 edition of Expat Living. You can purchase a copy or subscribe so you never miss an issue!
Get the latest events, stories and special offers
sent to your inbox.
By signing up, you'll receive our weekly newsletters and offers, which you can unsubscribe to anytime.