Moving from France in 1998, French expat Laurent Verrier, 55, now proudly calls Singapore home. Together with his wife Barbara, 52, and firstborn Maximin, who was just three at the time, the family's first home in Singapore was in Bukit Timah. While it was a convenient central location, Laurent, who owns social media agency One9Ninety, felt something was missing.
Bienvenue à Serangoon Garden
As it turns out, it was the French connection that Laurent yearned for. As someone who holds on tightly to his roots, he longed to be a part of the French community here in Singapore. He also wanted Maximin to embrace his heritage by attending a French school.
Also known as Singapore's "Little France", the Serangoon Garden district proved to be a perfect fit for the Verrier family, which now consists of Laurent, Barbara, their three children and their adorable dog, Nero the Corgi.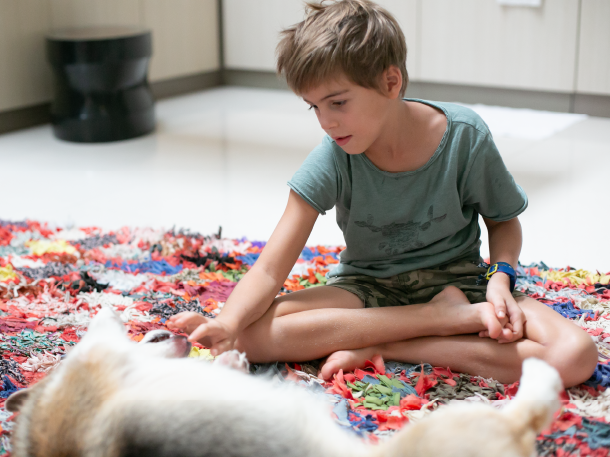 The well-established International French School is located near Serangoon Gardens, so his youngest son Ulysse, 9, who cycles to school every morning, can catch a few extra winks of sleep each morning. "He can wake up quite late and leave just five minutes before the bell rings," says Laurent.
Due to the proximity of the school, a robust French community developed in the area over the years. This was yet another key driver for Laurent to make the move to Serangoon Garden as he wanted to be a part of this thriving community and connect more regularly with close friends who lived there.
With a smile, Laurent says, "As an expat, our friends here are our family."
Another strong draw for the Verrier family was the homely vibe the Serangoon Garden neighbourhood exuded. "There's a village feel here," says Laurent.
Neighbours are close to one another – regardless of whether they are locals or expats. There is a modest mall called myVillage nearby, which houses a grocery store, local bank and even a French Patisserie. Laurent and his family also cannot resist the "delicious local delicacies" from Chomp Chomp Food Centre, one of Singapore's best hawker centres located in the heart of the estate.
Searching for An Upgrade
It has been six years since their move to Serangoon Garden, and Laurent has never looked back. However, four years into his family's stay in the area, they decided on an upgrade.
For Laurent and Barbara, it was all about finding the perfect balance for their next home. Barbara, who is a designer, wanted an apartment for a cosier feel. Meanwhile, Laurent is a fan of the outdoors and favoured a place with more space and openness to it, such as having a lawn for Niro to run around in.
With this in mind, Laurent was thankful to be able to easily turn to PropertyGuru in his search for a new home.
He recounts his early experience when he first moved to Singapore and says, "It was a nightmare to find a property."
He recalls spending hours scouring through the property section of Straits Times' Classified section searching for potential houses and then having to "hop into cars with wonderful agents but then spend a day or two visiting places".
"And you were lucky if they even had a photo of the house," laments Laurent.
With the aid of the PropertyGuru site's useful search filter functions, and knowing they wanted to continue residing in Serangoon Garden, Laurent and Barbara quickly narrowed their options down to three houses.
The Perfect Balance
One viewing was all it took to find a home that checked all their boxes: their current three-storey home on Borthwick Drive, just a street down from their previous residence.
Read also: Bungalow Houses in Singapore: What Are They, Their Prices and More
"When we decided to move, this is actually the first house we visited," says Laurent. "When I saw this house, I said that is the one we want, and the price was right."
It proved to be the ideal mix. While it was open and airy as per what Laurent wanted, and at the same time, it could easily be closed up to suit what Barbara needed. The air conditioner can then be turned on at full blast so Barbara can escape the humidity.
Having three floors means there is ample space for the family to "entertain the friends that have become family". It also means Laurent can have his very own "man cave" which, thanks to the current COVID-19 pandemic, has essentially turned into his home office. Working from home is a lot easier when you've found the perfect space.
Laurent and Barbara have found their own piece of France in Singapore. It offers the best of both culinary worlds – French cuisine and hawker specialties – as well as a strong village of friends. The family won't be moving for a long time.
Read stories of real people and their home journeys.Or find a home on PropertyGuru now. 
For more helpful neighbourhood insights read our guide for expat guide on where to live in Singapore and our living in Singapore section.
This article first appeared in the November 2020 edition of Expat Living. You can purchase the latest issue or subscribe, so you never miss a copy!